Skillnets – the national agency responsible for funding and supporting training networks – has a new training fund to help SMEs grow.
Training staff to be on top of, or ahead of, the curve is essential as businesses start to grow. There is funding available to help business owners establish and run the type of training they need.
How it works
A group of businesses from the same sector, or region, can collectively apply to establish a Skillnets training network.

The group then draws down funding to support the development and delivery of the training they need.

The fund is also open to industry federations, industry bodies and enterprise groups.

Skillnets operates under a joint investment model. Training networks apply to receive up to 50 percent of the cost of training from Skillnets, and the participating businesses pay the remainder of costs.

The fund was set up to address skills shortages in the workplace.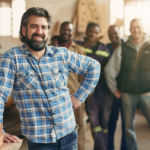 "With the Irish economy now in a growth phase, an increasing number of businesses are looking to expand. Scaling a business is usually predicated on a supply of the necessary skills and talent," says Paul Healy, Skillnets chief executive.
To apply go to Skillnets funding.