Sinéad Crowther, Founder and CEO of Soothing Solutions, was named the Enterprise Ireland High-Potential Start-Up (HPSU) Founder of the Year for 2023.
Founded in 2017, Louth-based healthcare firm Soothing Solutions manufactures a range of honey jelly pops called Tonstix aimed at providing a children's alternative to lozenges.
Crowther had previously worked as a pharmaceutical technician and had noticed a gap in the market for products to help children suffering from sore throats and coughs. It was early in the journey on Enterprise Ireland's New Frontiers programme in Dundalk Institute of Technology (DkIT) when Sinéad met her co-founder, Denise Lauaki.
"Sinéad is an excellent example of a founder with a clear pathway to scaling globally and the potential to become a world leader in her field"
Tonstix products are now stocked in more than 1,400 pharmacies across Ireland, and recently launched on Amazon UK.
World-class businesses of tomorrow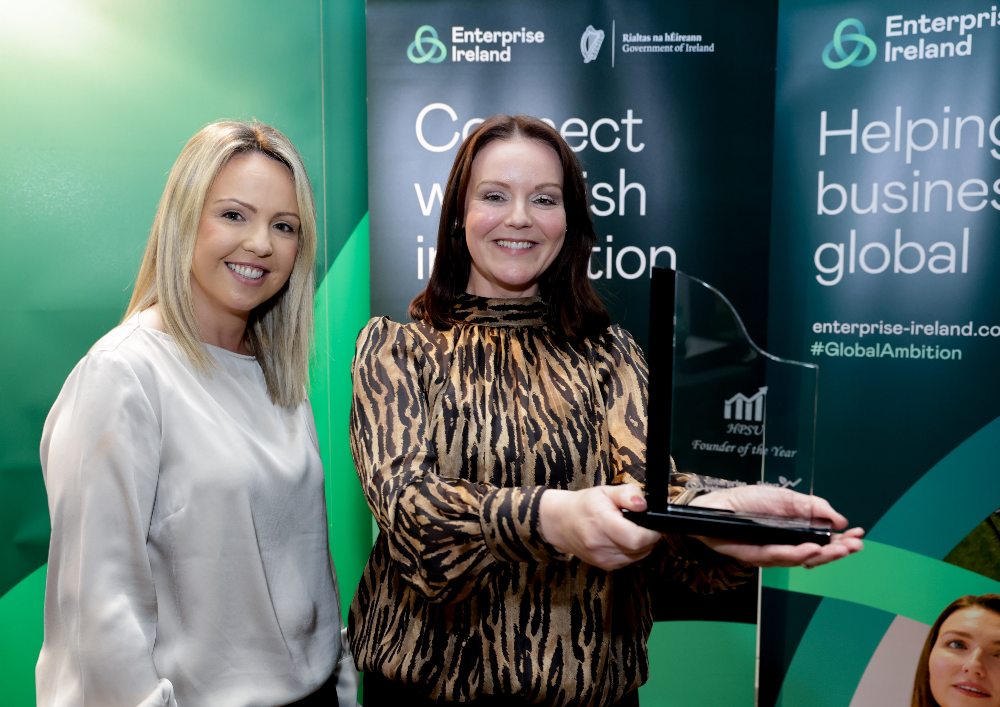 Denise Lauaki, co-founder and COO of Soothing Solutions and Sinéad Crowther, co-founder and CEO of Soothing Solutions
The Enterprise Ireland Founder of the Year Awards acknowledge and celebrate the commitment that entrepreneurs and start-ups have made to build world-class companies of the future. There were 11 nominees for the 2023 award, all of whom were voted for by their peers who have been taking part in Enterprise Ireland's High Potential Start-Up (HPSU) Founders Forum over the last 24 months.
Other finalists included: Brendan Staunton of Amara Therapeutics, Brian Kenneally of Bundledocs, David Duffy of The Corporate Governance Institute, Patrick McDermott of DigiTally, Jonathan Bouchier-Hayes of Endowave, Darren Sexton of GuardYoo, Kate Scott of Holotoyz, Liam Dunne of Klearcom, Evelyn Kelly of Orphan Drug Consulting, and Eamonn Costello of Patientmpower.
Enterprise Ireland and Select Strategies created the HPSU Founders Forum to give founders a platform where they can address issues, share challenges and seek support from each other and from founders who are further along in their entrepreneurial journey. Since its inception, more than 300 founders have participated in the HPSU Founders Forum from a range of sectors including software, medical devices, food, engineering and construction.
The 2023 Founder of the Year was decided by a judging panel which included Joe Healy, Divisional Manager of Client Services at Enterprise Ireland; Helen Ryan, former CEO of Creganna Medical and James Ives, CEO and founder, XOCEAN.
Previous award winners include Mervyn O'Callaghan of CameraMatics, Brian Shields of Neurent Medical, John Ghent of Sytorus and Tony McEnroe of Sirius XT.
Gavan Walsh, founder and former CEO of iCabbi, also joined the event to discuss the key lessons from the company's journey, disrupting an entire industry to become a global leader in just a few years.
"Start-ups are a driving force of economic growth, new talent and innovation," said Joe Healy, Divisional Manager of Client Services at Enterprise Ireland.
"Now in its fifth year, the Founder of the Year Awards promote Ireland's ecosystem of entrepreneurs who have displayed the potential and commitment to building their businesses and realising their global ambition.
"On behalf of Enterprise Ireland, I wish to congratulate Sinéad Crowther on winning this year's Founder of the Year Award. Sinéad is an excellent example of a founder with a clear pathway to scaling globally and the potential to become a world leader in her field. I would also like to congratulate the ten other nominees, all of whom were shortlisted by their peers. Each of today's nominees have achieved so much within their own fields of work. Their success is an inspiration for the next generation of founders coming up behind them who have the determination and resilience required to get their enterprises up and running."