More than 350 entries received for Visa's She's Next grant programme with winners spanning Donegal, Dublin, Limerick, Sligo and Waterford.
Five women business owners from across Ireland received a grant of €10,000 and one-year business coaching through IFundWomen, a Visa-powered funding platform for women entrepreneurs, to support, grow and expand their businesses.
Entries were up by more than 60% this year with over 350 applications received following the campaign's successful debut in 2021, which was launched as an extension of Visa's global She's Next Grant programme. This year saw Visa double the funding as the company continues its mission to address the unique set of challenges faced by women entrepreneurs.
The winners of each category were:
General Small Business: Jane Conlon, Sodalicious, Limerick
Micro business: Siobhan McKenna, Moss and Cable, Donegal
Early-stage business: Fiona Fahy, Feed Me Mother, Waterford
Sustainability: Ellen Ryall, ReFunk Upcycling, Dublin
Innovation: Maria Hall, Hub Planning Ltd, Sligo
"The quality of entries received this year has been truly incredible and it is encouraging to see so many extremely talented female business owners in Ireland" said Mandy Lamb, managing director, Visa UK and Ireland.
"We know that many women businesses still need support, which is why we're delighted to be able to offer five worthy winners an even bigger grant this year, on top of the coaching offered by IFundWomen. We would like to extend our heartfelt congratulations to the winners – it's fantastic to be able to make a difference to their businesses and we look forward to seeing them go from strength to strength.
Globally, female entrepreneurship is growing, with 153m women operating established businesses. Since March 2020, She's Next empowered by Visa has awarded more than €1.6m in grants and coaching scholarships to women entrepreneurs across the globe.
"It's an honour to partner with Visa on the second She's Next Grant Programme in Ireland and we're extremely proud of our ongoing collaboration with Visa globally," said Karen Cahn, founder and CEO at IFundWomen.
"Visa is consistently offering funding and business resources to women-owned businesses around the world. It's really encouraging to see the increase in applications this year for the second She's Next programme in Ireland.
Winning businesses from all over Ireland: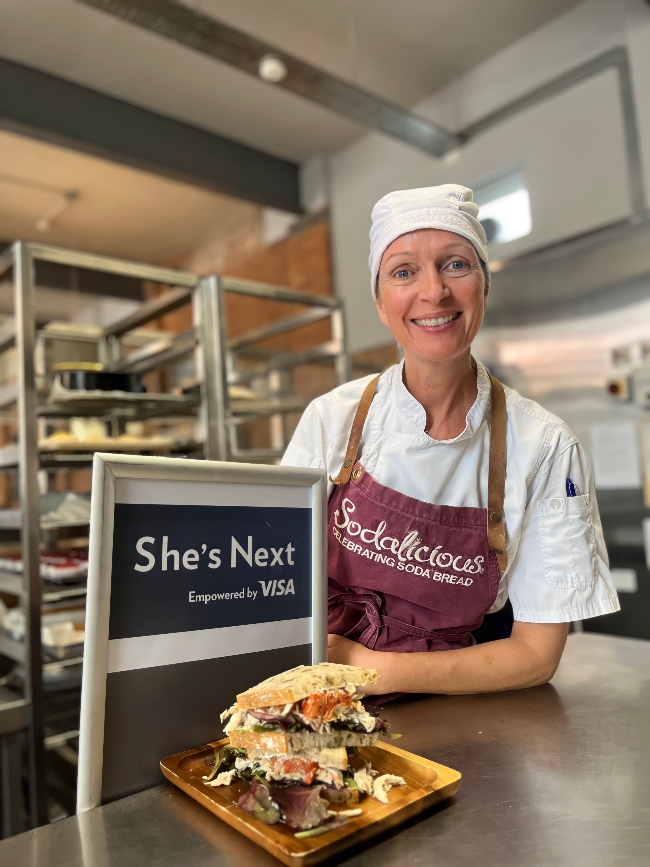 Founded by Jane Conlon, soda bread bakery and café located in the heart of Limerick city Sodalicious has reinvented soda bread with a unique formula based on a traditional recipe but with a modern twist. With all breads baked freshly each morning in house, they are then filled with a selection of mostly Irish products including farmhouse cheese, Gubbeen deli meats, Macroom mozzarella and locally produced tomatoes. All breads are yeast and sugar-free, making them easily digestible and full of protein. Sodalicious also recently began providing fresh lunches to the local Educate Together school in a bid to improve the eating habits of students.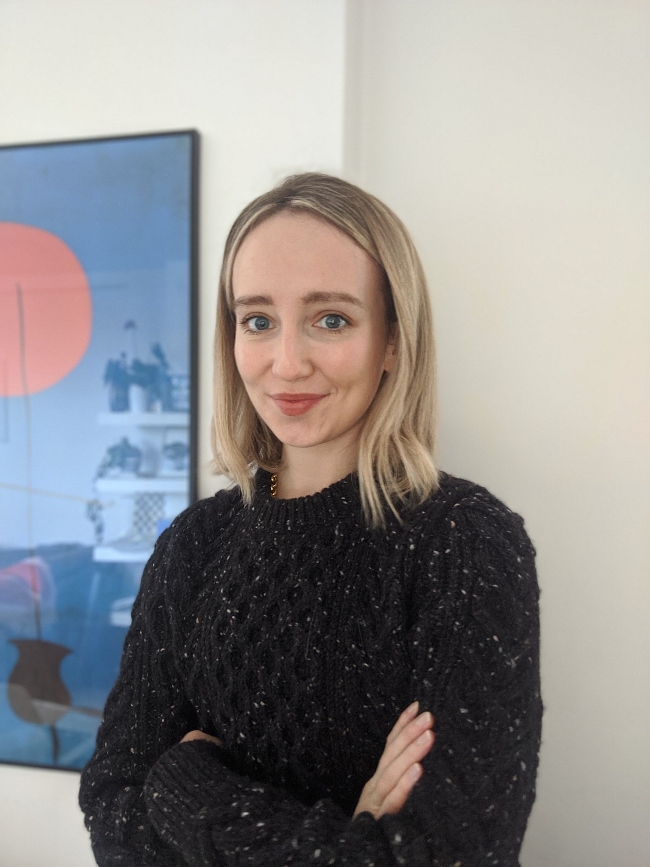 Founded by Siobhan McKenna, Moss and Cable is a modern Irish knitwear studio that aims to reinvigorate the declining knitwear and tweed heritage from Co Donegal, while also creating a more sustainable alternative to fast fashion brands.
Donegal was once a leading international destination for manufacturing luxury knitwear, however, the industry has been in decline in recent decades as established brands move their production overseas. Owner Siobhan McKenna believes this industry should be protected and preserved which is what she aims to do by using traditional practices and working with expert craftspeople, making sure production is always kept local. Siobhan wants to see Donegal as a global signifier of quality and craftsmanship for knitwear, much like cashmere is to Scotland or leather is to Italy.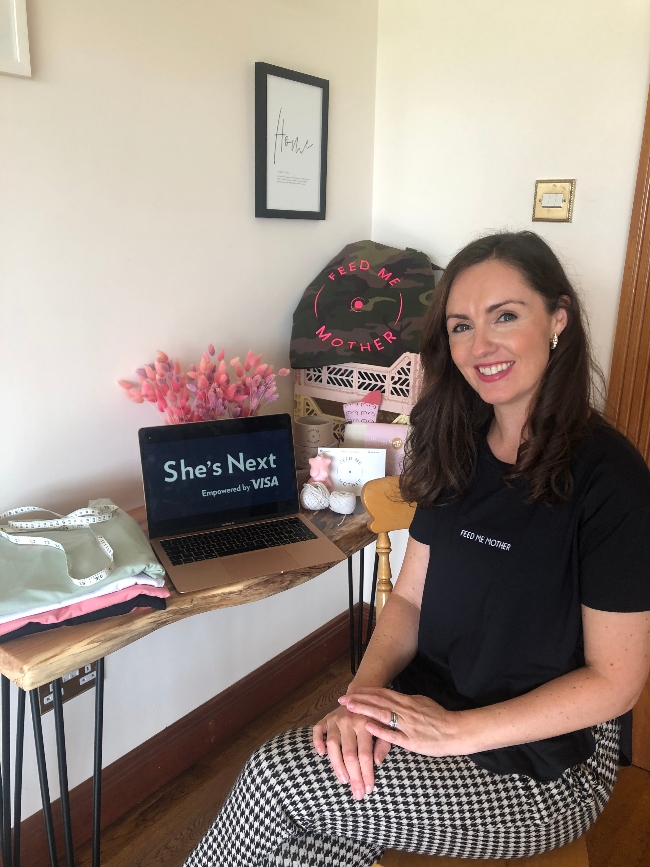 Founded by Fiona Fahy, Feed Me Mother is a sustainable breastfeeding clothing brand. As a breastfeeding mother, Fiona Fahy saw a gap in the market for a fashionable and sustainable online breastfeeding clothing brand. The global maternity market has grown considerably in recent years but breastfeeding clothing is often overlooked and misunderstood.
In addition to this, Ireland has one of the lowest breastfeeding rates in the world. Breastfeeding mothers don't want to breastfeed in 'mumsy', ill-fitting maternity clothes. They want a new stylish breastfeeding wardrobe that empowers and supports their new post-partum bodies and that's what Feed Me Mother provides.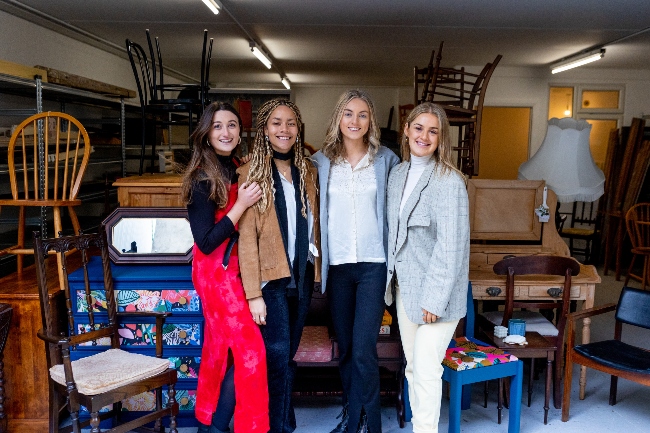 Founded by Ellen Ryall, ReFunk is a furniture upcycling platform that supports the circular economy and local creatives by connecting freelance upcyclers with sustainably-minded consumers.
10 million tonnes of furniture is discarded annually in the EU and according to the company's initial survey, 79% of consumers want to purchase sustainable furniture but don't know where to find it. Meanwhile, there is a close-knit community of talented furniture upcyclers in Ireland who lack a strong online presence and don't know how to market their services or reach buyers. The ReFunk platform helps consumers to extend the lifespan of their furniture by connecting them with upcyclers who can completely transform their furniture and give it a new lease of life. On the ReFunk platform, buyers can create a listing for the furniture piece that they want to get upcycled, then ReFunk's upcyclers bid for the job. Each upcycler has their own profile on the ReFunk platform where buyers can browse previous projects that they have completed and even purchase already upcycled pieces.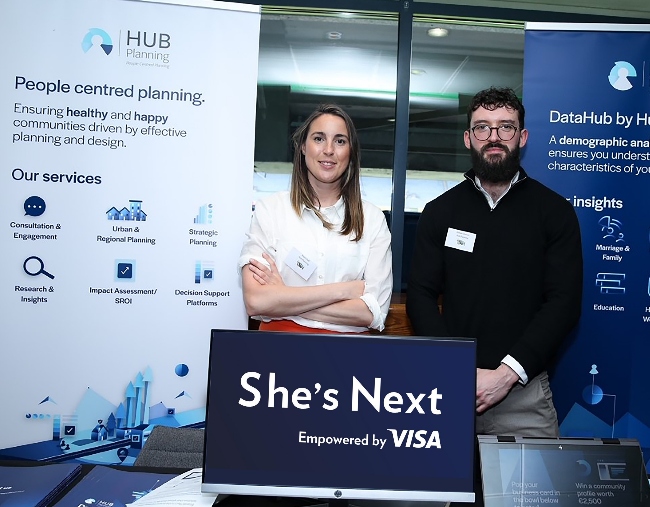 Founded by Maria Hall, Hub Planning has created Data Hub, a web-based platform for Government authorities and charities. Government authorities and charities are responsible for delivering a broad range of services which have a significant impact on the communities they serve. However, they don't have the information they need to really understand these communities or catchments. For organisations to get this demographic information, they have to research, gather and sort what often ends up as a mountain of paperwork, data, and files from a myriad of sources. Or they can go out to tender for and pay for an expensive consultant and wait months for a report.
At the end of both processes, they receive a static report that sits on one person's desk and is based on outdated data.
Imagine a web-based platform that keeps data live and allows organisations to answer research questions as and when they arise, allowing quick evidence-based decisions. Imagine only having to go to one source to find all the answers. No more expensive consultants or running the numbers yourself. This is where Data Hub comes in.
Main image at top: Mandy Lamb, Visa, Pamela Laird, entrepreneur and Ruth Deasy, co-founder of Bear Market Coffee