The unstoppable tech train appears to have hit some bumpy ground, but Ireland's tech entrepreneurs and investors are more determined than ever.
With just weeks to go to Budget 2023, Ireland's Finance Minister Paschal Donohoe's presence at Scale Ireland's Autumn Update underscored not only the important role entrepreneurs now play in the Irish economy, especially now that we have several tech unicorns valued at north of $1bn apiece, but we will most likely will need more of them in the years to come.
The Finance Minister no doubt has his hands full with a cost of living crisis and a turbulent geo-political situation, but clearly has perspective. "I remember vividly the moment I was sitting in the Department of Finance when we had 630,000 people who had become unemployed."
"One tech unicorn founder said that he had to make the decision between filling out forms or growing market, he decided to focus on growing market"
Now Ireland has record low levels of unemployment at a time when many other economies are struggling for a recovery in their public finance. "That is important," he emphasised.
Entrepreneurial ecosystem is a pillar of the future economy
Speaking with Scale Ireland CEO Martina Fitzgerald and chair Brian Caulfield, Minister Donohoe said that entrepreneurs are an important pillar in the economic model that Ireland will need in order to remain resilient.
The threat lies in a changing economic landscape up until recently defined by low inflation but now by rising costs and inflation; the opportunities lie in a digital and a low-carbon future.
"Countries, enterprises and entrepreneurs who are on the right side of those transitions will have the ability to not only create benefits and reward for themselves and fulfil their dreams and aspirations, but countries on the right side of those changes will also have a unique opportunity to preserve and build living standards in a world that has become more volatile and in which the frequency and impact of disruption is set to grow."
Donohoe said that the Government is on the side of Irish entrepreneurs through efforts such as the €90m worth of funding for early-stage start-ups, the changing mandate of the Ireland Strategic Investment Fund (ISIF) to support the start-up economy, changes to R&D tax credits and Employment Incentive and Investment Scheme (EIIS) in last year's Budget and more. "These are all clear indications from the Government, of our recognition of the value of what you are doing and our commitment to providing new economic tools and supports to help you grow."
Reduce the paperwork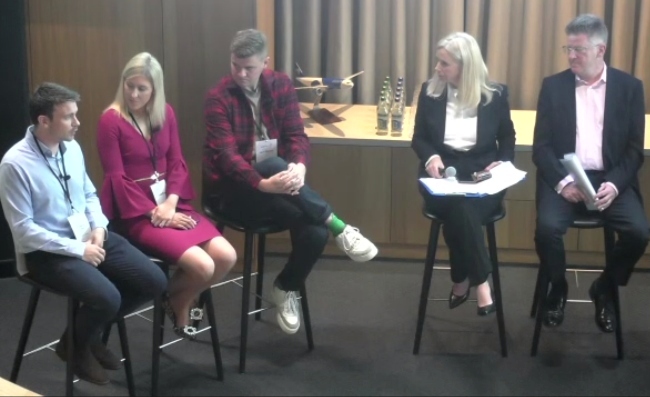 From left: Matthew Coffey, Squid Loyalty; Orlaith Ryan, Shorla Oncology; Jack Pearse, Wayflier; Scale Ireland CEO Martina Fitzgerald; and Scale Ireland chair Brian Caulfield
"The administrative burden, basically, is just a distraction from pushing on with the business"
But it wasn't long before the Minister was reminded quite starkly by young Irish entrepreneurs that the issues of tax and bureaucracy are still far from perfect.
Jack Pearse, CEO and co-founder of the Irish martech player Wayflier, which is valued at $1.6bn and employs 500 people globally, including 350 in Dublin, didn't mince his words. He said that that investment schemes like EIIS and options schemes like KEEP, are still lagging behind their UK counterparts.
"The way options schemes are taxed could be worked on. In the UK they are much more favourable and we could be taking a lead from them.
"Most people who work for us will go and start their own businesses. And I hope to have a lot of entrepreneurs coming out of Wayflier. But having a 52% tax rate on all of the money that they make, that they will invest back into the economy doesn't make a lot of sense and could be worked on.
"We tried the KEEP scheme … the administrative burden around it means it's not the most straightforward scheme. The administrative burden, even with Enterprise Ireland, just how much paperwork feels overloaded and could be worked on. I was asked to make five-year projections when I didn't even know what I'd be doing in three months."
Similarly Orlaith Ryan, co-founder of Tipperary-based Shorla Oncology, which has raised $10m so far and which is about to bring out its first leukaemia treatment in the US, signalled that more work is needed on R&D tax credits and making the paperwork less cumbersome for start-ups.
"As we're about to embark on our series B, what I will say is we've gotten great support from Enterprise Ireland and we utilise as many State supports as possible. The R&D tax credit is very important to us. And, when we can realise that it will be great, but I suppose, we could realise that sooner. There is also the complexity of the process; my co-founder Sharon [Cunningham] and I worked for a previous start-up and we had a lot of experience utilising it. But I could see how it would be cumbersome for a company trying to work on all other angles to grow the business and try and navigate that as well."
Martina Fitzgerald commented on the administrative burden for start-ups by pointing out one entrepreneur's dilemma. "One tech unicorn founder said that he had to make the decision between filling out forms or growing market, he decided to focus on growing market."
Matthew Coffey, co-founder and CEO of Squid Loyalty which has signed up more than 1,100 retail businesses across Ireland, the UK and Australia, said that hiring is still a challenge for Irish entrepreneurs and the country has a deficit of software developers.
"Hiring and recruiting is definitely challenged in the early stage, particularly for software developers. It always feels like there is a deficit of developers. And so when you're competing with bigger companies that have more liquidity, you know, you need to get a bit creative."
Initiatives like the KEEP scheme for share options ought to be more accessible, he says, as a way to help indigenous companies level the playing field against global giants in the war for talent.
"The administrative burden, basically, is just a distraction from pushing on with the business."
Fitzgerald noted that even the reformed EIIS's guidance documents run to 110 pages.
Future funding picture
The elephant in the room of course was venture capital and signals of a slowdown that has begun in the US and will soon come ashore in Europe.
"Funding in the US has probably fallen up 20% in the last couple of quarters. We haven't really seen that in Europe yet. But I think we will see that in Europe"
H1 of 2022 saw venture capital investment into Irish tech firms rise by a considerable 21% to a record €778.1m, according to the latest Irish Venture Capital Association (IVCA) VenturePulse survey published in association with William Fry. However, this was largely due to a stellar first quarter when funding reached €379.7m. Funding in the second quarter rose by under 2% to €398.4m.
Will Prendergast, co-founder and general partner of Frontline Ventures, noted that venture funding is approaching a turning point.
"We invest in both the US markets and also in Europe. So we've watched what has happened in the public markets trickle through to funding over the last nine months. And I would say that funding in the US has probably fallen up 20% in the last couple of quarters. We haven't really seen that in Europe yet. But I think we will see that in Europe."
He warned that confidence is beginning to leak from the system.
"Nothing's changed in terms of the opportunities that are there or the enthusiasm of founders. So it's not like it was less founders going forward. But I think that that confidence is going to come out of the system. And the other thing, I think, is 2021 was a bumper year. So comparing anything to it is a tricky read."
While he has seen some contraction in cloud software revenues, for example, due to firms reducing headcount and therefore less seats being bought, Prendergast warned the funding front will undergo some adjustment.
"Hiring was the topic in every meeting 12 months ago and that has largely gone away. Liquidity is being pushed out and for firms with a debt dimension, interest rates will impact those businesses and later stage businesses will find it very hard to raise funding. The capital part is the biggest challenge we've seen."
"Earth really has no patience and it is not going to wait. It's a question of how we respond to the urgency as governments, investors, entrepreneurs, and also just humans"
Faye Walsh Droillard of Wake-up Capital provided a counter-balance by pointing out that environmental disclosure rules are creating the ecosystem for impact investment in revolutionary, greener technologies. "Consumers are thinking about it; under 30s are demanding it.
"I think the reality is we just don't have a choice, because we probably need three Planet Earth's to sustain the way that we've been living at least for the last 60 years.
"Earth really has no patience and it is not going to wait. It's a question of how we respond to the urgency as governments, investors, entrepreneurs, and also just humans."
Main image: Scale Ireland chair Brian Caulfield; Finance Minister Paschal Donohoe, TD; and Scale Ireland CEO Martina Fitzgerald