ProMotion Rewards and Clarins forge a strategic partnership to revolutionise customer engagement in the beauty industry.
Rapidly growing Irish start-up ProMotion Rewards has landed a key deal with prestige skincare brand Clarins.
The pioneering consumer rewards platform founded by Bidemi Afolabi and Lauren O'Reilly potentially marks a significant milestone in changing how people and brands connect with each other, leveraging the power of technology and consumer engagement.
"The partnership between ProMotion Rewards and Clarins is a novel approach in the beauty industry's customer engagement landscape, putting the power in the hands of shoppers while strengthening the bond between brand and consumer"
ProMotion Rewards aims to redefine the shopping experience by bridging the gap between consumer goods brands and their customers.
An elegant solution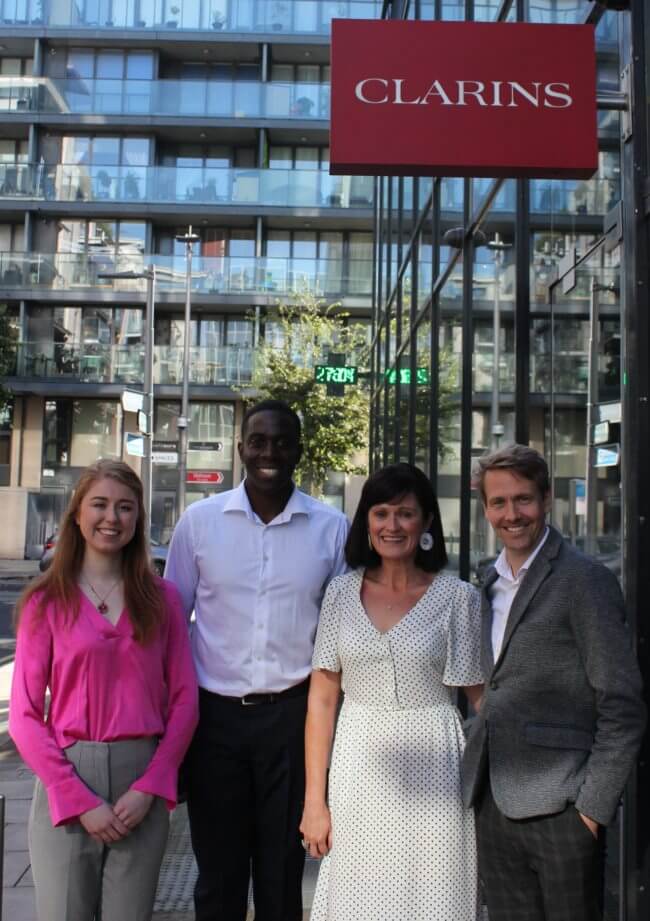 Pictured (from left): Lauren O'Reilly and Bidemi Afolabi, co-founders of ProMotion Rewards, with Deirdre Maguire, promotions manager at Clarins Ireland and Benjamin Vouard, marketing director, Clarins Ireland
Last year the young business raised €725,000 in a pre-seed investment round led by Laidlaw Scholars Ventures (LSV) with participation from Delta Partners and Enterprise Ireland.
With the innovative ProMotion Rewards app, shoppers can effortlessly upload photos of receipts, participate in surveys, and enter competitions – all while being rewarded with valuable points for each activity.
These points serve as a means of allowing shoppers to unlock attractive rewards such as gift cards or even donate them to a charity of their choice through the app.
At the heart of this partnership lies Clarins' commitment to fostering direct connections with their cherished customers. As a brand that has consistently valued meaningful interactions, Clarins has been at the forefront of providing top-notch customer service, exemplified by their well-trained beauty advisors present at every Clarins counter.
By teaming up with ProMotion Rewards, Clarins aims to enhance their customer engagement efforts further and deepen their relationship with their loyal community, while helping new audiences to discover their high-quality cosmetic and skincare products.
"Our mission has always been to revolutionise the way people and brands engage with one another," explained Bidemi Afolabi, co-founder of ProMotion Rewards.
"We are thrilled to partner with Clarins, a brand that shares our passion for meaningful customer connections. Through our app, Clarins customers can now be rewarded for their loyalty, turning every purchase into a fulfilling experience."
Through this partnership, Clarins customers can now unlock exciting rewards by simply uploading their proof of purchase to the ProMotion Rewards app, irrespective of where they make their purchase. This innovative approach empowers customers, making every transaction more than just a purchase but a rewarding journey.
Lauren O'Reilly, co-founder of ProMotion Rewards, expressed her excitement, adding: "With the power of technology and the vision of innovative consumer brands like Clarins, we can create a seamless and gratifying experience for every shopper, allowing them to connect with their favourite brands wherever they choose to shop.
"ProMotion Rewards also gives consumers the opportunity to use their voice to help shape the brands they love, with our feedback capabilities."
Clarins spokesperson Benjamin Vouard, marketing director at Clarins emphasised the brand's enthusiasm for the partnership.
"At Clarins, we have always strived to connect with our customers on a personal level. Our partnership with ProMotion Rewards allows us to reinforce this bond and express our appreciation to our loyal guests. We believe that this collaboration will enhance the overall shopping experience for Clarins customers," Vouard said.
"The partnership between ProMotion Rewards and Clarins is a novel approach in the beauty industry's customer engagement landscape, putting the power in the hands of shoppers while strengthening the bond between brand and consumer."
Main image at top: ProMotion founders Bidemi Afolabi and Lauren O'Reilly