Ireland's driving experience is about to get a whole lot different thanks to an influx of new electric car brands. Leading Polestar in Ireland, Kieran Campbell says Irish motorists are readily embracing the change to electric vehicles and digital buying experiences.
The motoring landscape in Ireland is shifting a gear thanks to the arrival of a slew of new electric car brands. In recent months Connolly Motor Group revealed a €500,000 investment in a new showroom to showcase the arrival of ORA electric vehicles in Ireland. In recent weeks Bank of Ireland was revealed as the exclusive finance partner for BYD (Build Your Dreams) another new car brand offering choice and value to discerning car buyers.
Among the new arrivals is Polestar, a Swedish automotive brand that was established in 1996 by Volvo's partner Flash/Polestar Racing and which was acquired by Volvo in 2015. Although Polestar is headquartered in Gothenburg, Sweden, the vehicles are produced in China.
"First and foremost we're a direct-to-consumer brand. Everything is bought online … the entire journey is digital"
The first thing you notice about Polestar is obviously the vehicles. The Polestar 1, a hybrid sports car, is a rarity in and of itself. The only one in Ireland sits outside Polestar's new showroom in Sandyford, south Dublin.
The flagship of the day is really the Polestar 2, a battery electric 5-door liftback produced by Polestar using a Volvo chassis. There are a myriad of colours and tech features, but really two kinds: one with 421 horsepower and one with a performance back with 450 horsepower.
The cars are visually-arresting and roomy, boasting all kinds of gadgetry and come with the Google Android Automotive OS (operating system), making it the first vehicle range to be powered by Google's brains, including all kinds of infotainment, Google Assistant, Google Maps in HD and more. Everything screams the future, including the frameless exterior mirrors with autodim and which are foldable.
While the Polestar 2 is in hot demand the order book is already open on the forthcoming Polestar 3, a performance electric SUV with a 610km range and shifts up to 517 horsepower and which arrives in the market next year.
Drive different
Even in terms of how Polestar sells its cars, you get the impression that the business is deliberately trying to be different.
I encounter the Irish market lead forPolestar in Ireland Kieran Campbell at the car brand's showroom off a busy thoroughfare in the middle of Sandyford Industrial Estate. Resting in a steel shipping container is a shiny blue Polestar 2.
Standing still and surrounded by tasteful but minimalist furnishings, even standing still it looks alive and about to drive as a steady footfall of curious would-be buyers arrive at appointed times to take their pre-arranged test drive. The experience feels more akin to visiting an Apple Store to buy a smartphone than your usual car showroom.
Campbell is a seasoned auto industry executive who previously worked with Volkswagen and Mazda in Ireland.
The break away from traditional dealership style is deliberate. Even buying the cars is an online-only experience. "First and foremost we're a direct-to-consumer brand. Everything is bought online. Consumers in Ireland would be used to the normal dealership leader model, doing paperwork at the desk and so on. We have the physical space so people can experience what we're doing and how we do it but it begins by registering an interest online. Our team are on hand to help them with questions about range, battery, etc, but the experience is direct-to-consumer, configuring your car is digital, the entire journey is digital. As a consequence, the buying experience is all online."
For Campbell, it is all about simplifying the process. "Customers who still want to come in physically and test-drive the car, they can book the test drive online or they can walk in. We also have experiential events where we will bring our cars to an event." One such event was the recent Startup Grind event at the Future Mobility Campus at Shannon where one of Ireland's future mobility visionaries Barry Lunn from Provizio spoke about his vision to put safer, driving technology in every new car worldwide by 2025.
Campbell says the differentiator for Polestar isn't just the aesthetic of the vehicles or the more digital ways of selling, it is the drive. "It's the drive and the experience we focus on. It's our kind of space in the world. The real challenge is to educate as many people as possible about it."
Spark of genius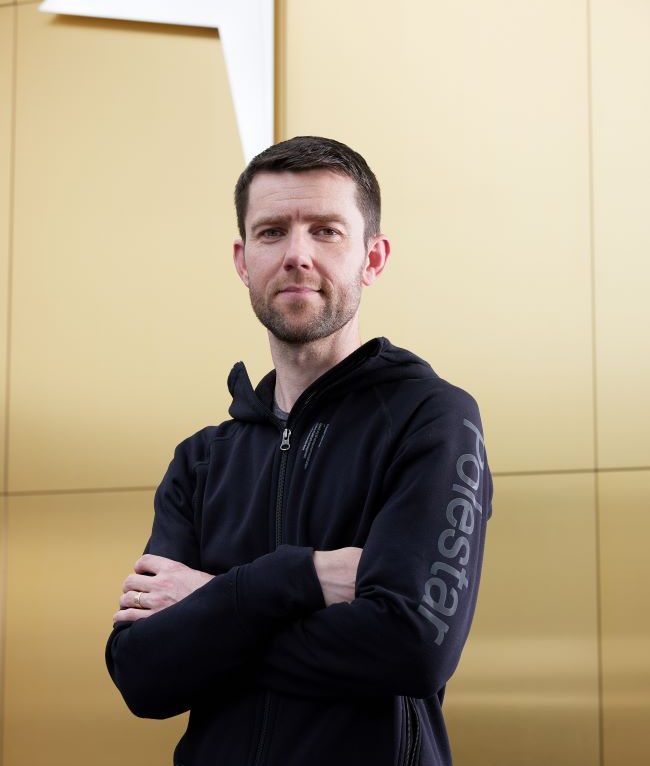 Kieran Campbell, market lead, Polestar in Ireland
In line with improved incentives and finance options for car buyers not to mention a Government target of having 1m electric vehicles on the road by 2030, Campbell says Irish motorists are accelerating their take-up of electric vehicles.
"It has been hindered by a lack of commercial and public EV charging points but thankfully with great partnerships and infrastructure from ESB and home charging installer Easy Go that is changing. SEAI provides a €600 grant to any household that requires an electric home charger."
He rejects the idea that lack of infrastructure is holding budding electric motorists back. "I would say our climate is excellent for electric batteries and also geographically from east to west and north to south it isn't a huge distance. The majority of today's cars have a range of up to 500 kilometres and you can get to the majority of most places in Ireland on a single charge. We're powered by Google Automotive OS which gives the motorist clarity on range and where to charge up.
"So the whole range anxiety piece is really reduced. If you're driving large distances consistently you need to be sure you're making the right decision. And you need to make sure it fits your lifestyle. The majority of people in Ireland do about 26 kilometres in a day on average. So for most people within the range of 464km on a full charge it is more than sufficient."
He points out that even if homes do not have an electric vehicle charger installed, cars can even be charged with a three-pin plug charger. "You just need to be sure that you have enough range to get to where you need to go. But thanks to EasyGo, ESB and various councils, the charger infrastructure question is gradually being resolved. The more EVs that get sold, the more charge points will be installed along with it. So the whole equation around charging points will sort itself out in time."
We return to the buying experience and Campbell says the diagnostics back from cars shows people testing how they perform on everything from mountain ranges to supermarket car parks. Crucially it is a digital experience.
"Once they return with the car for a de-brief we usually work through our car configuration software to help them build the car they want or they can buy from pre-configured stock and look at different buying options.
"We ensure that there are a team of specialists available to listen and help with every step of the buying decision. It's designed to be a nice calming space to be in."