On the wrong side of the digital divide, local communities in Kilkenny were sick of waiting and built their own 150Mbps network.
Two rural communities close to the Kilkenny-Waterford-Tipperary border have built their own fibre-to-the-premises (FTTP) broadband network.
The communities of Piltown and Fiddown have now connected the first homes and businesses to the 150Mbps network through a voluntary group called Broadband 4 Our Community (B4OC).
"We even hope to be able to pay a community dividend and the intention is that this money would finance other community projects"
No doubt exasperated by the lamentable rollout of the National Broadband Plan and clearly forgotten about by telecoms operators, the communities decided to help themselves.
Villagers are doing it for themselves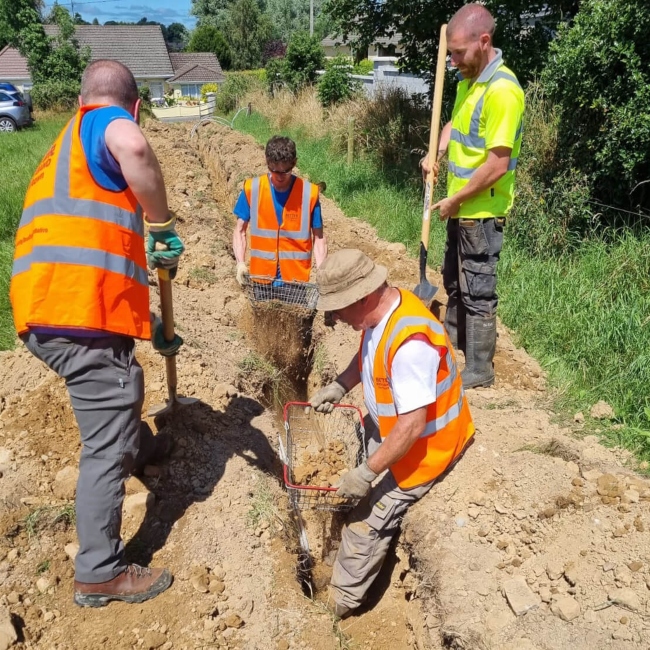 In all, 750 homes and businesses in a 3.4 square kilometre area now have, or will soon have, access to at least 150Mbps speeds and a future-proofed high-speed broadband service they can afford.
The fibre network is community-owned, community-driven and managed by B4OC, a locally-based not-for-profit company whose board of enthusiastic volunteers. Their range of skills and expertise, together with a shared vision of the project and the benefits to their community both now and into the future, has brought the project to fruition, making it the first of its kind in Ireland.
It means that businesses such as Iverk Produce/O'Shea Farms, one of the largest suppliers of fresh fruit and vegetables in Ireland, and a host of other small and medium-sized enterprises in the locality have the broadband service and infrastructure they need.
Hundreds of families who struggled with speeds of between 1Mbps and 6Mbps also have the fibre power they need to work and study from home, to conference call and stream and really enjoy the benefits of living in rural Ireland.
B4OC's vision and aim since the project was first mooted by Kilkenny LEADER Partnership (KLP) back in 2019 was to deliver true, future-proofed high-speed broadband for the community of Piltown and Fiddown, Project Manager, Jim O'Brien, explained.
The IT graduate, who returned to college in 2018 after a career in construction, lives locally and struggled to remotely access his course materials.
He bought a dongle, moved to his garage and finally got 13Mbps speeds, up from just 5Mbps. He's now B4OC's project manager and says the buy-in from local businesses and the wider community has been incredible.
"KLP and its philanthropic funding partner, the Tomar Trust, supplied technical assistance, planning, training and capital funding to the community to develop and advance the project. After that, the community drove on and did everything else.
"Businesses donated bits, gave us other items we needed at cost and dug deep with us. My own father-in-law is a retired fitter and he has been out in the trenches and up poles with me as we built the infrastructure. All of this has been built on private lands and sits into the landscape. We've now completed Phase 1 and have a few phases to go now."
The two villages are among approximately 20 similar-sized villages and towns in Kilkenny classified on an EU standard set over a dozen years ago as having "adequate broadband."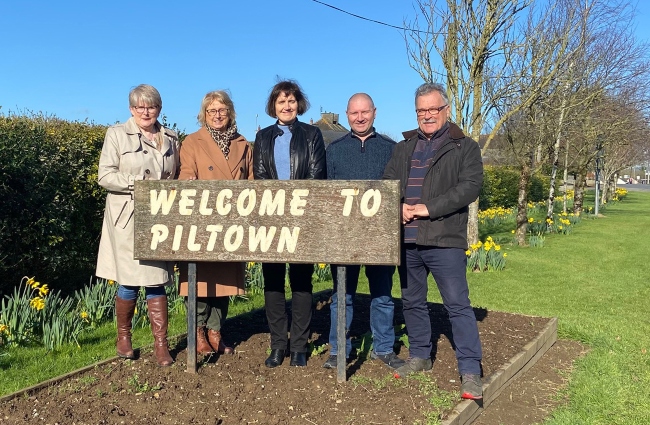 B4OC board members Mary Morgan, Gerri Hickey, Jill Downey, Brian Doyle and Paul Walsh
Therefore, they are not included for investment under the National Broadband Plan. But much has changed in what's regarded as "adequate broadband" since 2010 and the reality on the ground now is far different.
Locals in the Piltown-Fiddown area were adamant they would not be left behind.
"This is a network in which our community is invested," B4OC chair, Brian Doyle, explained. "Given that laying fibre-optic cable is expensive, using the future-proofed FTTP model employed by the telecommunications industry was the only way forward.
"Doing it mostly ourselves meant that our costs were greatly reduced. This is a service by the community, for the community which is owned by the community and run in its interest. It is a much leaner development model and operates on a not-for profit community-owned basis. We even hope to be able to pay a community dividend and the intention is that this money would finance other community projects."