The latest €70m Delta Fund will focus on young businesses across Ireland with the power to disrupt the future, says head of TMT at Bank of Ireland Paul Swift.
"A strong track-record of investing between the bank and Delta is putting it mildly," says Paul Swift, head of Technology Media and Telecoms at Bank of Ireland.
In recent months Bank of Ireland once again joined forces with Delta to launch the new €70m fund as a cornerstone investor alongside Enterprise Ireland and supported by Fexco and several family offices.
Partnering with venture capitalist firms is how Bank of Ireland invests in promising young Irish businesses. As well as Delta, Bank of Ireland has also been involved in successive and successful funds to invest in start-ups and SMEs including venture capital firms like Kernel Capital and BDO.
"We are not a venture capitalist ourselves, so working with an organisation that has the capacity and the expertise and the experience is crucial. So it makes perfect sense for Bank of Ireland to work with Delta to identify early-stage businesses to support through vehicles like this latest Delta Fund."
Finding the next 30 Irish tech disrupters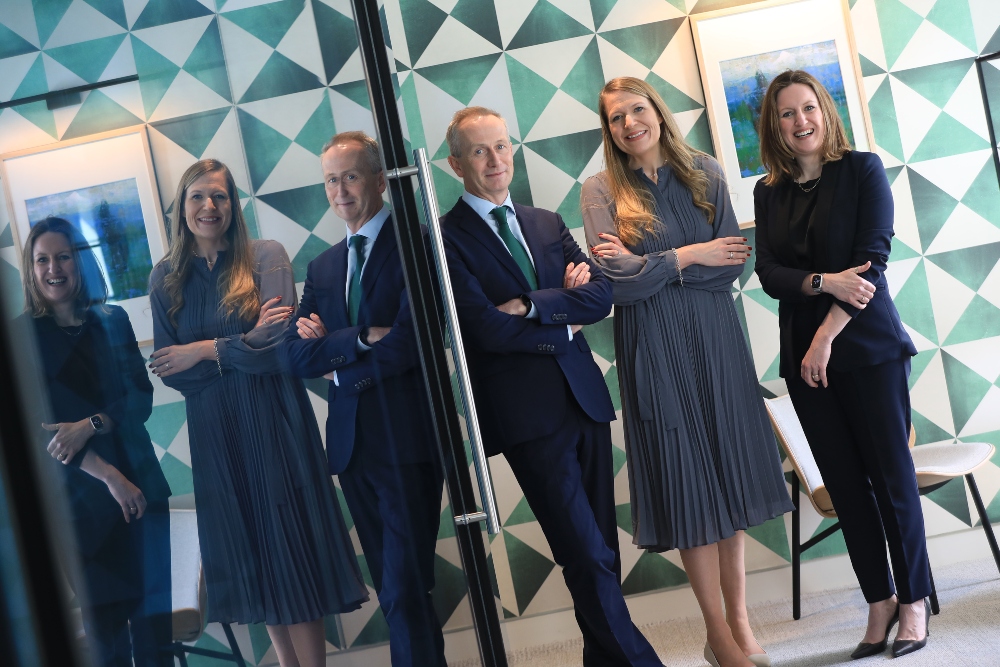 Leo Clancy, CEO, Enterprise Ireland, Jillian Clarkin, Head of SME Markets at Bank of Ireland, and Amy Neale, Partner at Delta Partners, pictured at the launch of Delta's new venture capital fund
Delta is one of Ireland's longest serving venture capital players with a strong track record. It has backed more than 120 investee companies to date with successful scaling companies such as Luzern and Sirius XT in the current portfolio. To date, the team has realised €1.8bn from companies such as Clavis (sold to Ascential plc), Sensl (sold to OnSemiconductor) and Neuravi (sold to Johnson & Johnson).
The expanded Delta team – veteran venture capitalists Maurice Roche and Dermot Berkery who are now joined by Amy Neale and Richard Barnwell – will invest in 30 of Ireland's most innovative and exciting start-ups over the next three-to-four years.
Delta's strategy is to invest at both the seed stage, where it will be the first institutional investor on board, and the Series A stage as companies launch their products and services internationally and require more capital to fund the scaling stages.
News of the new fund Delta Partners (€70m)came amid a slew of new funding announcements, including Elkstone (€100m), Melior (€160m) and Act Venture Capital (€140m) – all underpinned by the Government's €90m investment in seed capital revealed in February.
Swift said that a key aspect of why a 240+ year-old bank would partner with a nimble and astute venture capital firm is cold hard logic. "Many of the disruptive early-stage businesses would be outside of our appetite for traditional bank debt," he explained. "But by creating a fund and working with Delta's expertise it is a great way to support these businesses in a different way. It very much ties in with our mission to support our customers, colleagues and communities to thrive. And so, it is a great way to back young companies and grow them to a point where they do fit within our radius for potential bank debt."
The talent is here, it just needs to be backed
As head of TMT at Bank of Ireland there are many instances where Swift as well as Delta would get to meet many of these early-stage businesses and it is essential that there is a way to engage with them at the earliest opportunity.
For Swift, Ireland is bursting at the seams in terms of technology and entrepreneurial talent, much of which of which owes its origins to the generations of young businesses leaders have worked in multinationals such as Intel, Google and Meta etc and are now going on to form great businesses, imbued with world class management skills and a global outlook.
"These guys went on to lead fantastic businesses, utilising all of the experience and knowledge they gained from working in a global business. They learned how to run businesses, how to manage internationally, how to identify a problem and then solve it as a business. That spirit has endured and will continue to endure as Ireland continues to be a magnet for globalised foreign direct investment as many executives from these businesses coalesce with young founders and technologists from third and fourth level from all across Ireland.
The next important link in the chain is access to seed and early-stage capital.
Already the Delta Fund has invested €1.5m in a young Dublin business called Vision R which helps bricks and mortar retailers compete just as effectively offline with the online giants by offering greater personalisation for customers.
Swift said the investment typifies the nature of the kind of companies that the new fund will continue to back; businesses at the cutting-edge of digital that also can disrupt traditional industries.
"We are seeing the vast digitalisation of everything, from the sports sector to retail, health, you name it. Exciting things are happening all over Ireland in terms of artificial intelligence, the internet of things, the industrial internet of things as well as medical devices.
"We are likely to see to investment in opportunities that are in areas that have very significant addressable market opportunities. It boils down to the problem the business is going to be solving and how big that market is. Data is the common thread uniting a lot of these possibilities and Ireland is at the nexus of this digital and physical world."
Another core point about the new Delta Fund backed by Bank of Ireland is that it will be national in focus and not solely focused on large urban centres like Dublin.
A roadshow of events is on the cards with the first event happening in September in Cork.
"Innovation is happening everywhere in Ireland but you have to go and see it for yourselves. It's not just about meeting these businesses but understanding what fundable, investment-ready businesses look like," Swift concluded.
"We have a plan that extends from this year and into next year to visit companies and hold events all around Ireland to talk to founders right across the country."