More than 20 working farms from across Northern Ireland take part in Bank of Ireland Open Farm Weekend 2023 highlighting the benefits of buying local.
Led by the Ulster Farmers' Union, organisers are predicting up to 20,000 visitors will attend Open Farm Weekend farms across Father's Day Weekend 16-to-18 June to enjoy a packed programme of free activities to showcase Northern Ireland food and farming at its best.
Bank of Ireland Open Farm Weekend will represent all sectors within the farming industry including dairy, beef, lamb, arable, poultry and vegetables, and as all counties have a local farm participating, the public, wherever they live will have the chance to learn more about a real working farm.
"It's a challenging time for farmers, but their enthusiasm and hard work never wavers, and we are delighted that the public will get to see this in June"
"A thriving agri-food industry is vital for communities within Northern Ireland and we're proud to once again be the title sponsor for Open Farm Weekend and to celebrate and recognise the important contribution the agri-food sector makes to our society and economy," explained Richard Primrose, Bank of Ireland UK Agri-Business manager.
"Building on the success of the these past few years, we're looking forward to farmers having the chance to showcase their farms to the public once again. Being on farm will provide the perfect opportunity to practically illustrate and educate consumers on how our local food is produced and continue to help foster the growth and prosperity of this industry."
The past few years saw Bank of Ireland Open Farm Weekend take on a virtual format, which showcased the event to an audience well beyond Northern Ireland. With this in mind, selected activities on farms will be also streamed live through Open Farm Weekend's social media channels and www.openfarmweekend.com making it easier than ever to get involved.
"We are delighted to be in a position to host Bank of Ireland Open Farm Weekend on 20+ farms," said Ulster Farmers' Union deputy president, William Irvine. "It's a challenging time for farmers, but their enthusiasm and hard work never wavers, and we are delighted that the public will get to see this in June. We are indebted to our title sponsor Bank of Ireland whose support has enabled us to deliver an engaging Open Farm Weekend programme of activities across the weekend.
"Our aim with Bank of Ireland Open Farm Weekend is to showcase the outstanding contribution our farms and farm families make in producing the quality food we so often take for granted. Throughout this year's event we will be highlighting the importance of supporting local, farm diversification and animal welfare, and I encourage everyone to visit our farms, speak to our farm families and really celebrate the wonderful produce available right here in Northern Ireland."
Participating farms in Open Farm Weekend 2023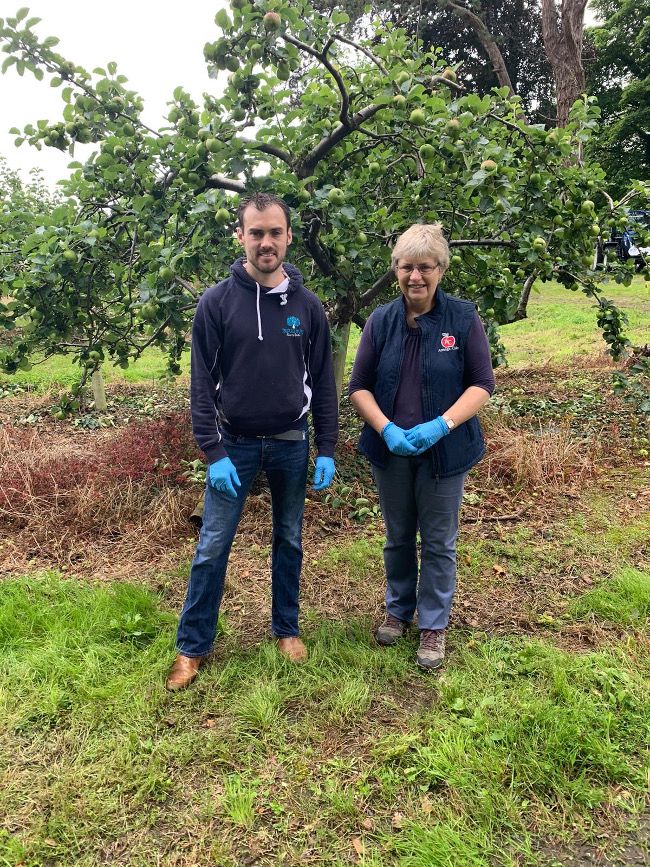 Open Saturday & Sunday 10.30am-to-5pm
The Troughton family have been growing apples at Ballinteggart House for five generations since 1898. The family farm has also been home to a hugely successful sport horse breeding stud for over 20 years. Since 2006 they have been leading the way with innovative apple products and created award-winning, natural and hand-crafted cider, apple juices and most recently flavoured tonics made with the spring water on the farm. What makes the Armagh Apple Farm at Ballinteggart House different is that the Troughton family do everything in-house from growing to processing, packaging and selling their own apple-based products as well as their aptly named Troughtons mixers. The family have been involved with Bank of Ireland Open Farm Weekend since its inception and enjoy sharing the magic of their apple orchards with families from across Northern Ireland and beyond.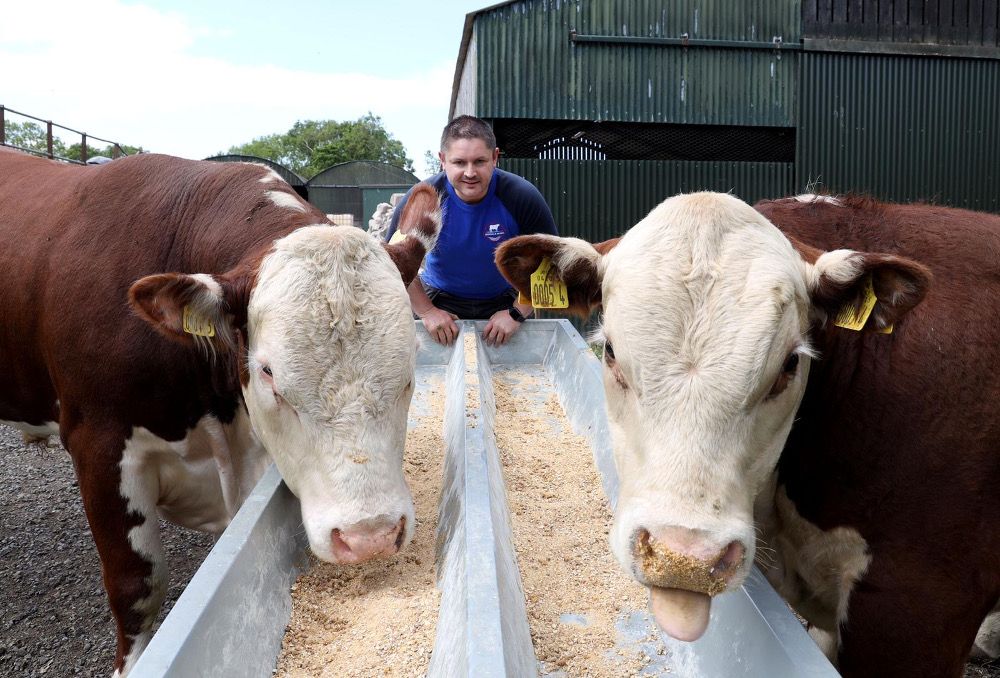 Open Friday Schools Day & Sat 10am-4pm
Jonathan Tuft and wife Bobby and children Pippa and Cairns from Bessvale farm are looking forward to participating in Bank of Ireland Open Farm Weekend. They have a mixed farm in Upper Ballinderry and the family have been farming there since Johnathan's great-grandfather bought the site in the 1800s. Although best known for their organic and non-organic chicken flock, which they supply to Moy Park, the Tufts also have about 130 sheep, a pedigree Hereford herd and grow about 30 acres of barley. Jonathan is keen to educate people about the high standards adopted by farmers in Northern Ireland and how important locally grown produce is as they sometimes miss what's available on their doorstep.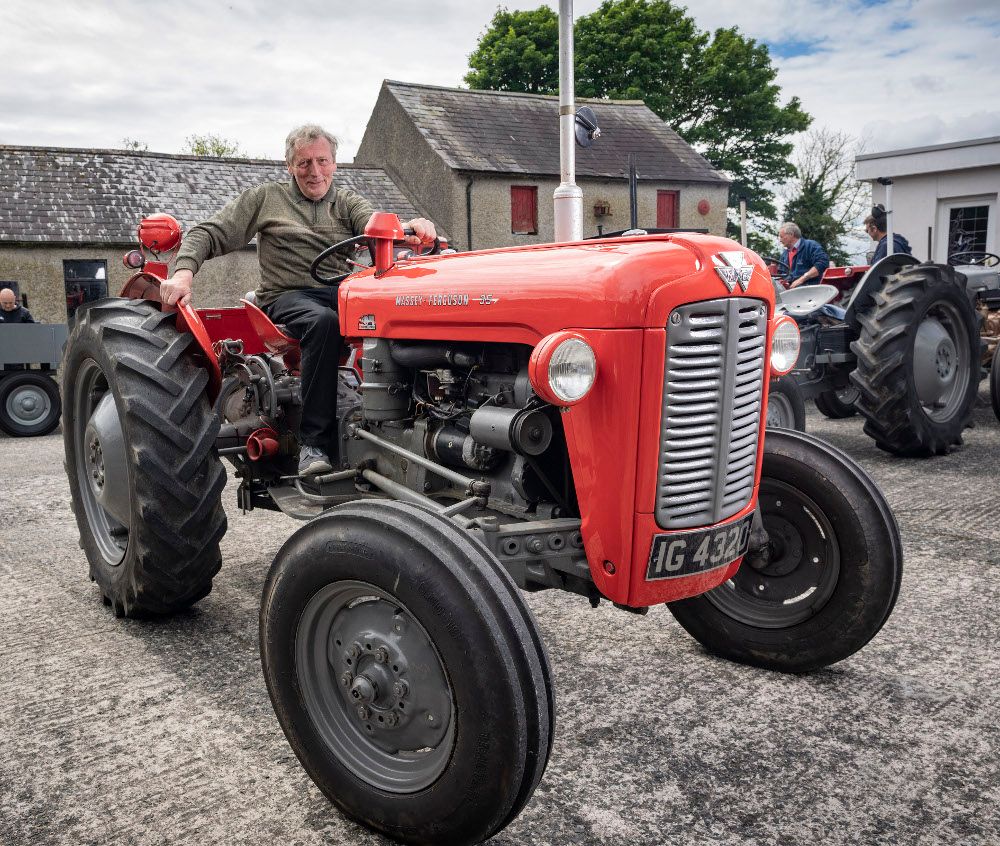 Open Friday Schools Day & Saturday 10am-to-5.30pm
Bullsbrook Farm is run by Roy McMurray who inherited the farm from his parents. Bullsbrook dates back to the mid-17th Century when the land was given to the Maxwell family as a reward for fighting for Oliver Cromwell. Roy is passionate about preserving the unique history and has restored the period house which dates back to 1700, offering visitors a glimpse into how rural dwellers used to live. The farm has been part of the Countryside Management Scheme since 2001 and is home to a beef cattle herd and a small agricultural museum. In one of the restored buildings, there is an open fire with the original crook and bellows and a place to bake bread on the griddle, just like way they used to make it! The farm also has an amazing collection of farmyard implements and equipment – everything from old butter churns to hand operated seed planters. The River Lagan runs through the farmland and provides a peaceful area to explore wild birds such as Goldcrests, Jackdaw, Tree Creepers, and Greenfinch to name but a few! Roy enjoys sharing his knowledge and the history of the farm at Bank of Ireland Open Farm Weekend. A visit here offers a chance to step back in time and learn about traditional farming practices from days gone by.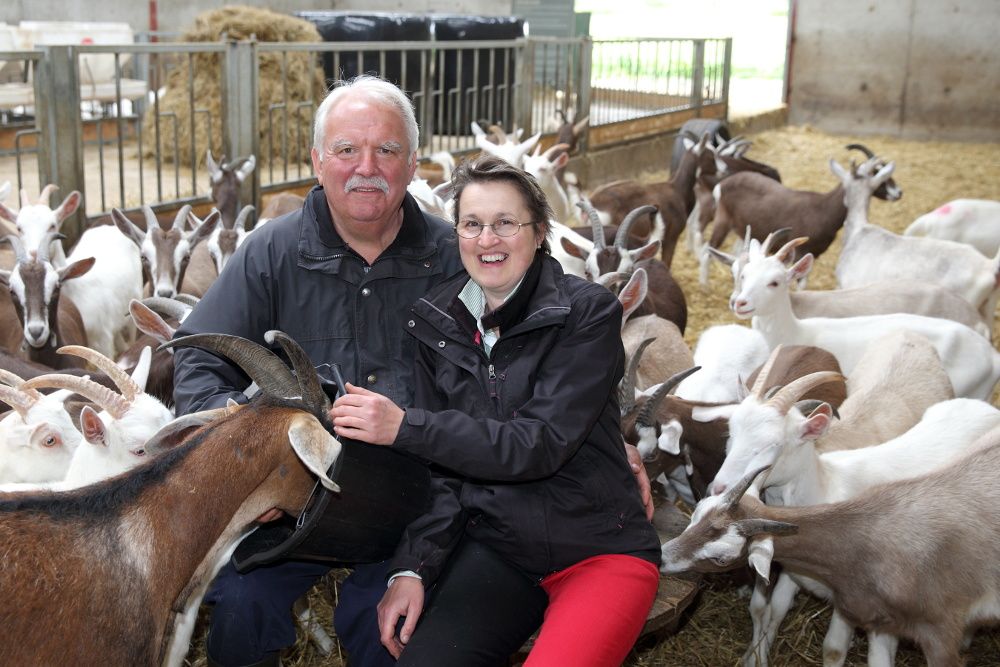 Open Friday Schools Day, Saturday 11am-to-4pm & Sunday 11am-to-4pm
Broughgammon Farm are obsessed with providing the best quality, tastiest produce fresh from its small farm in Co. Antrim, Northern Ireland. The farm was set up in 2011, when its owners saw that a majority of male kid goats born to the dairy industry were being put down at birth. "This seemed such an unnecessary waste so we set out to take those males and rear them ourselves for delicious and healthy cabrito kid goat meat. Since then we've branched out into rearing free-range rose veal and also seasonal wild game. We now have our own artisan on-site butchery, run seasonal cookery, butchery and wild game classes and have a new farm café and shop selling the best of Northern Irish and Irish produce. We also deliver our meat boxes all over Ireland and the UK. The farm is roughly a third arable, a third improved grazing and a third rough hill ground. With a stream running through it, a small pond, odd clusters of mature trees and well-maintained hedgerows it really is an environmental paradise. And it is like this we would like it to stay!"
Open Friday Schools Day & Sat 10.30am-to-4pm
The College of Agriculture, Food and Rural Enterprises (CAFRE's) is delighted to welcome visitors to Enniskillen Campus during Bank of Ireland Open Farm Weekend.
CAFRE is Northern Ireland's specialist agri-food and land-based college and providing equine focused education at Enniskillen Campus. During open farm weekend the public will have an opportunity to visit the specialist facilities are that are used by both students and industry. CAFRE has more than 1,800 students registered at Greenmount, Loughry and Enniskillen Campuses, and each year provides support to over 10,000 people working in the Agri-Food industry.
CAFRE is an integral part of the Department of Agriculture, Environment and Rural Affairs, for Northern Ireland.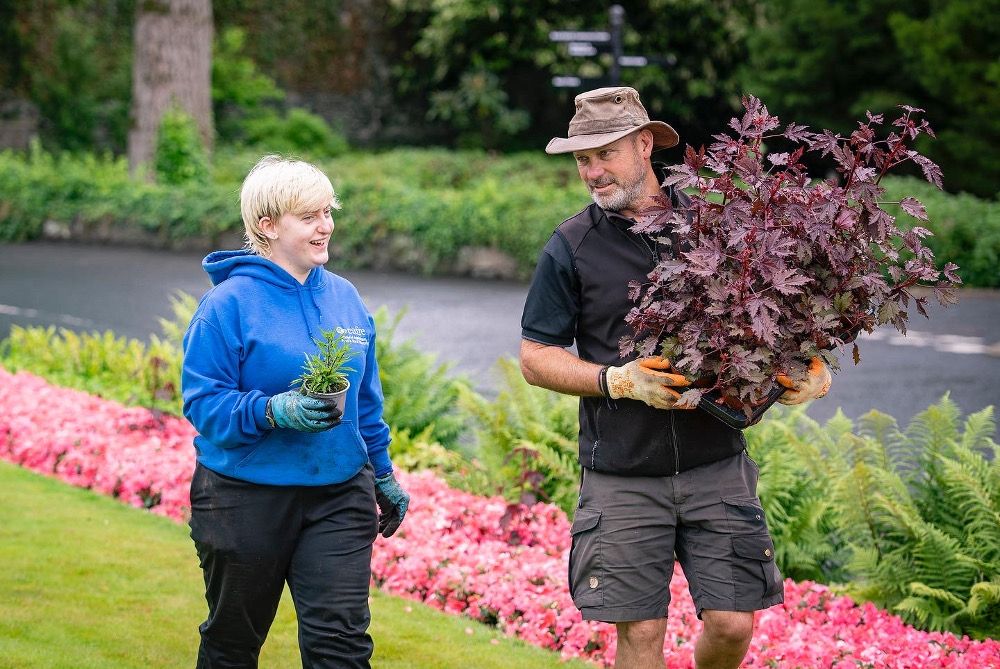 Open Saturday & Sunday 10.30am-to-4pm
The College of Agriculture, Food and Rural Enterprises (CAFRE's) will welcome visitors to Greenmount Campus during Bank of Ireland Open Farm Weekend.
Hospitality: Morning Coffee, lunches and afternoon tea can be purchased on-site from Mount Charles Catering. Or bring a picnic, with several picnic benches available throughout the campus. (BBQ not permitted) Dogs are not permitted, with exception of assistance dogs.
Open Friday Schools Day & Sat 12-5pm
Brian Cromie runs two enterprises on his 260-acre farm, 160 dairy origin beef cattle and 450 ewes. Purchased calves are mainly Aberdeen Angus, Hereford and Belgian Blue crosses and are finished off grass at approximately 24 months of age. Brian operates a rotational paddock grazing system, using both permanent and temporary fencing, with groups being moved every three days. Grass growth is monitored weekly using a plate meter and computer software.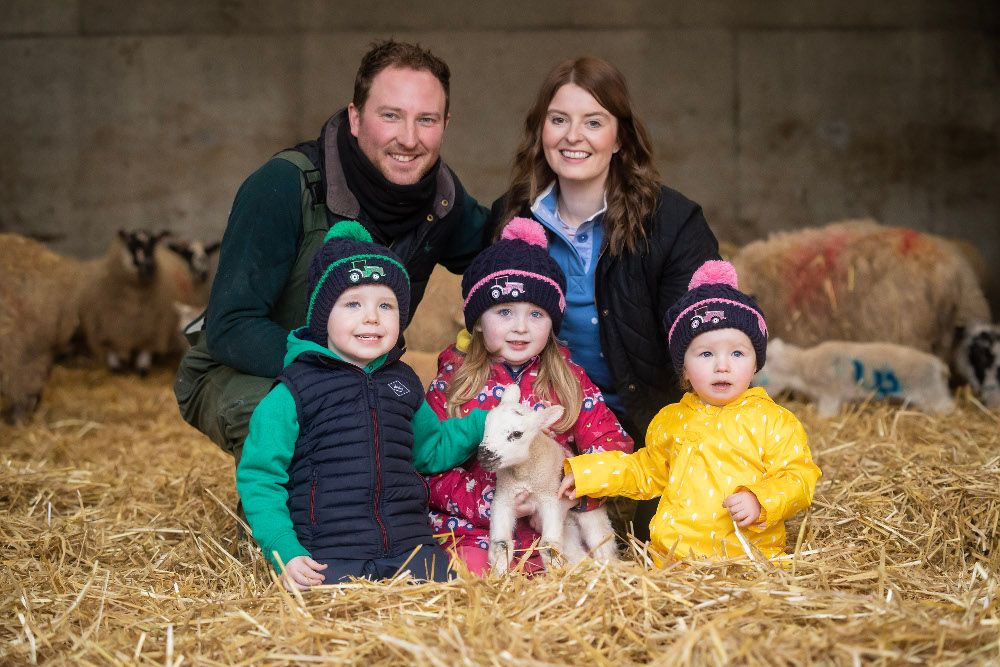 Open Saturday & Sunday 10am-to-5pm
Craighall Farm is a dairy, sheep, and broiler chicken farm located outside Antrim town in County Antrim. The farm is in its third generation of the Clark family with two generations farming together today (William and his father David). For the dairy enterprise it has two robotic milking machines and about 100 milking cows. William lambs 250 mixed cheviot, Suffolk and mule sheep each year. It has three broiler houses which rear chickens to 6 weeks old and sell them to Moy Park for the chicken industry. The farm named after the townland of Craighall. William and wife Claire got married last year and she moved up from a dairy farm in County Armagh. The couple are looking forward to taking part in Bank of Ireland Open Farm Weekend and welcoming everyone to their farm.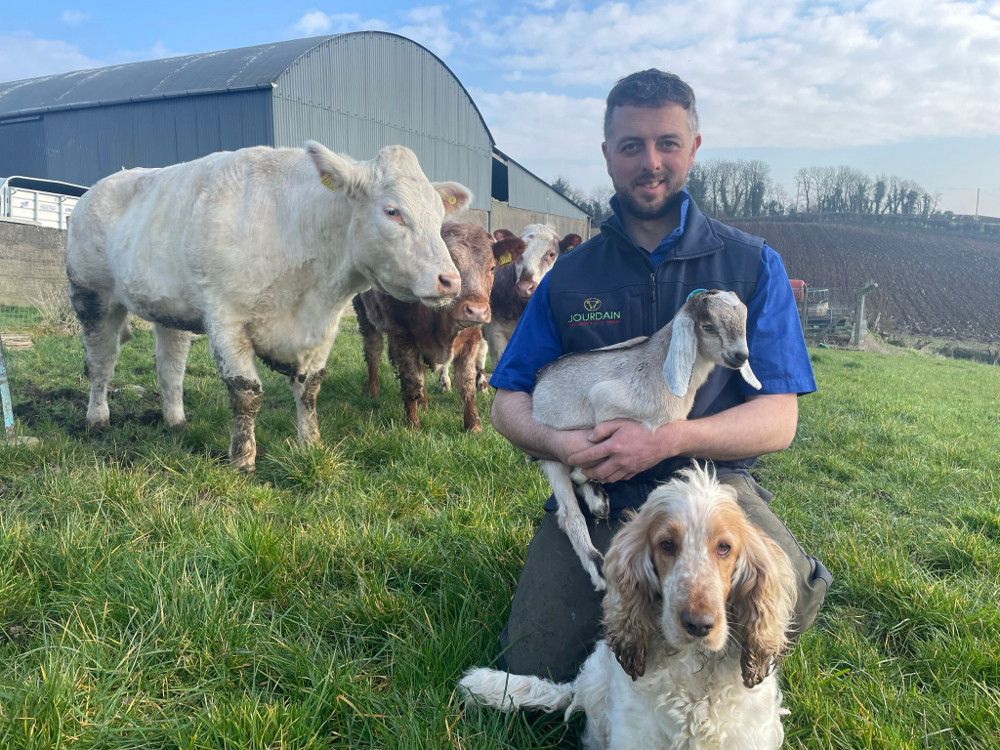 Open Friday Schools Day Only
Churchview Farm in County Down is a 60-acre farm near Castlewellan probably best known for its dairy goat herd which was started in 1989. Well-known in the agricultural competition circuit, having won countless UK awards, there is nothing the Ringland family don't know about goats! Churchview has started a new venture; breeding goats for meat to sell directly from the farm to its customers, and it is being very well received, especially over the last few months. A relatively young participant to Open Farm Weekend, having started in 2018, the family love welcoming people from all walks of life to the farm to see their animals up close, have a go at feeding kids or milking a goat and enjoying potatoes, sweetcorn and particularly strawberries grown directly in their polytunnel.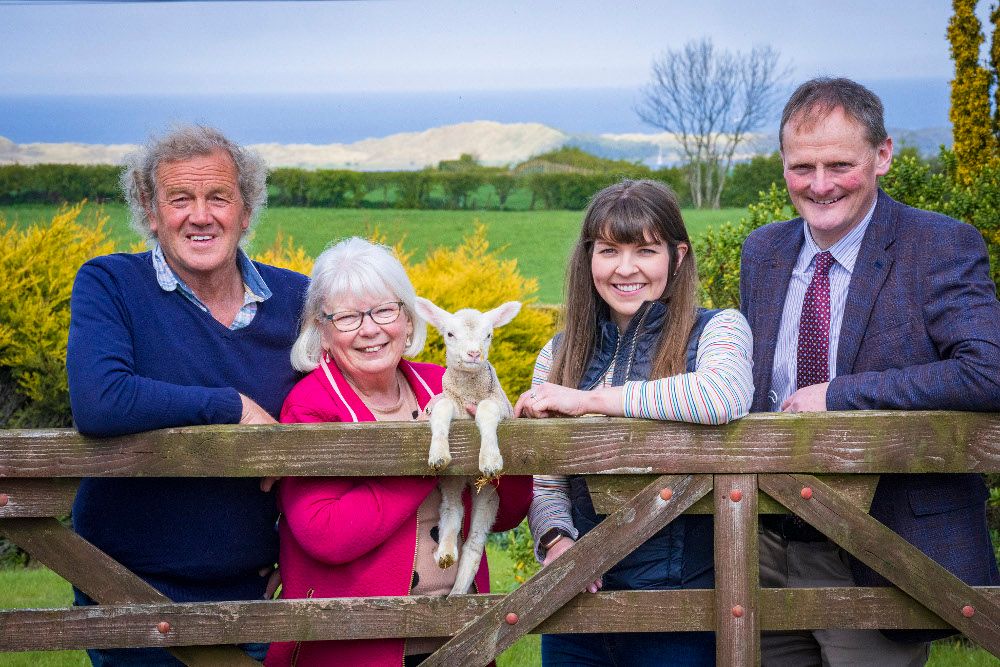 Open Friday Schools Day, Saturday 11am-to-4pm & Sunday 11am-to-4pm
D&D Holland is a sheep farm in Articlave, owned by Don and Dorothea Holland with an 800-strong sheep herd that thrive year on year, grazing happily on its fertile farmland. A recent new venture into agri-tourism has been made possible for the Holland's thanks to their close proximity to the picturesque towns of Castlerock, Portstewart and Portrush. This idyllic location on the North Coast will mean their self-catering cottage will be in high demand in future summer months. Don and Dorothea enjoy participating in Bank of Ireland Open Farm Weekend as they recognise the art of farming has diminished through the years. Whereas before most people had a relation that was involved with farming, nowadays this is not always the case. The husband and wife team still want to keep the magic alive for today's children and highlight what happens on a working farm and ultimately where their food on their plate comes from.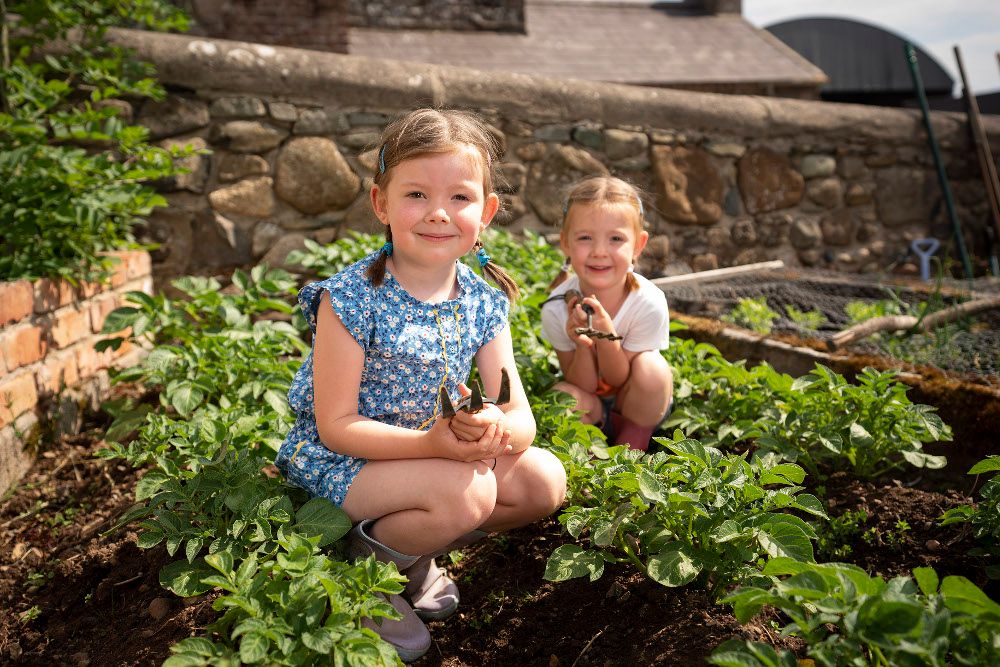 Open Friday Schools Day, Saturday 11.30-4.30pm & Sunday 12-4.30pm
Donagh Cottage Farm is located near the peaceful village townland of Donacloney. Passed down the generations, the Matthews family took over the running of the farm in 1970. Brian Matthews along with his son Jonathan, daughter Naomi and wife Sylvia run the farm and keep it looking its best. There is a new additional to the family this year, Becky, who is marrying Jonathan in June. She has taken to the farming life very well it's a contrast to her day job in the NHS. This dairy farm is home to a pedigree Holstein herd and boasts a traditional farm courtyard with buildings maintained well throughout the years. Donagh Cottage also has beautiful gardens bursting with colourful plants and fragrant shrubs. With chickens laying eggs, a seasonal vegetable patch and all types of birds and insects buzzing around, it really is a haven of serenity in the County Down countryside and a fabulous addition to Bank of Ireland Open Farm Weekend.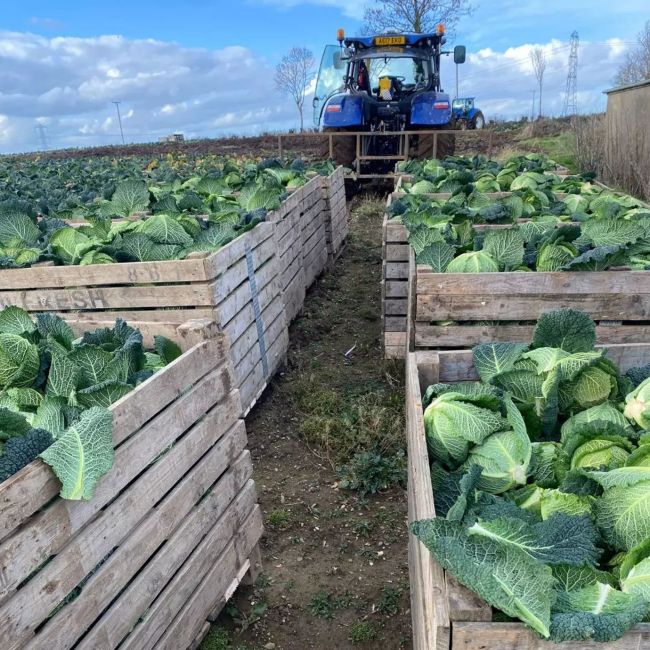 Open Friday Schools Day Only
Gilfresh Produce is a family run company which is based in Loughgall in Co. Armagh. It was first established by the Gilpin Family in 1965 and has continued to grow and expand since then and has now firmly established itself as one of the country's leading vegetable providers, dedicated to the growing, sourcing, processing and packing of the highest quality whole head and prepared fresh vegetables for retail and food manufacturing customers throughout the island of Ireland. The facilities at Gilfresh Produce have continually developed and expanded over the years with the current site boasting two state of the art pack houses, cold storage and moisture facilities as well as a vegetable preparation facility.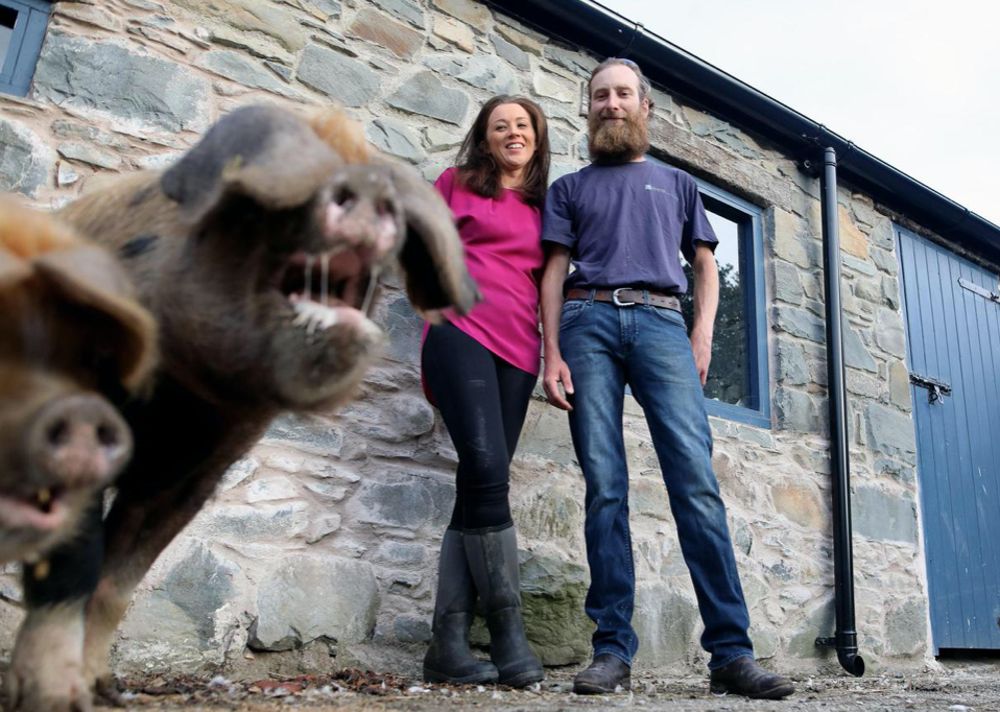 Open Friday Schools Day Only
Hollow Farm in Downpatrick is owned and run by Carrie-Anne and Lee Mooney and their two boys, Tobias and Jacob. The farm was established in 2016 when the couple bought their dream home and a small holding and wanted to adopt a more sustainable way of farming.
Starting out with a few chickens and horses, in a short space of time, the menagerie has grown to include ducks, geese, turkeys, bees, cows, cats and dogs and of course their Oxford Sandy and Black rare breed pigs which Hollow Farm is best known for. The boys regularly help with the farm's vegetable patch and enjoy growing and tending to their crop which includes potatoes, onions, Brussel sprouts, cabbage, leeks, pumpkins, broccoli, kale and a variety of salad; they are also kept busy with animal feeding & the daily collection of freshly laid eggs. Lee is a member of the Worshipful Company of Farriers after graduating in 2014 and works freelance across Northern Ireland with a variety of horses, ponies, donkeys and clients in a wide range of industries in the equestrian world. His work as a Farrier lends itself to the life of running a smallholding and has led to the development of friendships among the smallholding and farming communities. Carrie-Ann is also a Poultry Diarist for Country Smallholding Magazine where she enjoys sharing her experiences of rearing waterfowl and various breeds of poultry including Scots Greys and Sussex who are both on the rare breed survival trusts PRIORITY watch list. The couple enjoyed visiting farms on previous Bank of Ireland Open Farm Weekend's and decided to try it out for themselves this year. They are looking forward to interacting with other farms during this year's event.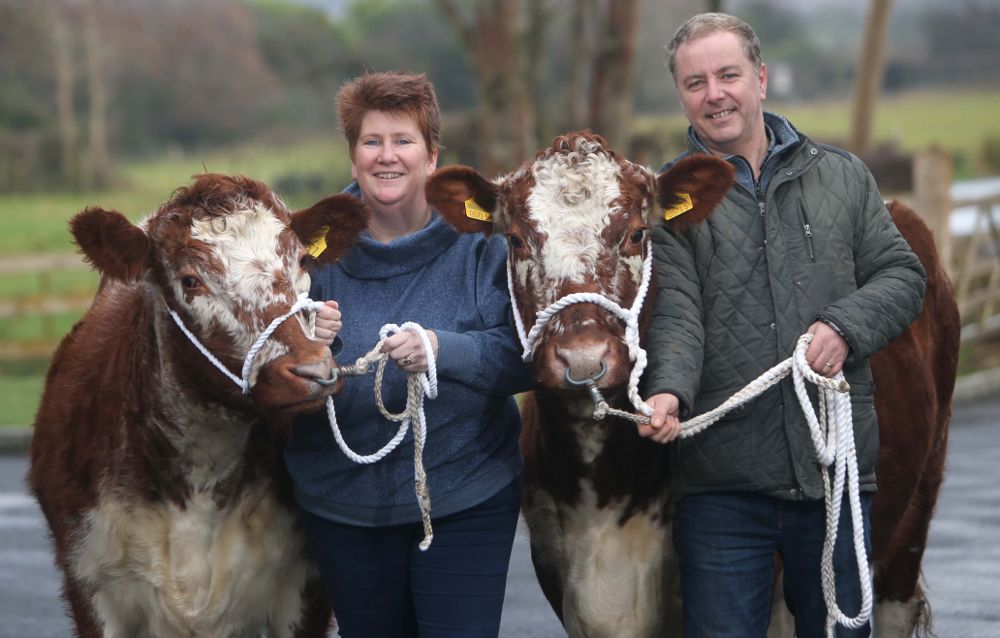 Open Friday Schools Day, Saturday 12.30pm-to-4pm & Sunday 12.30pm-to-4pm
During Bank of Ireland Open Farm Weekend Laurel View will showcase their two passions – one is their well-known equestrian centre, and the other is their herd of pedigree Irish Moiled cattle. You will see horses alongside the 66 strong herd of Irish Moilies, the only surviving domestic cattle native to Northern Ireland. Wife, Linda Davis, gifted her husband Robert, his first Moiled cow 20 years ago and the herd grew from there, with the sixth-generation daughter now running with the bull. The equestrian centre based outside Templepatrick has over 30 horses that are used for its popular horse-riding lessons. The venue also facilitates riding for disabled, equine livery, competitions in all equestrian disciplines and also various levels of equestrian training and assessments. Laurel View is also a Social Farm working closely with Muckamore Abbey Hospital. The thing the family love most about Open Farm Weekend is sharing their knowledge with others, promoting the Irish Moiled breed and the delicious end product, while helping to support the local farming community in Northern Ireland.
Open Friday Schools Day Only
Lislagan Farm will enable children and adults with learning disabilities, autism and mental health issues to avail of social and leisure, fun and friendship, health and well-being initiatives and therapeutic interventions. By converting the original stone farmhouse, stable and barn into bookable respite accommodation and a coffee shop, it provides a safe and inclusive space for families, groups and individuals to enjoy a holiday in the countryside, taking advantage of all that the farm offers. "Lislagan isn't just for us," the owners say. "It will provide so many opportunities for people in the local community and beyond both to support us and to be part of something special – from stopping by for a coffee, hiring our event space for a day out, taking part in activities and events, volunteering and spending a day immersed in nature." CAN is a bold and creative organisation supporting children, young people and adults with learning disabilities, autism and mental health issues on the North Coast of Northern Ireland.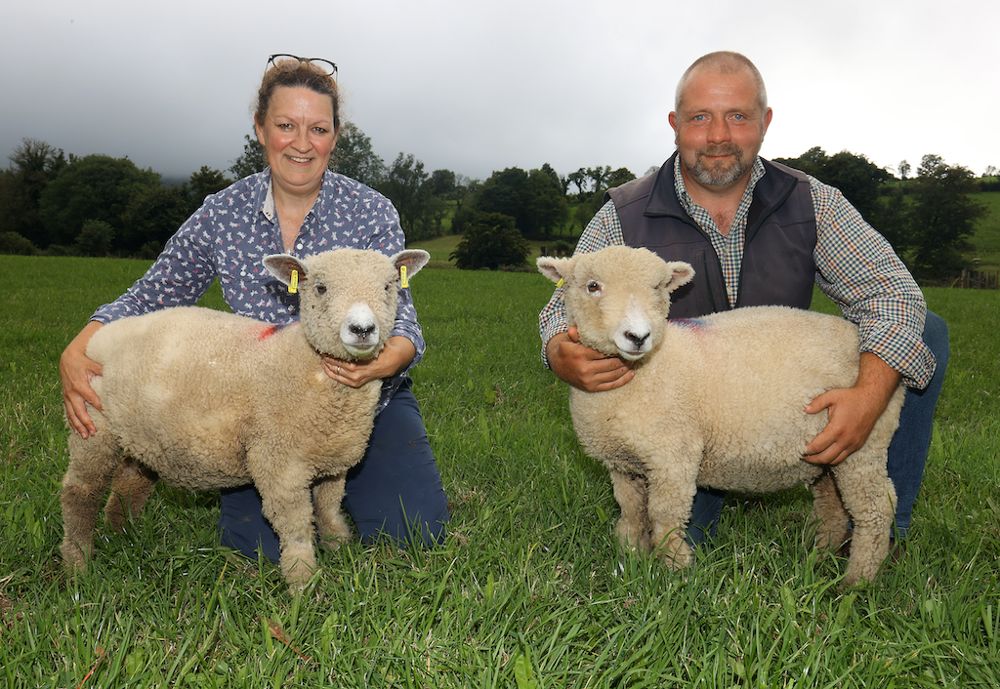 Open Friday Schools Day, Sat 11-5pm & Sun 12-5pm
Meet the Balfours: Rodney, Emma & Sam – third generation farmers from Co Fermanagh, Northern Ireland. Their farming journey began in 2017 with a small flock of Ryeland and Ile de France sheep which they have nurtured into a flock 250 strong. As they venture into their farming future, they are establishing themselves as a quality producer of slow-raised, premium lamb and sharing their passion with community and customers. Their sheep farm is nestled in the heart of the Fermanagh Lakelands amidst the naturally rich, rolling hills the County is famous for. Through their ethical farming methods, they endeavour to promote the values of the Farm to Fork principles of fair, healthy and environmentally friendly food systems, from pastures to your plate. Rodney, Emma and Sam put all of their knowledge and effort into rearing premium grade, grass fed lambs on their fertile pastures by the process of ethical and sustainable slow rearing and using the latest sustainable farming practices, whilst ensuring their lamb is growth hormone, preservative and antibiotic free.
The Fermanagh climate provides perfect conditions to enrich fine pasture lands for the lambs to develop and feed which goes a long way to helping them produce a uniquely flavoured and healthy, grass fed Lamb for all to appreciate. Through their farm shop, they truly live the ideal of Farm to Fork by selling produce directly to customers, allowing full control over how meat is handled. Not only does this allow customers to see how and where their meat is reared, but also gives them the opportunity to support other local businesses by hand-picking produce aligned with their values which they then stock in their shop. These include locally grown fruit and veg, jams, chutneys and oils as well as local handcrafts. A few short miles from Enniskillen, the location is ideal for locals and visitors to call out to the farm and select the perfect cut for a well-earned evening meal after hiking the nearby mountains of Culcaigh and Belmore or perhaps you have been out on the Lough all day and ready for a healthy and wholesome cut of Lamb. You may well be touring along the idyllic roads of the Fermanagh countryside and taking in some spectacular scenery and locations such as the Global Geopark of Marble Arch and Boho Caves on route to Florencecourt.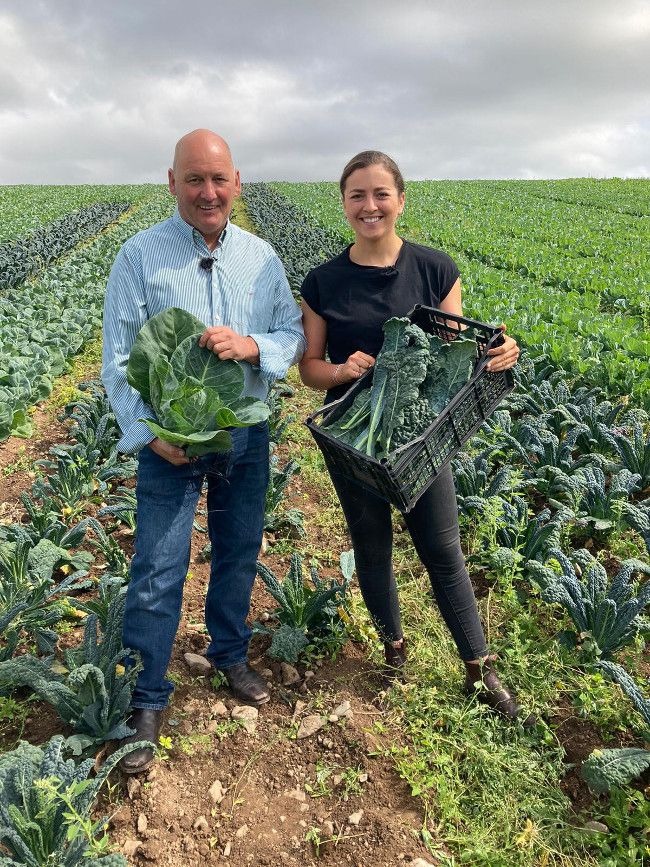 Open Friday Schools Day, Saturday 11am-to-5pm & Sunday 12pm-to-6pm
Millbank Farm has existed on the same site in Killinchy since 1889 and while a lot has changed over the decades, we have continued to produce great quality food in the fields of County Down for six generations and counting. In the early years, the farm was a corn and sutch mill which processes flax for the local linen trade, but today we are a medium mixed farm of around 400 acres – including 80 acres of cereals, 80 acres of veg, as well as grazing for dairy heifers and 200 ewes. We also have two broiler houses for supply of Moy Park chicken, and in recent years we excitingly have opened the farm's first customer-facing venture; Millbank Farm Shop, which is in pride of place on Saintfield's high street. With this most recent diversification into serving the local public, we see the importance of always evolving and moving positively with the times. Our effort was to create a customer experience that provides fresh, honest, seriously local produce – mostly grown at home on our farm or in the immediate area, and with as little plastic packaging as possible. The shop provides an ever-changing variety of fresh fruit, vegetables, dairy, and whole foods – perfect for the home cook and chefs alike. Quality, seasonality, and a love of good food is at the forefront of everything we do. Adrian is at the helm of the business, with three daughters raised together with his wife Paddy. Eldest sister, Susie is a graphic designer in London, the middle daughter Victoria is a primary school teacher at the local primary school and Emily has joined Adrian on the Farm in Killinchy. The family business is exactly that – with everyone adding their own skills and input to make the legacy of Millbank Farm a success. As a business, Millbank is committed to farming sustainably. The farm works the land in a sympathetic way, and takes every opportunity to enhance the local biodiversity of the countryside. Some of the environmental initiatives include; tree planting, seeding wildflowers and keeping livestock to create higher organic matter in the soils.
Awards include: McDonalds Outstanding Farmer of the Year 2019; Waitrose Future Proofing 2019; Shortlisted British Farming Awards Diversification Innovator 2021; and Farming Life Farm Diversification, Farming Family 2022.
Open Saturday 10am-to-4pm
Murray's Farm is situated in Aghalee, where Counties Antrim, Down & Armagh meet. Gareth and Christina Murray along with their children Lydia and Euan, run the mixed farm of poultry and polled Dorset sheep. The poultry side of the business is contracted to Moy Park and produces high welfare broilers. The impressive viewing gallery on the farm is of particular interest during Open Farm Weekend, as the public can see the high welfare standards the farm operates under. With a passion for environmental sustainability, the farm is engaging in a five-year biodiversity scheme endorsed by the Waitrose Farming Partnership. This includes planting new hedgerows and native/fruit trees, cutting existing hedgerows less often and sowing of wildflower seeds. The family are delighted to participate in Bank of Ireland Open Farm Weekend as it is wonderful to show the public the story behind the supermarket shelf.
Open Friday Schools Day Only
Redhouse Holsteins is located in the townland of Derrycreevy, near Benburb, County Tyrone and is managed by Alan and David Irwin with David being the fourth generation to run a dairying business on the farm, David always planned to farm after first studying in electrical and software engineering at Queen's university Belfast. The land comprises approximately 240 acres of grassland and cereals, with dairying being the primary focus.
This farm is best known for a combination of pushing cows to perform to their highest production potential and also as a source of top end genetics. The cows are all Pedigree Holsteins, with some of the top genetics in Europe alive on the farm today.
Redhouse Holsteins has been one of the highest yielding herds in the UK and Ireland continually for decades now, with average yields consistently in excess of 13000L, and combined fat and protein now in excess of 1000kg per cow. Great emphasis on management allows the cows to express their genetic potential successfully. In 2016 the farm received a master breeder award from Holstein UK. This highly exclusive award highlights their cows production and longevity. The family are involved in Bank of Ireland Open Farm Weekend to share their experiences with people from non-farming backgrounds and highlight where their food comes from, and also showcase the absolute highest standards of animal welfare they maintain on the farm.