Monaghan warehousing innovator Moffett Automated Storage is to create 30 new jobs at its head office.
As a result of a growing client list now spanning 10 countries, the company now plans to bring its automated warehouse hardware to even more customers.
"The success of the business during the past five years has given me confidence to invest in the growth of Moffett Automated Storage"
Moffett's pallet storage and retrieval system is controlled by proprietary software also developed in-house by the Moffett team.
Innovation is in the blood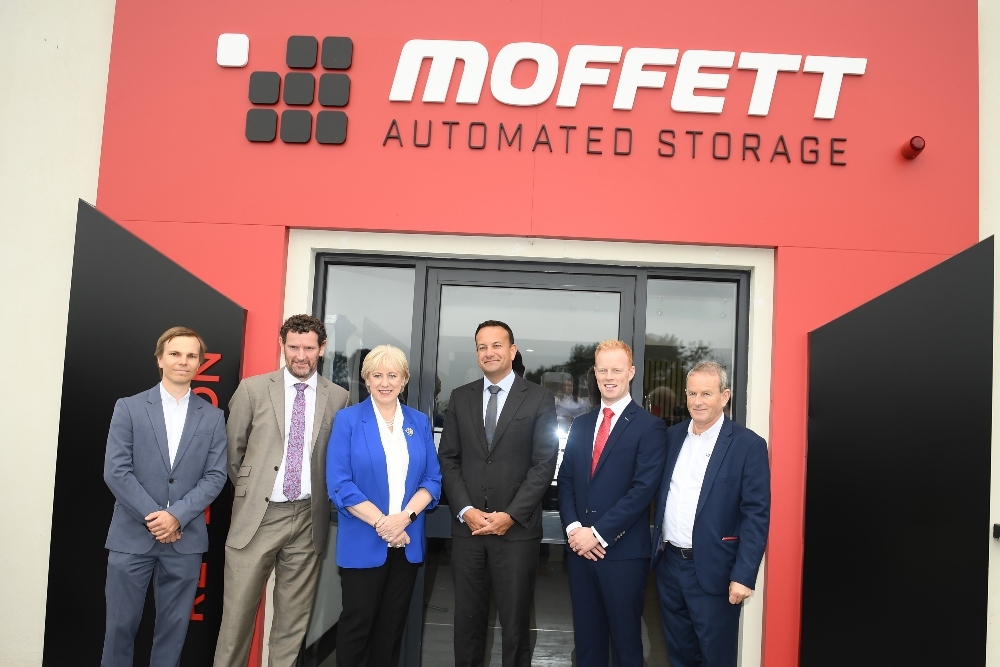 Pictured (from left): Joonas Ryynänen (CTO, Moffett Automated Storage), Colm Markey MEP, Minister Heather Humphreys, Tánaiste Leo Varadkar, Sam Moffett (CEO, Moffett Automated Storage), Robert Moffett (Director, Moffett Automated Storage)
The business is the brainchild of Sam Moffett and has achieved its success in just five years from launch. Sam is the son of renowned engineer Robert Moffett, who founded the international Irish-headquartered forklift brand Combilift.
Sam Moffett explained that his business has gained a global reputation very quickly thanks to its proprietary approach to a growing problem for warehousing.
"Along with the system to move, track and organise pallets, we developed software to help solve many of the problems faced by companies who have a need to store and access palletised stock fast.
"The system, by design, delivers superb density of storage, savings on energy, labour cost reductions plus significant benefits around the safety of operatives and stock. With the need for storage and logistics services on the rise and limited warehousing space available, companies need a new solution and we've been excited to help our customers deal with this challenge."
Moffett added that he is confident about the future as his company has used a growth mindset from day one and paid tribute to his specialist team.
"The success of the business during the past five years has given me confidence to invest in the growth of Moffett Automated Storage. A huge factor of our success has been the work of an expert team supporting projects around the world using skilled, specialist know-how."
Moffett Automated Storage typically has over 8-12 live projects in four different countries around the world, each ranging from storage of 5,000 pallets to 15,000 pallets. The system has no limitations on height of the warehouse allowing company use their footprint to the maximum.
All Moffett Automated Storage solutions are linked to warehouse management software allowing organisation of pallets to be automated. Items for dispatch are waiting by the door exactly when they're needed, meaning a substantial efficiency upgrade for clients.
"With a long history of innovation within the Moffett family this is another significant venture that will create jobs in Monaghan and surrounding areas," said Minister for Rural and Community Development Heather Humphreys, TD.
"As part of Our Rural Future, I want to see homegrown businesses creating jobs locally in rural Ireland. I am delighted that my Department through the LEADER Programme has supported the upgrading of the company facilities to now house a spacious comfortable working environment for current and future staff of Moffett Automated Storage."
"Enterprise Ireland welcomes this significant expansion by Moffett Automated Storage," added Tom Kelly from Enterprise Ireland.
"The company is one of our High Potential Start-Ups, which means that from its earliest days Enterprise Ireland saw the global potential of the business idea backed Sam and his team with a range of supports.
"It's great to see this important announcement today, and to know the impact it will have in Monaghan and throughout the region. We look forward to working with Sam and his expanded team in the future to support Moffett Automated Storage ambitions plans to compete and win in global markets."