Bank of Ireland head of Hospitality Sector Gerardo Larios Rizo says robust bookings are back for the sector.
Hotels outside Dublin continue to report strong trade as well as robust levels of enquiries and accommodation bookings for later in the year.
Available benchmarking data for the month of February 2022 show Galway, Cork, Kilkenny and Limerick exceeding the RevPAR figure reported for February 2019.
RevPAR for Dublin hotels is still behind 2019 levels for the month of February; however the gap is being closed by encouraging average room rates which are slightly ahead of 2019.
Accommodation sales KPIs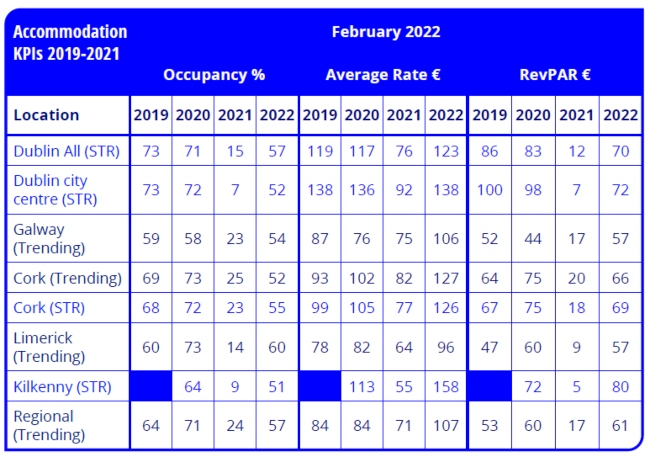 Source: CoStar STR & Trending.ie February 2022 data
Market Activity
Strong transaction activity reported for the first quarter of the year with a number of high-profile properties exchanging hands:
The 97 bedroom 4-star Ballymascanlon Hotel in Dundalk was sold for an estimated €15m to Austrian Investor Thomas Roeggla.
FBD Hotels completed the acquisition of the 141-bedroom 4-star Killashee House Hotel for a reported €25m from Tetrarch.
Paddy McKillen Jnr has completed the acquisition of the 84-bedroom Dunboy Castle in Castletownbere in Co Cork which had been on the market for €2.5m. The Press Up group will soon open the doors of the 102-bedroom 'The Dean Galway'. Ireland's newest 5-star hotel has opened its doors in Co Tipperary10. The 42-bedroom Cashel Palace hotel owned by the Magnier family is managed by seasoned hotelier, Adriaan Bartels.
The four-star 421 Holiday Inn at Dublin airport closed its doors to the general public; it has been reported the brand-new hotel is to be used as an asylum centre.
Ukraine war impact on the hospitality sector
The Invasion of Ukraine is first and foremost a humanitarian crisis that has forced 10m people to flee their homes.
EU officials have warned that the Ukraine war could slow economic growth across the euro zone, while pushing energy prices even higher at a time when tourism and other industries are already dealing with inflation. 'Inflation may not only have an impact on the sector's tight margins but could also erode the spending power of travellers as it reduces discretionary/disposable income'.
A number of hotels in Ireland are currently housing Ukrainian refugees. The Department of Children, Equality, Disability, Integration and Youth is currently exploring options of additional hotel rooms and the use of student accommodation as well as rooms and houses volunteered by private individuals.