Podcast Ep 177: We met some of the start-ups taking part in this year's INVENT competition at Catalyst in Belfast.
INVENT, supported by Bank of Ireland, is a programme devised to showcase and promote local innovators in Northern Ireland. Devised to give innovators and entrepreneurs an international platform and support to make a significant impact, the annual final takes place on 21 September next.
It is one of a number of pivotal programmes such as Springboard and Ways to Scale, which are key to growing and scaling Northern Ireland businesses.
"The INVENT programme bridges that gap between idea and reality and moving your business forward"
A notable detail about INVENT is that finalists in 2021 were 60% female. 123 graduates have emerged from the Springboard programme and more than £65m in funding has been raised by these founders.
Inventing the future
We recently met with the winner of last year's INVENT programme Vikela Armour, whose founder Pete Gilleece talked about he devised a way to create a new kind of body armour that is lighter, more comfortable and that provides better protection than conventional armour. Not only that but the material has a myriad of uses across military, industrial and safety applications.
Currently more than 900 entrepreneurs are working with Catalyst across various programmes. Some 2,700 tech professionals work between Derry and Belfast and a community of 570 business mentors and experts are collaborating with start-ups and scale-ups.
The lynchpin of Catalyst's success has been its programmes, which include Catalyst Schools for KS3 teachers and leaders and Generation Innovation to inspire design thinking among 17-to-18 year-olds, through to programmes aimed at enabling and empowering founders and Co-Founders. Pivotal programmes like INVENT, in which Bank of Ireland is a supporter, as well as Springboard and Ways to Scale, are key to growing and scaling NI businesses, with the latter centred on creating a community of businesses with revenues north of £10m. Other programmes include Basecamp Boston, which helps native companies with their go-to-market plans in the US, CEOs Connect which supports CEOs of high-growth innovation companies, and Inbound Investors where Catalyst brings in up to 80 investors and venture capitalists actively seeking to invest in NI companies.
In terms of economic impact, for every £1 yielded by Catalyst entrepreneurs through its various support programmes, this generated a £41 return on investment between 2017 and 2021 (source: independent assessment from Capaxo and economist Maureen O'Reilly).
Businesses taking part in this year's INVENT programme include CycleAid, WearMatter, SEQO, Track, Wake and Make, GoPlugable, Feminatech, LearningMe, AXONNR and Little Sunflower.
Earlier this month during a funding workshop for the 2022 cohort of entrants we caught up with three of the start-up companies taking part.
Start-ups to watch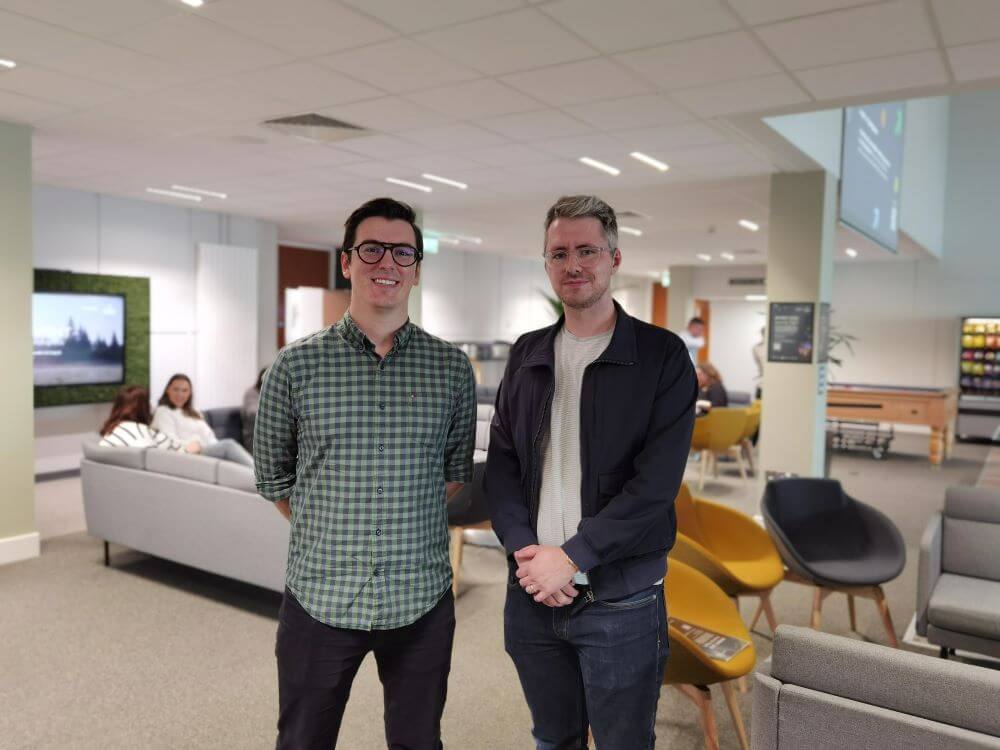 Track, founded by Richard Barbour and Kyle Davidson (pictured), ensures a secure and organised digital environment for your business, streamlining and automating your existing platform, from Google Workspaces to Microsoft 365 and more.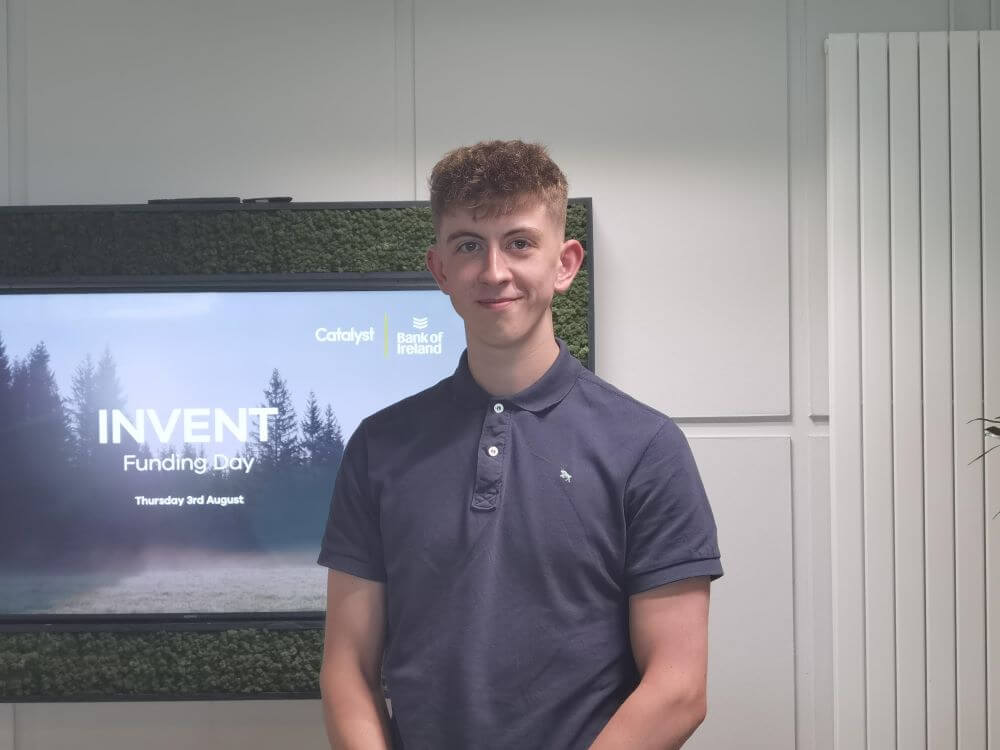 CycleAid, founded by Luke Nugent, Jamie Curran (pictured), Rhyss McMullan and Oran Fullerton, is a cycling safety device that uses AI to detect cars behind the cyclist. A sensor attaches to the bike and sends a signal to a haptic feedback harness worn on the cyclist's shoulders, which vibrates to indicate danger without visual distraction.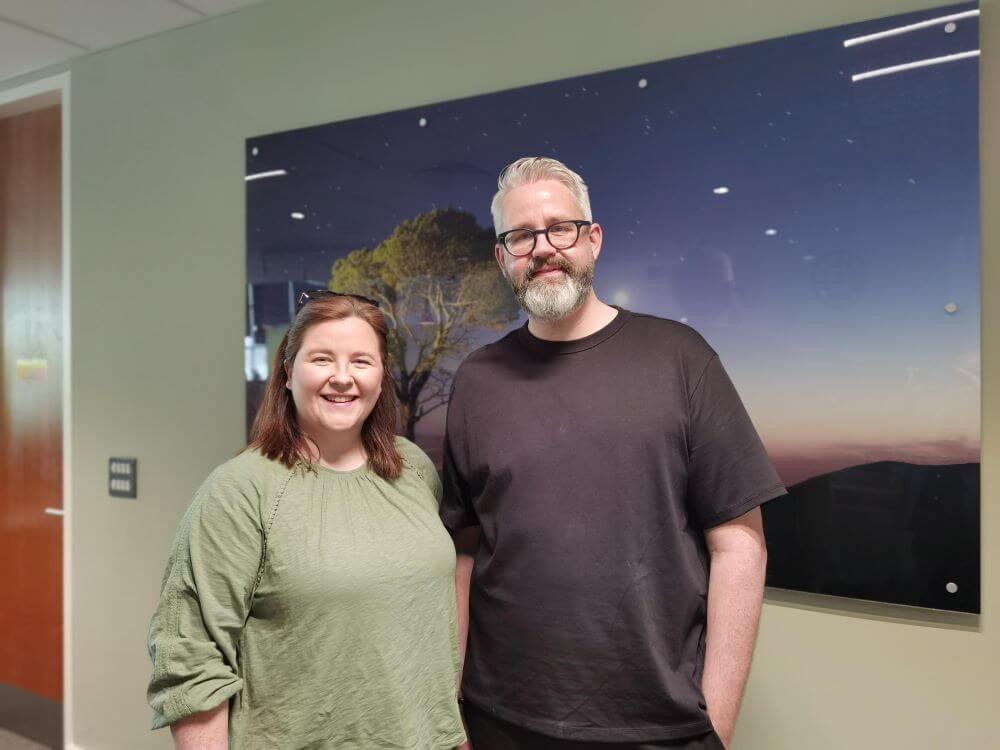 Understanding Me, led by teachers Nicole O'Connor and Bernard Noble (pictured), merges best practices in health, pedagogy and educational technology to help the child self-regulate. We're integrating three complimentary pathways to support early intervention, pastoral support and family relationships.
Catalyst partnership manager Joe Wilson said the purpose of the recent funding day was to give the entrepreneurs an insight into the fundraising landscape across Northern Ireland and the Republic of Ireland as well as the UK.
He said that while INVENT has an overall winner, the purpose of the programme is to equip all the founders with the skills to grow their business. "We will get them into a position whereby they are confident to pitch to potential investors and venture capitalists. Our role is to give them advice and guidance and utilise the relationships we have with the likes of Bank of Ireland, to really give them the best footing they need moving forward."
Wilson added that the start-up scene in Belfast is gaining momentum. "The start-up scene here in Belfast is thriving. It's really a great place to start your business. There are lots of avenues available for help and support."
He said that it is not only about helping start-ups to form but to get them to the next stage of their evolution and growth.
"The INVENT programme bridges that gap between idea and reality and moving your business forward."
Niall Devlin, head of Business Banking at Bank of Ireland in Northern Ireland said that the bank has been involved in the INVENT programme for 10 years now. "We've seen all sorts of early start-up businesses, including ones that emerged from academia to those that emerged from the existing business community or from students. Our role here is really to help facilitate those business ideas to become a commercial reality. This is through advice, through guidance, through expanding their networks and providing them with a platform to really turn their entrepreneurial idea into something that will ultimately generate opportunities and jobs."