One of the outputs of the Peace Process is Catalyst, from which economic prosperity across Northern Ireland and the west of Ireland could be generated.
In 2006 on a visit to the nascent Northern Ireland Science Park in Belfast, one of the outputs of the Northern Ireland Peace Process, I marvelled at the juxtaposition of a modern building located right beside the very dry dock in which the famous Titanic was built. At the time it was a solitary building in what seemed like an industrial docklands wasteland of flattened concrete as far as the eye could see.
Now known as Catalyst, the innovation hub has grown to a campus that includes a myriad of state-of-the-art buildings that house everything from cutting edge start-ups to ambitious scale-ups and a myriad of multinationals attracted to Belfast by the talent on offer across Northern Ireland. Not only that but Catalyst has grown to include a sister campus in Derry and has established research and innovation partnerships with universities and institutes along the western seaboard of Ireland.
"We've been on a huge trajectory since the Good Friday Agreement"
It is fitting that we have occasion to write about Catalyst on the eve of the 25th anniversary of the Good Friday Agreement.
A tangible peace dividend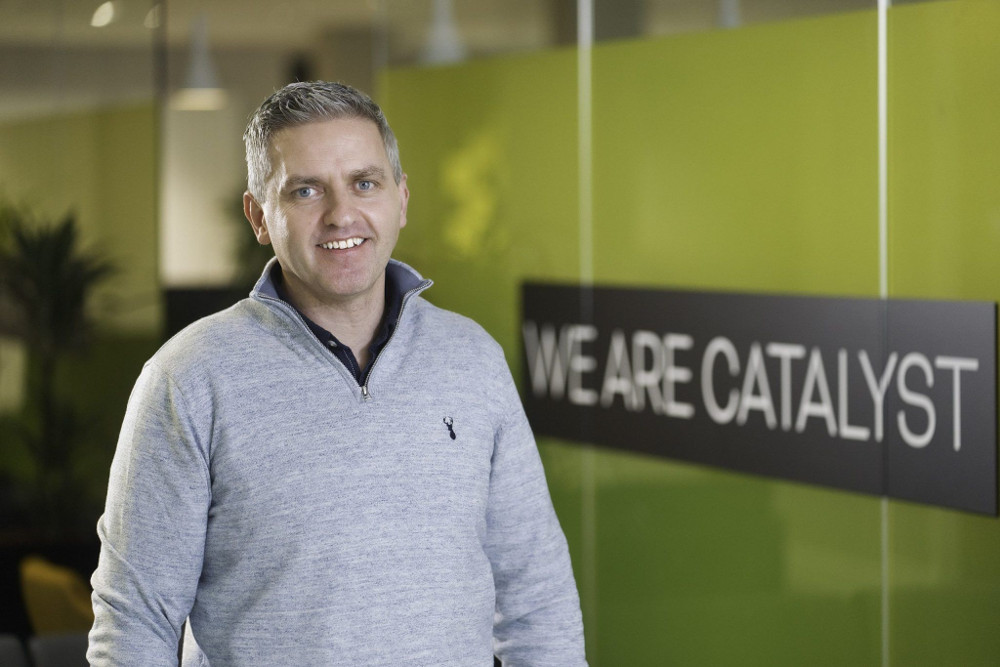 Adrian Johnston, director of Strategic Business Development at Catalyst
Currently more than 900 entrepreneurs are working with Catalyst across various programmes. Some 2,700 tech professionals work between Derry and Belfast and a community of 570 business mentors and experts are collaborating with start-ups and scale-ups.
If anything Catalyst is a beacon for how peace is intrinsic to prosperity in a region that an endured through a variety of historic trials and tribulations, including the Troubles and more recently Brexit.
The scale of the park is awe-inspiring with start-ups, scale-ups and FDI firms working in everything from agile workspaces to life sciences and biotech firms operating from state-of-the-art wet labs. The park even has its own festival tent and soon a whiskey distillery.
In terms of economic impact, Catalyst's partnership manager Joe Wilson explained that for every £1 yielded by Catalyst entrepreneurs through its various support programmes , this generated a £41 return on investment between 2017 and 2021 (source: independent assessment from Capaxo and economist Maureen O'Reilly).
Businesses that have engaged with Catalyst have collectively reported a 187% increase in headcount and 43% cite Catalyst as the main driver for them starting in the first place.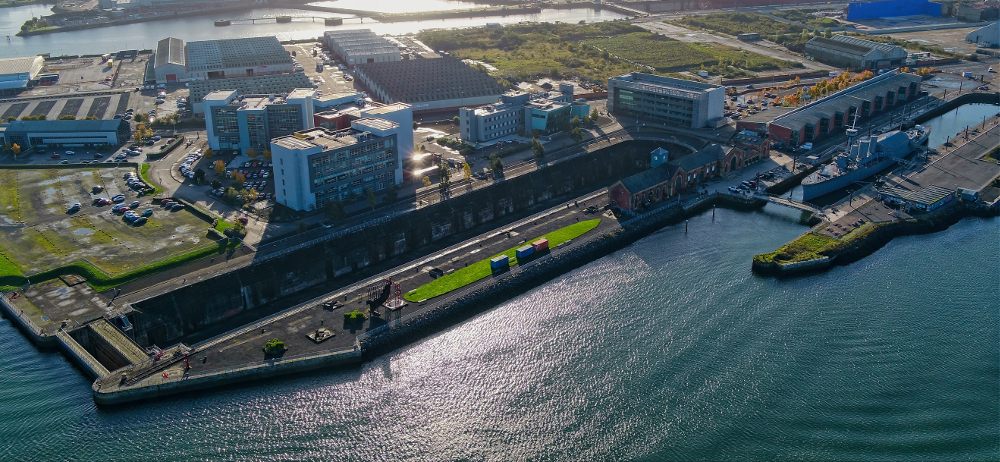 The lynchpin of Catalyst's success has been its programmes, which include Catalyst Schools for KS3 teachers and leaders and Generation Innovation to inspire design thinking among 17-to-18 year-olds, through to programmes aimed at enabling and empowering founders and Co-Founders. Pivotal programmes like INVENT, in which Bank of Ireland is a supporter, as well as Springboard and Ways to Scale, are key to growing and scaling NI businesses, with the latter centred on creating a community of businesses with revenues north of £10m. Other programmes include Basecamp Boston, which helps native companies with their go-to-market plans in the US, CEOs Connect which supports CEOs of high-growth innovation companies, and Inbound Investors where Catalyst brings in up to 80 investors and venture capitalists actively seeking to invest in NI companies.
INVENT is a competition devised to showcase and promote local innovators while Springboard provides key mentoring support for early-stage growth firms. A notable detail about INVENT is that finalists in 2021 were 60% female. 123 graduates have emerged from the Springboard programme and more than £65m in funding has been raised by these founders.
Northern Ireland's best-kept secret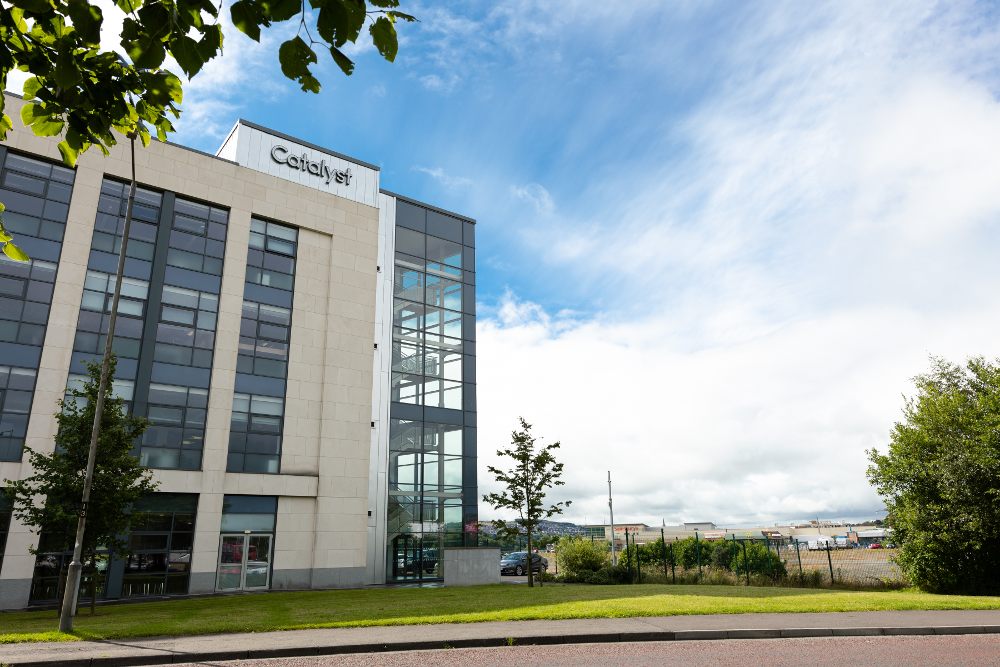 The Catalyst Innovation Centre Derry-Londonderry
During the course of our visit to Catalyst we met with three promising young businesses that demonstrate the power of the innovation evident in Northern Ireland today. These include Roisin Molloy's Trimedika which has invented a robust and hygienic thermometer technology for hospitals worldwide; Alexandra Frazer's Equinuitrive, which has invented nutritious food for the equine industry; and Peter Gileece's Vikela Armour, winner of last year's INVENT competition and creator of a ultra-light armour technology that has a myriad of potential industrial applications. We'll cover each in detail in the coming days.
Adrian Johnston, director of Strategic Development at Catalyst, described the Belfast and Derry hubs as "Northern Ireland's best-kept secret."
He explains: "The first 20 years of the science park was really about the knowledge economy and stimulating economic development through entrepreneurship. We did an economic assessment of this last year and the stand-out statistic was that for every £1 invested in Catalyst, this has generated £41 of revenue for the companies that we support. That is an exceptional achievement.
"Not only that but in terms of turnover, 45% of companies have stated that their turnover growth was due to the fact that they participated in Catalyst programmes.
"We have pivoted our programmes from ideation for an entrepreneur right through to the scaling up of companies to £10m-plus revenues.
"Another stand-out achievement is we have seen venture capital investment in Northern Ireland companies jump from £5m in 2014 to this year £150m being invested in Northern Ireland companies that are expected to grow significantly."
Next year it is envisaged this level of investment could surpass £200m.
"So this shows it's not just the scale of the businesses we are seeing, but it's the ambition that we are starting to see and the fact we are attracting investment into the region. We've been on a huge trajectory since the Good Friday Agreement."
Originally called the Northern Ireland Science Park, next year the Catalyst brand will be 10 years old and Johnston points out that the hubs will play a crucial role in the next 10 years of Northern Ireland's economic future.
He said that partners like Bank of Ireland are playing a key role in supporting programmes like INVENT. "We have hugely innovative entrepreneurs with fantastic ideas and what we're trying to do through partnerships like Bank of Ireland is drive that ambition up. We can do so by promoting these innovative mindsets and as a result the technologies and the start-ups are starting to flourish. These partnerships help to promote that ambition and promote the capabilities that exist in Northern Ireland.
Johnston concluded by pointing out how Northern Ireland's post-Brexit status provides it with enormous potential, not just for the region but for neighbouring regions too.
"Northern Ireland represents a unique proposition to founders and investors, from its post-Brexit borders and access to international regulatory zones, the Republic of Ireland and the EU. That brings with it significant benefits for Northern Ireland organisations. We see this as a huge enabler for innovation and cross-border innovation and partnerships.
"We have developed strategic cross-border relationships such as with the Atlantic Technological University and our partnerships extend down through Donegal, Sligo, Mayo and Galway, so all along the western coast entrepreneurs and innovators have the chance to thrive.
"The porosity of talent and the elimination of cross-border, regulatory and technological challenges are considerable."