World Business Angel Investment Forum chairman and angel investor Baybars Altuntas explains the fundamental principles of angel investing.
Experienced angel investors have a set of principles that they apply to every aspect of their work. If entrepreneurs hope to find an angel who will take their businesses to the next level, it is worth understanding these principles.
More than a simple 'yes' or 'no'
Investors tend to avoid as simple as 'yes' or 'no' approaches to investment, preferring instead to consider every aspect of the proposal that's been presented to them. Some elements come into play when concluding, such as an entrepreneur's personality and background, and how compatible they are with their the investor and their approaches. For this reason, it is important to consider more than just the business itself, and think about how you want to present yourself as a person, a colleague and a business professional. What does your appearance, lifestyle or previous achievements say about you and how you are going to spend the investor's money?
"While banks and other lenders look solely at the numbers, angel investors invest in passion, strong work ethic and personality."
Risky business
Securing investment does not necessarily guarantee success in business. In fact, only one in ten scale-up firms that angels invest in go on to be financially successful. Not only should entrepreneurs be realistic about this statistic, but they should also understand how it influences the decisions of a prospective investor. Success is not a given, so you need to ensure your business plans, projections and preparations are thoroughly thought out, realistic and achievable. Investors are always considering their return on investment, so it's crucial that you demonstrate why your business is worth them taking the risk.
More than just a paycheck
Although there are some angel investors who prefer to remain distanced from any ventures they invest in, the majority of angels I have come across, including myself, define themselves by their love of supporting entrepreneurs and helping to nurture new businesses. While banks and other traditional lenders look solely at the numbers, angel investors invest in passion, strong work ethic and personality as much as they do in the solid numbers and decent returns. The less a partnership focuses on money, the more fulfilling it is likely to be for both parties.
"Both parties benefit from having a clear idea of when they can expect the partnership to end."
Making a swift exit
When an investment is entered into, it is common for most of the focus to go on the beginnings of a business relationship and in many cases, exit strategies are not discussed. While it might seem strange to be considering the exit before you have even received the funds, it is an inevitable aspect of your relationship with your investor. By negotiating these issues early on, both parties benefit from having a clear idea of when they can expect the partnership to end, and what they can expect to take from it.
Learn more about mastering the world of angel investment at the World Business Angel Investment Forum Annual Congress 2018, taking place on February 18-20, 2018 in Istanbul. For more information go here.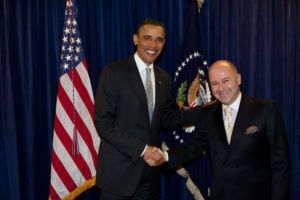 About the author, Baybars Altuntas
Former senior advisor of the Elite Programme of the London Stock Exchange Group (LSEG), entrepreneurship and innovation guru, global leader, best-selling author, angel investor, columnist, star of the Turkish version of the television show Dragons' Den, chairman of the World Business Angels Investment Forum (WBAF), vice president of the European Trade Association for Business Angels, Seed Funds, and Early Stage Market Players (EBAN), President of the Business Angels Association of Turkey (TBAA), the World Entrepreneurship Forum Ambassador to Turkey and the Balkan countries, and President of Deulcom International.
One of the top global speakers on entrepreneurship, innovation and angel investment invited by former US President Obama to speak at the Global Entrepreneurship Summit in Kenya. Recipient of the European Trade Association of Business Angels (EBAN) award for the Best Individual in Europe Globally Engaging with the Global Entrepreneurial Ecosystem in 2014 (Ireland), 2015 (Netherlands), 2016 (Portugal) and 2017 (Spain).
He is the only entrepreneur to be granted a personal audience with former President Obama at the Presidential Summit on Entrepreneurship in Washington, DC.