Ireland's eco toy business Jiminy reveals that saying no to plastic packaging is a good start.
Jiminy.ie is Ireland's eco toy store, and also a zero waste business.
The business has more than 650 eco toys and books, from babies through teens.
"Refusing is our greatest power as a business to change things for the better"
It's also an eco-activist business, on a mission to make 'eco' the new normal for toys – by making eco toys easier to get, and by advocating for change in the global toy industry.
Eco toys come unpackaged or in plastic-free recyclable/compostable packaging, minimising their trash footprint.
Starting the zero waste journey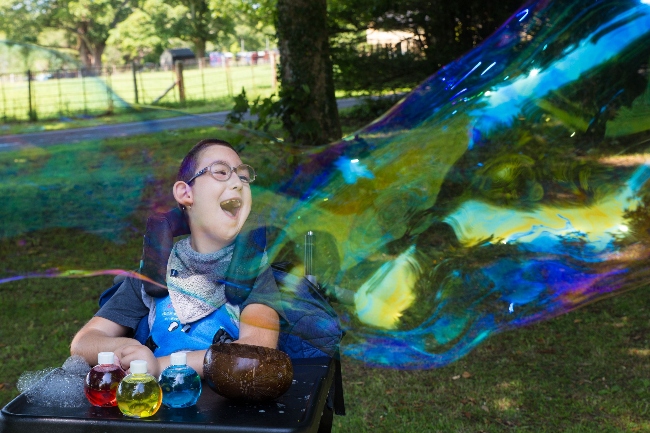 Dr Zigs incredible giant eco bubbles
Jiminy founder Sharon Keilthy says the start of the journey towards becoming a zero waste business is to go plastic free as a principle.
"Refusing is our greatest power as a business to change things for the better," says Keilthy.
"We refuse any plastic packaging from our suppliers. Every purchase order we send includes a standard request, 'please pack plastic-free – if you feel you need to use any plastic packaging, please call me before you pack.' Anytime there is any plastic packaging included in a shipment from a supplier, we make a big deal out of it, to ensure they pay more attention next time. We write a strongly-worded complaint, we ask them to send a courier to take it back.
"Some businesses feel good just to reuse any plastic packaging that arrives into them, but we feel this isn't enough. If you keep accepting it, they'll keep buying it, the plastic producers will keep making it … This all has to stop, and if you won't be the one to stop it, who will?
"As a starting point, we refuse to stock toys made from, or packed in, virgin petro-plastic. We ask suppliers to remove or replace plastic packaging and any unnecessary packaging, so we can stock that toy. We help them source more sustainable alternatives.
"We have made a few, very carefully thought out, experimental exceptions to this, but 93% of our store is entirely plastic-free (sadly, a typical toy store is the inverse of that statistic).
"This approach has helped several suppliers switch from bubble wrap/SealedAir to shredded cardboard as a filler in the boxes they send us. Two have at our request changed from plastic bags or pots to plant-based ones instead. And a lot of toy makers have heard us say, 'I'm sorry we can't stock that product because it's made from plastic, or it's packed in plastic – call us back when that has changed."