Business is building up in hospitality, says Bank of Ireland's head of Hospitality Sector Gerardo Larios Rizo.
Irish hotels continue to report encouraging levels of demand in regional Ireland with a softer recovery trend reported on average by properties in Dublin.
Business on the books for the months ahead continues to build up in line with the recovery of Airline capacity; Irish airlines planning to operate capacity at close to 80% of summer 2019 levels.
"Over the last few months more and more businesses had been taking themselves off the EWSS scheme as they were no longer meeting the required threshold"
A total of 1.1 million passengers arrived in Ireland in March 2022, up from 61,000 in March 2021 when just essential travel occurred.
Arrivals in March 2022 were down 25% on March 2019 pre-pandemic and are up by 40% on February 2022 arrivals.
The Employment Wage Support Scheme (EWSS) which has been in place since 2020 was fully removed on April 30th in line with the improved performance.
Over the last few months more and more businesses had been taking themselves off the scheme as they were no longer meeting the required threshold; since the beginning of the pandemic total supports for the Accommodation and Food Sector have come to €1.85bn or 28% of total payroll supports (Fáilte Ireland Hotel Sector Review Spring 2022).
Profit squeeze
Pressure continues to mount on profits in the sector due to inflation. Prices on average, as measured by the Consumer Price Index, were 6.7% higher in March compared with March 2021.
Businesses have reacted by reviewing/adjusting their prices as evidenced by CSO, CPI details for March 2022: Alcoholic Beverages & Tobacco (+7.0%) and Restaurants & Hotels (+3.6%).
Businesses have also reported significant increases to their insurance premiums; the IHF indicates a hotel sector average year on year increase of 20%.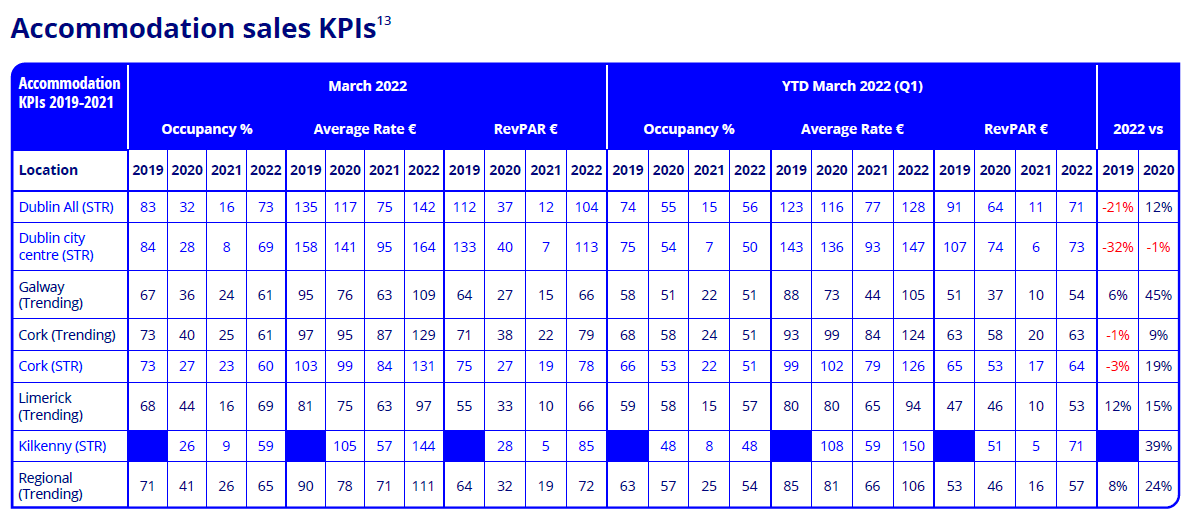 Source: CBRE bi-monthly report May 2022 research
Sector activity
Texas Pacific Group (TPG) has agreed to purchase the Hendrick Hotel in Dublin 7 for €35m.
The Fattal group has announced that all 35 Jurys Inns in Ireland and the UK are to be rebranded as Leonardo hotels later this year.
Dalata's 'The Samuel Hotel' opened its doors this month offering 204 bedrooms in the immediacy of Dublin's Convention Centre.
Carnegie Court hotel in Swords in North Dublin exchanged hands for around €6.5m (CoStar STR & Trending.ie February 2022 data).
Alcohol consumption
Alcohol consumption is now at its lowest level in 20 years, falling about 30% since 2001.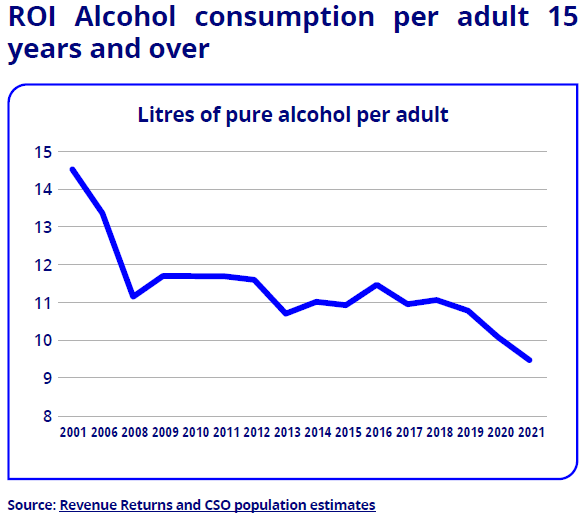 Data released by Revenue in April shows that alcohol consumption fell by 4.7% between 2020 and 2021. The trend could impact on the recovery path for the wider hospitality sector particularly when combined with the impact of inflation on discretionary spend.
Ukraine war impact on the sector
The Invasion of Ukraine is first and foremost a humanitarian crisis that has forced 4.9m people to leave their home country while an estimated 7.1m have been displaced within the country.
An estimated 4,000 Irish hotel bedrooms are currently being used to house Ukrainian refugees, which represent just under 5% of the total hotel bedroom stock in Ireland. The drop in capacity could impact performance of hotels bars and restaurants whose profitability is linked to the heightened summer trade.
Increase in utility expenses, the March 2022 CPI index from the CSO indicates a change of +17.4% for Water, Electricity, Gas & Other Fuels.
No material level of cancelations from US visitors reported by hotel properties relating to the war in Ukraine.
Sector Developments & Insights May 2022
View
Print