Her Sport has been established to take on the clear gender disparity in Irish sports media coverage and encourage young women to compete all the way to the top of their game.
"40.8pc of participants in sport are female, yet just 6pc of the sport media coverage in Ireland goes to women in sport," says Her Sport founder Niamh Tallon.
"The standard is there, with athletes achieving on the international stage, but the coverage is not. This has a knock-on effect, with a lack of sponsorship, funding and other opportunities available to female athletes, while also creating a lack of visibility of role models for young people.
"We want to see women's sport to be taken seriously; funding, investment, support. We want the media coverage to reflect participation, results and give credit where credit is due"
"By the age of 14 twice as many girls drop out of sport as boys, and this is something that we want to change, encouraging and supporting young girls and women in sport."
Grassroots to elite level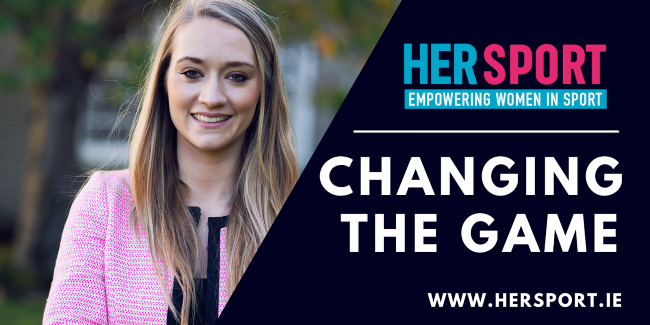 Tallon (pictured above) said Her Sport is working towards more equal opportunities for girls and women in sport from grassroot to elite level.
"We want to see women's sport to be taken seriously; funding, investment, support. We want the media coverage to reflect participation, results and give credit where credit is due.
"We want to reduce the dropout rate and see more encouragement of girls in sport, knowing the many physical and mental health benefits from sport."
Digital media platform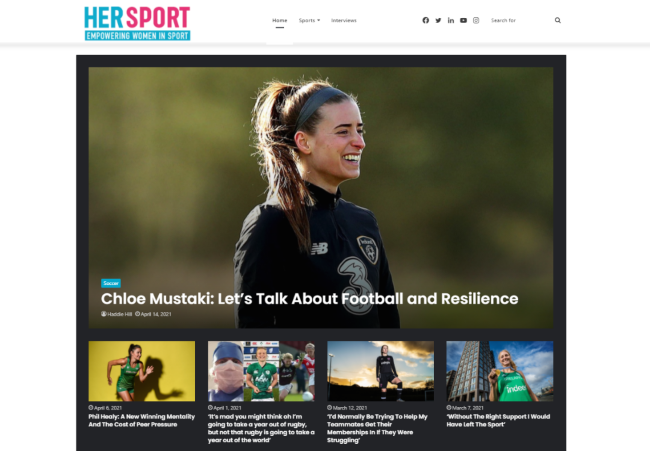 Her Sport is quintessentially a digital media platform that creates women's sport, health and fitness content.
"We offer the opportunity for brands and organisations to connect with our unique and loyal audience, creating lifelong connections.
Her Sport was founded by Niamh Tallon and Mohammed Mahomed. From involvement in sport, Niamh has seen the disparity from funding, participation and levels of support.
Mohammed on the other hand, has learned of the opportunities he was afforded as a boy/man in sport and is working towards creating more opportunities for women in sport and closing that gap.
"We have worked closely with Social Impact Ireland, participating in their incubator programme," said Tallon. "The support and learning has been invaluable. The team are a wealth of knowledge but also truly care about the development of your social enterprise and want to see you succeed."
Brand creation
Since setting up Her Sport has rapidly built up its audience, with great efforts made in 2020 to grow the brand and establish as the go-to source for women in sports news.
"Our audience now encapsulates over 35,000 people and we continue to see steady growth. There is increased brand awareness which is important in building the profile of women's sport and allowing us to push the boundaries."
Tallon says the biggest challenge Her Sport faces is funding. "This would allow us to rapidly grow, create more exciting content and build our team. There is great opportunity with Her Sport for brands to align with an organisation that promotes equality and is creating real change.
"We firmly believe over the next 12 months that there will be huge progression as an organisation, with a rapidly growing community, with a focus on connecting with schools, clubs and college students."
Her advice to fellow social entrepreneurs? "My advice would be to ensure there is a need for your social enterprise, develop your product or service based on those needs and then surround yourself with a team who can help you achieve your goals.
"Source as much information and knowledge as possible – talk to lots of different people and ask loads of questions," Tallon said.
By John Kennedy (john.kennedy3@boi.com)
Published: 21 May 2021