Go Eve, a start-up focused on bringing a novel electric vehicle (EV) charging system to market, makes it possible to charge multiple parking spaces from a single EV charger.
Go Eve is one of several impactful, established Irish businesses taking part in Accelerate Green, the first Irish accelerator dedicated to scaling companies leading the response to climate action and sustainability by developing products and services based on green innovation.
Running from February to May 2022, Accelerate Green operated from from Boora, which represents the centre of Bord na Móna's innovation heritage, demonstrating Bord na Móna's commitment to the Midlands' communities who are a key part of an ecosystem of projects and assets connected to eco-innovation, circular economy, and sustainability.
"Go Eve's DockChain solution enables multiple parking spaces to be electrified from a single EV charger"
Go Eve is focused on commercialising a patent-pending 'DockChain' technology for charging EVs at scale. The DockChain innovation allows multiple parking spaces to be rapidly 'electrified' from one base power source with a daisy chain of inexpensive and simple charging points.
A joint UCD and Imperial College London start-up, the business was last year named UCD Start-up of the Year 2021.
Go Eve was founded by Hugh Sheehy, who completed the UCD VentureLaunch Accelerator Programme, John Goodbody, Professor Robert Shorten, Dr Pietro Ferraro and Andrew Cullen.
"Globally, the shift to electric cars requires a huge number of additional EV chargers. Go Eve's DockChain solution enables multiple parking spaces to be electrified from a single EV charger," explained Sheehy, speaking ahead of the forthcoming Ireland's Sustainable Future conference on 9 June.
Take it global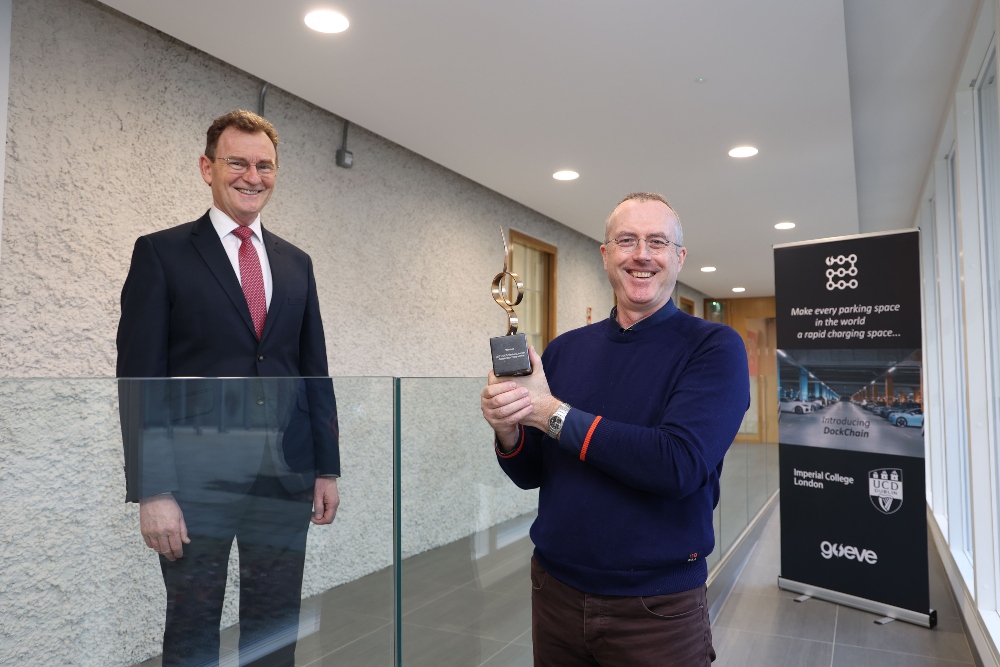 Pictured at NovaUCD are Tom Flanagan, UCD director of Enterprise and Commercialisation, and Hugh Sheehy, CEO and co-founder, Go Eve. Photograph Nick Bradshaw
"This multiplication effect does more than just reduce cost, it allows high-speed DC charging at the overall cost of slow AC charging.
"The market is global, starting with fleet migrations, central parking locations, and moving eventually to the domestic multi-EV household."
Go Eve's core product is the DockChain solution. "It's a patent-pending modular and extensible daisychain solution for EV charging. It allows us to connect multiple parking spaces to a single EV charger and to charge multiple cars in turn from that single EV charger. DockChain coordinates a virtual queue and manages all the critical signalling between each car and the EV charger. This provides huge operational and cost benefits to fleet and parking operators, from cars to light public transport."
The founders of the company include several commercial people and the original inventors of the DockChain tech. John Goodbody and Hugh Sheehy are the commercial founders, both with long experience in industries like energy, tech and automotive. The inventors of the system are academics like Professor Bob Shorten, currently the Professor of CyberPhysical Systems at Imperial College London.
Sheehy believes the start-up environment in Ireland has improved a lot. "But there's still a lack of money for early stage start-ups compared to the UK or particularly to the US."
He explained that Go Eve sees considerable market opportunities in the US and is currently working with UK and Ireland firm CFAW to raise €3m to grow the business.
Sheehy believes learning lessons is part and parcel of the entrepreneurial journey. "We make mistakes every day, and just work on from them. That's key in a start-up of any type. One mistake we've made is to uncover huge global potential without (yet) having the money to chase it properly. We're trying to fix that mistake!"
His advice to fellow founders? "Talk to everyone. Share your idea. Listen to everyone. Customers will tell you how (or if) they see value. Friends will tell you it's a good idea but, or a good idea and think globally, think of the USA. Think of China. If you've got a good idea – take it global."