At Real Deals 2023 earlier this month Kingspan CEO Gene Murtagh shared compelling insights into the climate challenge as he revealed the back-story to one of Ireland's biggest business success stories.
Famously reluctant about giving interviews and unapologetic about the fact that he has never had time to read a book or take up a hobby, Kingspan CEO Gene Murtagh at the audience at the recent Real Deals 2023 event at Goffs enthralled as told the story of the business.
This is a building materials business that has a market cap of around €14bn and has sales in excess of €8bn per year. This is a generational family business that emerged from a yard of a pub in Kingcourt, Co Cavan, 50 years ago and today has more than 210 factories employing more than 22,000 people.
"Success won't come without an awful lot of hard graft"
Now led by the second generation, the business is a global leader in high-performance insulation and is on a mission to accelerate the world to a net zero emissions future.
The scaling journey of a global giant
Taking the stage Murtagh told the audience of entrepreneurs, business owners, business managers and more that Kingspan has the same attributes. "Therein lies the connection. Fundamentally that is what we are. This is a business that started 50-odd years ago and in essence we've had all the experiences that you probably haven't had yet."
He emphasised Kingspan's humble beginnings, showing a photo of his parents as a young couple. His dad was a machine fitter and his mother a hairdresser. Despite growing up in a pub his dad never touched alcohol.
"They had not much of a life, except a lot of self-belief and a lot of determination."
Newly married they started a business making trailers in the yard of the pub in 1966. "He built them, mother would paint them and they would drive around the country delivering them."
Gradually the business expanded to making steel structural frames for buildings and moved down the road to the original Kingspan Construction manufacturing plant. The business expanded during the 1970s making multibeam mainframes under licence from Lord Brothers of Yorkshire. Kingspan subsequently acquired Lord Bros in 1996 in what Murtagh said was a pivotal moment for Kingspan entering the UK market.
Kingscourt remains the headquarters of the global Kingspan empire, including financial operations and the business's innovation hub. Murtagh pulled up an image of a recently constructed building that utilises all of Kingspan's products resulting in a net zero building that has all-over insulation, daylighting solar solutions, rainwater harvesting and more.
He said the mission that drives Kingspan is to accelerate the zero-emissions environment. "We have the physical capital in terms of products to do it and we're growing in terms of our breadth of business worldwide to be able to execute on that vision in a much more meaningful fashion than if we were just in a home environment."
He explained that the savings promised by Kingspan should be viewed typically in terms of the 40-year lifecycle of a building.
"So last year we saved 170m tons of carbon, the equivalent of what a large airline would burn over a 15-year period.
"When we measure a business sale in revenue, profits and the impact of that is obvious externally in terms of what we can help other people to do."
Murtagh said he is not a climate agenda evangelist but has a keen understanding of what is happening to the world. He underlined this by showing a picture of a reservoir in northern Spain that serves the Barcelona region from a few years ago. He then showed a more recent picture that showed the reservoir as nearly dried up. "I'm not saying you can fix it, but we all need to understand that it is real."
He said Kingspan's growth to become the behemoth it is today was not meteoric. The business trundled along making modest revenues for decades and at one point in 1986 the business nearly closed.
"Nothing is easy going. No matter what you do you're going to encounter all kinds of obstacles, humps and bumps. But we've been close to the bankrupt stage a couple of times. So if you're going through anything like that, just hang in there."
Kingspan's biggest market in the world today is in France, followed by Canada, the US, the UK and Germany. He said Brazil is also an interesting market for Kingspan.
"We're constantly exploring, never satisfied where we are, always looking for the next opportunities and that's what guides us to the bigger numbers."
Those numbers are considerable – close to €1bn in profits and 22,000 employees in more than 70 countries.
He said that when it comes to growth and acquisitions, as well as executing on an opportunity, it crucially boils down to people.
"Our four pillars that have essentially guided our progress over the last 20 years are that we are passionate about the envelope of the building, organizing the business, innovation and our ability to disrupt.
"Everything we look at, every decision, every acquisition opportunity, every product development opportunity, we test on these four pillars and it has served us well."
Planet Passionate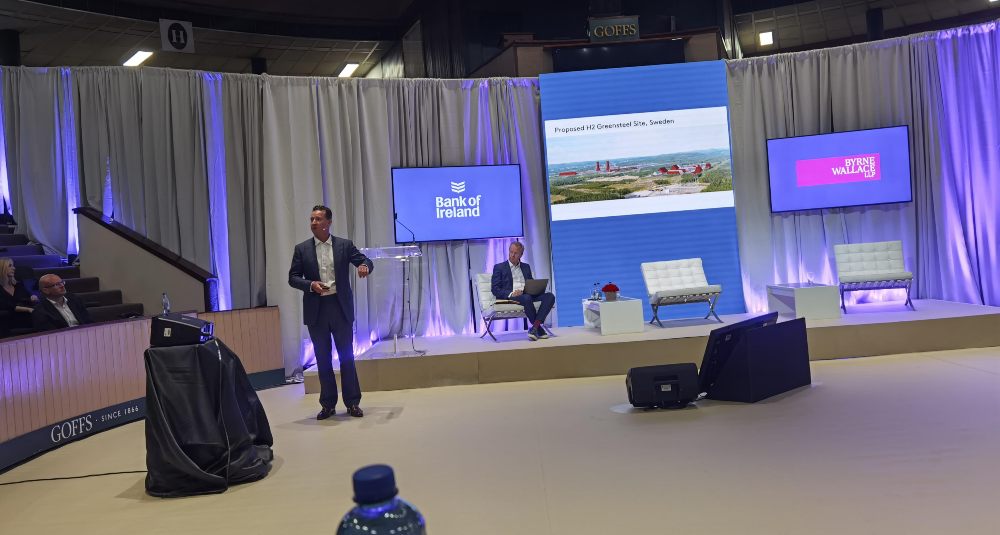 "We have to reduce emissions dramatically to hold back Earth warming, but if we don't try it would be an absolute catastrophe"
Kingspan began its net zero campaign called Planet Passionate in 2010 with strict targets across energy, carbon, water circularity and this is reviewed every month and every year. In all there are 12 targets that sit alongside 'what did you sell?' and 'what should you make?'
"You cannot deliver on this without that sort of military execution. It has been a huge glue for the business, for the culture in terms of making the whole team, team together. It's the only thing I've seen in the group in all of these years that everybody without exception has gathered around and embraced."
He added: "It has been a hugely galvanizing force across the business and something I encourage you in some form or other to build into your business in a meaningful way."
Among projects Kingspan is working on is a plan to invest $5bn in a plant in the Arctic Circle that will produce around 5m tons of steel which he explained was in response to an evolving supply chain. The greenfield steel plant will produce steel that will be 95% lower than conventional steel buy using hydro-driven hydrogen reparative steel production processes.
"We want our supply chain to decarbonise by a minimum of 50% within 10 years."
Murtagh showed various projects in which the Kingspan group's materials are being used to build including a massive manufacturing plant for Lucid Motors in Arizona, the SpaceX operation in the US, Abu Dhabi Airport, the Meta data centre in west Dublin and a $200m Kingspan Ukraine campus.
Focusing on the human capital side of Kingspan, Murtagh said: "It's all about the people."
He said that even though the business comes from the traditionally male-dominated construction industry "that is changing because of the type of business we are positioning to be. Four members of our board are female and that is only the beginning."
Reflecting on the successes and failures of Kingspan, Murtagh said that the memories of difficult times are what drive the business forward. "They are always there. A fear of failure can be a good thing but not if it's overpowering. We take risks, lots of risks, but that fear is always there when assessing a capital project from greenfield to acquisitions. We don't let it take over, lessons are learned and we move forward."
Acquisitions, he noted, can go wrong. One business it was acquiring at the peak of the dot.com boom saw its order book evaporate between the signing and closing, revealing it to be 25% of what it was meant to be. "The lesson there is don't do something new, somewhere new. But now that business is an extraordinary success precisely because of the data market that had evaporated around that time."
A fundamental rule he said was to that acquisitions should be made in digestible sizes. " We have never done anything that would bend the business. The business has to be able to cope."
A critical factor when acquiring is to look for a fast entry into a market.
"What's hugely important is the team. The people aspect of any acquisition assessment of an opportunity is number one. What's the team and what is their ability to drive it forward?"
A critical feature is how entrepreneurially-driven the team actually is and often what is sought out is if the business has the scope to do what Kingspan would have done 15 years ago. "we give them a lot of autonomy."
He said only 55% of businesses acquired by the business are branded as Kingspan. "If we're new to the market we brand it, but if it is in an existing market, less and less so. It has to be meaningful. There is only so much time and resources. If we're not the leader on day one, we are going to end up number one. Otherwise we have no interest.
"There is the financial aspect and a cultural aspect to an acquisition. Whatever we do, it will become Kingspan culturally in time."
Asked if he was happy that Kingspan is listed on the stock market, Murtagh admitted "being public is not a lot of fun. It's exposure. We are private culturally, but public owners from a funding perspective."
He said that being on the stock market has not resulted in a lot of equity being raised. "The biggest advantage of being public is the ability to issue stock to employees to ensure they are incentivised properly for perfomance and growth."
His reflection on public listings: "If you didn't need it, stay private. If you need it, go for it."
To give the business the commitment required, Murtagh said that an understanding family is essential.
"We work very hard, the commitment of the people in the business is extraordinary and that's more difficult to get. Success won't come without an awful lot of hard graft."
Team spirit
He admitted to not having hobbies nor having read a book. "It's all about the team spirit in the business. It's a collegial thing, a bond between the senior team. None of it is a chore."
When it comes to hiring, he says qualifications are a given. "What we look for is drive and determination. The willingness to sacrifice is becoming harder to find.
"We are a hands-on organisation. Delegation can go from the highest level to being on a roof with a contractor."
That level of being in touch with the business is core. "You've got to stay completely in touch with the business, with the customers, and the only way to do that is to dive deep."
He added: "If you had said 10 years ago that the business today would be 10X and now this size, as our reach and portfolio expands it is opening up avenues that are greater than ever berfore."
Despite saying he is not a climate change evangelist, he said he cares deeply about the impact we are making on the planet. "The area of conservation is underestimated."
He said the focus on renewable energy like wind and solar and water is absolutely correct. But an obvious place to start is to conserve that energy.
"If you have a highly insulated home, it is not only more comfortable, but the added benefit is it changes the energy profile of a building. Environmentalists have a point about retrofitting old houses and buildings rather than demolishing and starting again. And they have a point. It's a bit like buying an electric car is an awful lot worse than if you're driving a banger for the next 20 years. That's a matter of fact because carbon is created in the production of them."
He said with buildings accounting for 40% of global emissions, compared with airlines at 3%, the challenge is clear when it comes to retrofitting.
"We have to reduce emissions dramatically to hold back Earth warming, but if we don't try it would be an absolute catastrophe"