Indre Riaukaite and Kevin Elliott from Bank of Ireland's Foreign Direct Investment (FDI) team explain why supporting foreign direct investment is critical to the future and how the relaunched FDI Landing Space in Dublin plays a vital role.
In recent weeks Bank of Ireland reopened its FDI Landing Space at Stephen's Green. The facility which overlooks the iconic green and right at the heart of business in Dublin is a vital port of call for companies investing in Ireland.
The facility closed during the pandemic and was recently refurbished. It provides companies arriving into Ireland with co-working office space, meeting rooms and event space above the Stephen's Green branch in Dublin city centre.
"We've supported more than 600 international companies over the past decade to launch and scale their businesses in Ireland"
Bank of Ireland's FDI team has supported over 600 international companies to set up in the Irish market over the past decade.
The FDI Landing Space provides hot desks, meeting rooms and boardrooms, with companies from the US, UK, EU, China, Australia, Japan and Canada availing of the space in the past.
The bank's dedicated FDI team provides access to a full service offering for international companies, including electronic banking, payments, foreign exchange and treasury facilities, private wealth management and employee benefits solutions.
A pivotal time
The reopening of the facility couldn't come at a more relevant time for the country and indeed global businesses hoping to expand in the right locations.
The pandemic has if anything made foreign direct investment more competitive than ever before. As the only English-speaking nation remaining in the EU following Brexit, Ireland is not resting on its laurels and is in the thick of the action.
In the first half of 2023 some 139 investments were won by IDA Ireland that have the potential to generate 12,072 jobs. The majority of these (67) projects were in regional locations while 52 were new name or first-time investments.
FDI is critical to the future of the country. New IDA CEO Michael Lohan revealed that exports by multinationals grew to €315.5bn, accounting for approximately 70% of Ireland's total national exports.
He said sectors dominated by IDA Ireland client companies also account for an estimated 70% of corporation tax receipts, and make a significant contribution to income tax receipts.
Bank of Ireland's head of FDI Kevin Elliott explained that the location is key for FDI customers. "It's a great space for companies that are getting established and finding their feet. They can come in and work here on a day-to-day basis. The opening hours are between 10am and 4pm because it is part of a working branch. So it can't be used as a registered office, but for businesses that are investing in Ireland and want to hit the ground running in a central location, it is the perfect location to get started."
His colleague Indre Riaukaite said that prior to the pandemic the location was a hive of activity for businesses investing in Ireland and is becoming so again. "Since we renovated the space we've already had several businesses using it at different times. It really boils down to what the customer wants. Some use the facility as a place to work from and to set up meetings with customers or new hires. We had another company that had all of their senior executives over in Ireland from the US and the team was able to gather for several days at a time. It really depends what the customers want and we are really flexible as to how they can use it.
"Generally we offer this space to FDI customers for up to six months but it can be extended if they need to."
Punching above our weight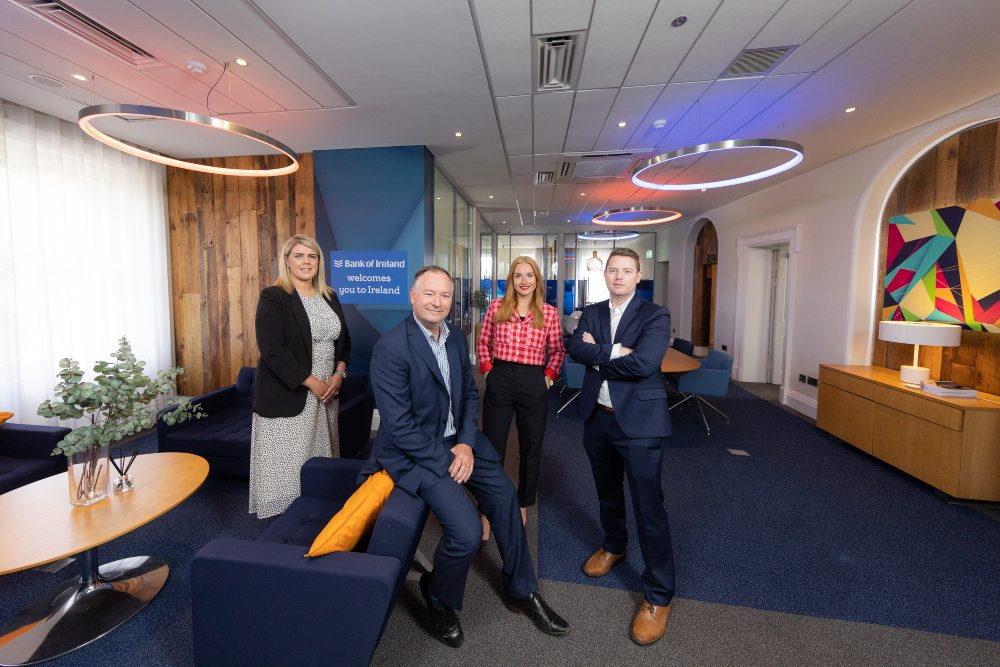 From left: Catriona Maye, Branch Manager, Bank of Ireland, St Stephens Green; Aaron O'Brien, Managing Director UK & Ireland, Bluecrux; Indre Riaukaite, Vice President, FDI Team, Bank of Ireland; and Kevin Elliott, Head of Global FDI, Bank of Ireland
Elliott said that Ireland remains a preferred choice for overseas businesses looking to access the European market for the first time.
"Ireland continues to punch above its weight in the FDI sector with significant number of companies continuing to choose this country as the best location for them in Europe. "While there was a lot of focus on the global tech slowdown post-pandemic, Ireland has continued to attract significant amounts of inward investment from globally mobile technology services firms, financial firms, pharmaceutical and engineering companies. "Notably, in the past year there's been a significant uptick in investments in the life sciences sector in Ireland, both from existing and established names like Pfizer and Eli Lilly who have both announced more than €1bn investments each in their respective sites in the past six months alone.
"And then new to Ireland are investors who include Dexcom who are going to employ 1,000 people in medical device manufacturing in Galway.
"There are also a lot of smaller investments coming in from emerging businesses who contribute very significantly to employment growth in Ireland. They are a fantastic boon for the Irish economy. We are very fortunate in Ireland to be in a position where these companies are continuing to choose to locate here at such a significant rate."
For a new business arriving in Ireland for the first time, Riaukaite said that having a facility like the FDI Landing Space in Stephen's Green provides them with a central location to make use of in those pivotal early days.
"It gives them the space to start engaging with service providers and property firms to plan their European operation," she explained. "Because it is centrally located it makes it easier for them to get to know the landscape, make business connections and get to know other FDI business and build their network. It makes it easier for them to meet clients and sometimes you just need a quiet space rather than meeting in cafes or hotel lobbies. It gives them that space they need to conduct business while they begin the search for their permanent location."
In conclusion Elliott said that the bank sees the facility as its contribution to supporting the growing FDI community and supporting customers in that space.
"We've supported more than 600 companies over the past decade to launch and scale their businesses in Ireland. We're delighted to be able to play such a key role in facilitating their banking needs and enabling them to grow and hire people in Ireland."