Average cost of a cyberattack to an Irish business is €8,500 over the past three years.
Almost half (48.5%) of SMBs have reported that they've experienced multiple cyber security breaches over the last three years, with the total financial loss amounting to €8,500 each or €2.3bn across the industry.
According to research by Microsoft and Vodafone, which was carried out with more than 250 SMB business owners with 9-50 employees, of those that reported a breach, 43% said that they experienced up to five attacks in that period.
"Technology will play an even bigger role in how SMBs plan for continued recovery and growth"
However, despite the financial and reputational risk that cyber-attacks create, 34% of businesses have reduced their spend on cyber security and nearly 60% of business owners reported that they are unprepared or very unprepared against preventing a cyber-attack.
When asked about their wider business confidence, the report found that the majority of business owners expect to see growth in the next 12 months, with more than 40% expecting to achieve growth of between 25 – 50%. The majority are seeking growth opportunities via a combination of new local and international markets.
Every business is a digital business
"Despite rising inflationary costs, economic and political unrest, and the aftereffects of the pandemic, we have seen SMBs transform, grow, and adapt through significant change," said Sinéad Bryan, Managing Director of Vodafone Ireland Business.
"Our research shows that for SMBs to stay resilient and insulated from risk, security needs to be front and foremost in their strategic plans.
"It is also evident that technology will play an even bigger role in how SMBs plan for continued recovery and growth. In fact, our study shows that those SMBs who were agile and adaptable and embraced technology over the last 24 months managed to grow revenue, reduce debt and move to target opportunities across international markets. Irish SMBs are traditionally known for their strong focus on the domestic market, but with expansion to markets abroad, they will have a need to invest in new technologies to achieve a strong position."
E-commerce solutions are increasingly being used to drive revenue, with almost 60% of business owners suggesting that this accounts for between 21% and 50% of their revenue. Business owners highlighted that digitalisation has brought them significant productivity gains, efficiencies and / or increased sales to their business within the past 12 months. That said, more than 50% of business owners consider digitalisation to be a medium to low priority. In fact, the rate of digitalisation is starting to decrease from its high point during the pandemic.
"Our study highlights the significant rise in the rate of digitalisation among SMBs during the pandemic, and the direct financial and business growth that this has created. However, despite the many benefits of a digital strategy, it is still considered to be a low to medium priority for many companies we surveyed. Indeed, our findings show that since the end of the pandemic, the rate of digitalisation has decreased.
"As the cornerstone of Ireland's economy and a core driver of post-pandemic economic recovery, it is of the utmost importance that SMBs maintain a position of digital perseverance. With digital perseverance as an imperative, technology will support company-wide growth, despite internal and external risk and allow them to achieve their business goals and do more with less."
Do Irish businesses have everything they need to grow digitally?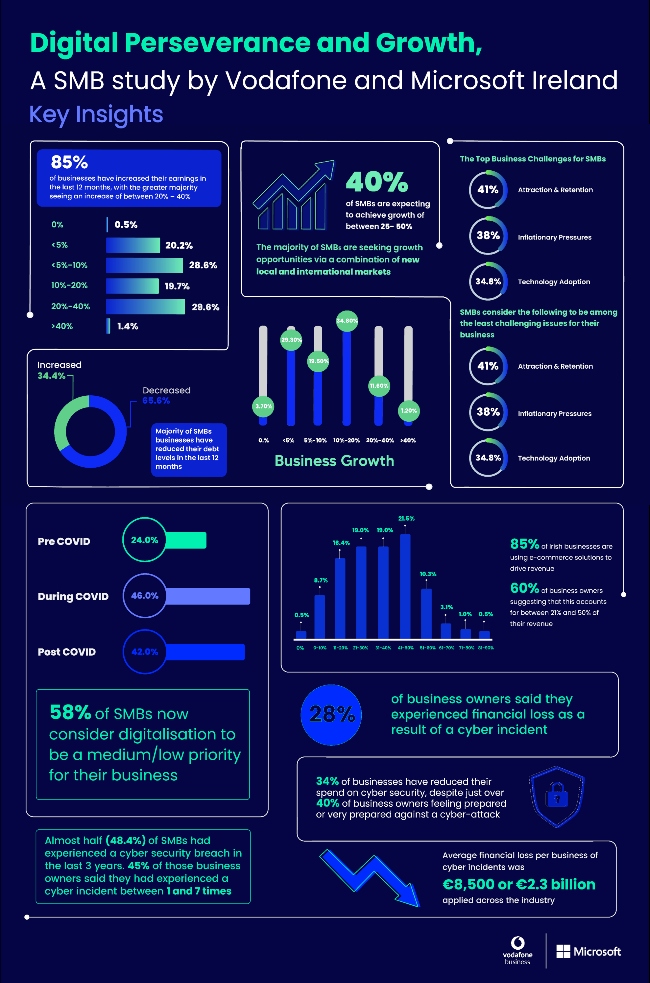 In terms of wider earnings, the report highlighted a significant bounce back by Irish SMBs in the last 12 months, with the majority showing a strong financial performance.
Three in 10 (30%) SMBs have seen their business earnings after tax rise by between 20 – 40% in the last 12 months.
Interestingly, 42% of businesses led by females saw their revenue rise by this amount compared to 20.8% of male led companies.
Additionally, 65% of business owners have reduced their debt levels in the last year with the majority (43%) decreasing their debt by between 5% and 10%.
32% of young entrepreneurs felt that there were significant barriers for younger people to build their businesses within the Irish economy.
45% of young entrepreneurs felt that their age, in the eyes of others, held them back from fully succeeding as a young business owner
Just 24% of young entrepreneurs felt they had equal access to funding opportunities via public or private finance options.
84% of businesses in towns and villages said they have access to the infrastructure and supports they need to grow their business.
89% also said they have the connectivity they need to run their business.