Global Student Entrepreneur winner Nick Cotter talks about his and his brother Jack's business Cotter Agritech.
Last month ThinkBusiness reported how 22 year-old University College Cork student Nick Cotter emerged as the overall winner at the 2022 Global Student Entrepreneur Awards, beating off competition from 1,000 applicants from 40 countries.
West Limerick native Cotter is the CEO and co-founder of Cotter Agritech, which specialises in targeted, selective treatment systems for sheep. He co-founded the business with his brother Jack.
"AgTech as a sector is very hot right now, being projected to rise to $22.5bn in total market value by 2025. The trend is towards more nature friendly farming, reduction of chemical use and protection of our biodiversity, so the tide is rolling in our direction as we're addressing these areas"
We spoke to Cotter about the business.
"Controlling parasites is one of the biggest challenges facing the millions of sheep, cattle and goat farmers worldwide, and it one of the biggest economic losses in livestock farming, costing the European livestock industry €1.8bn in lost productivity every year, and is estimated to be billions more globally," Nick Cotter explained.
"Modern parasite control has become unsustainable due to widespread resistance to the drugs we use to control parasites (98% of farms have resistance) it has significant negative effects on biodiversity, and is making farms unviable.
"Our solution has been developed for sheep so we're targeting commercial sheep farmers in Ireland and the UK, with the goal of launching in Australia, New Zealand and more international markets in the coming years. The prevalence of drug resistance is very high in sheep worldwide, but it is actually of the same magnitude in cattle, so we see a huge opportunity to augment the solution for dairy and beef farmers in the coming years, and goats too."
Patented hardware and software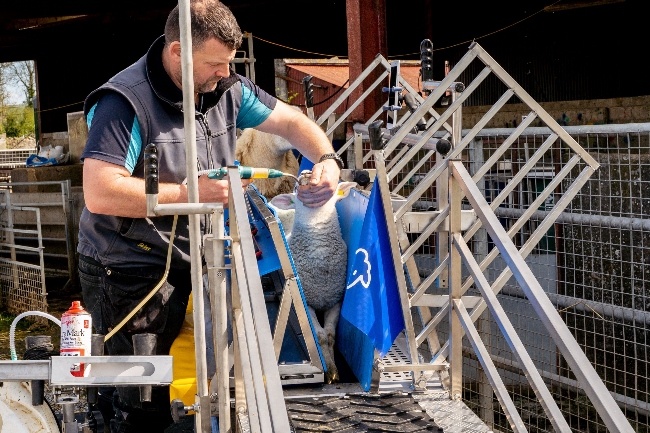 Cotter Agritech is dramatically reducing chemical use in agriculture via a patented hardware and software system that uses advanced algorithms to enable farmers to transition from blanket treatment with antiparasitic drugs to precise applications targeting only the animals that actually need treatment.
"This reduces antiparasitic drug use by up to 50%, reducing costs, preventing drug resistance, and reducing negative biodiversity impacts.
"Our solution is based on the scientific principle that parasites are not distributed evenly, they are distributed according to the pareto principle, more commonly known as the 80/20 rule – 80% of parasites are in about 20% of the animals, so at any given time there is a high proportion of animals who don't actually need treatment," Cotter explained.
"What we have is an advanced algorithm built into our software SmartWorm that can predict whether an animal will benefit or not from receiving an antiparasitic drug treatment. What we factor in our algorithm is the animals weight gain because if the animal is not suffering a loss of performance, then there is no need to treat them, and that's what we do, we find the animals who are suffering a loss of performance, and we recommend to treat them.
We also factor in weather conditions like rainfall and temperature, and we bring in data on pasture quality and availability. These additional factors help us to determine what level of performance we should be expecting. This way the algorithm is tailored to the conditions a group of animals are being exposed to on a given farm, be it in the south of Ireland or in the highlands in Scotland. So each animal has their individual own target and if they are not meeting this target then we need to treat them.
"In practice what it looks is the animal is retained and performance recorded (weight recorded and animals RFID tag is read for identification) in a piece of hardware, the advanced algorithms determine treatment need and communicates it via a red/green light system (treat/don't treat), and the farmer then treats based on this information in real time."
Agriculture is in the blood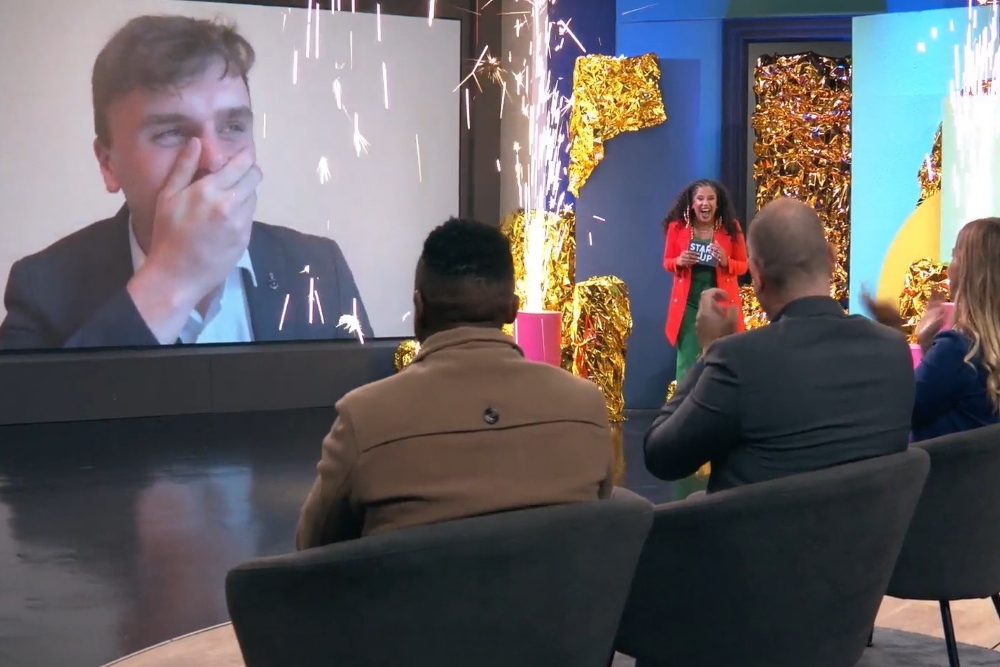 "The win is amazing recognition on the global stage of the importance of food and animal production and helping farmers to become more sustainable. After all, we've got to be able to feed ourselves"
Brothers Nick and Jack were entrepreneurial from early on.
"We grew up on the family organic sheep farm, and this encouraged us to be curious and innovative. We're serial entrepreneurs having founded two previous businesses. Our first business Cotter Bros Firewood was founded in 2011, when I was 11 and Jack was 13. This has grown into an industry-leading domestic firewood producer selling nationwide.
"We started our second business Cotter Organic Lamb in 2019, which direct sells the organic lamb produced on the home farm, which has won a number of Irish Quality Food Awards and featured on The Late Late Show in 2020."
Nick is studying Law and Business at UCC and is going into his final year. He is a 2019 UCC Quercus Innovation Scholar, and a 2022 Nuffield Scholar.
Jack is studying Process and Engineering Management in Limerick Institute of Technology and holds degrees in Agricultural Mechanisation and Agricultural Engineering. Both Jack and Nick were named in the Sunday Independents 2020 Top 30 Under 30 Entrepreneurs.
"The reason why I am an entrepreneur is because a farm is the perfect environment for fostering entrepreneurship – to explore and I am innately curious, to play around, and the opportunity to try and do things and my parents encouraged this," Nick said.
"And I did them, and I enjoyed doing them – I had somewhere to direct my energy, a sense of achievement and a source of meaning, and the opportunity to have a positive impact. And I've kept taking these opportunities and have stayed on the entrepreneurial path because I love doing it, I am passionate about creating and visioning change."
Ireland's start-up ecosystem
In Cotter's opinion there's more support out there for start-ups in Ireland then there ever has been.
"We've received really key financial support from our Local Enterprise Office and from Enterprise Ireland. We've also completed two accelerators programmes in the last 12 months – the first being the AgTechUCD Agccelerator Programme at University College Dublin, at the end of which we were named winner of the AIB and Yield Lab AgTech Start-up 2022 Award, and we have just recently completed the Ideate Ireland Start-up Programme.
We're hugely grateful to AgTechUCD and Ideate Ireland for their support and belief in what we do, and I would encourage any early-stage start-up to engage with these programmes.
"AgTech as a sector is very hot right now, being projected to rise to $22.5bn in total market value by 2025. The trend is towards more nature friendly farming, reduction of chemical use and protection of our biodiversity, so the tide is rolling in our direction as we're addressing these areas.
"It's also important to remember that in the main, farm incomes comprise of public money, and without social license this will not continue, and this highlights the importance of AgTech for regulators, government, and farmers in continuing support of the sector.
"Most recently, I represented Ireland and Europe at the 2022 Global Student Entrepreneur Awards with this idea and was named Global Champion, which is a great achievement for our own company but also for AgTech and agriculture as a whole. It was a huge privilege to represent Ireland in a global competition. The win is amazing recognition on the global stage of the importance of food and animal production and helping farmers to become more sustainable. After all, we've got to be able to feed ourselves."
Cotter is excited about the future and intends to raise further funding for the business. "I need to get through college first! But yes, we're looking at raising funding next year. We need to expand our team to help accelerate our adoption goals in Ireland and the UK, launch in the EU, Australia and New Zealand, and begin R&D into cattle so we can deliver this solution to as many farmers as possible. Parasite resistance is a sleeping giant just awakening, and I believe that every grass-based livestock farmer would be better off if this invention is available to them, and we will need external funding to achieve this aim."
Advice for fellow founders
Cotter likes to keep his feet on the ground and adheres to the adage: "If you're the smartest person in the room, you're in the wrong room." He explains: "It is far easier, cheaper and faster to learn from the key insights, experience and mistakes of others than to make the same ones yourself so utilising mentorship is key to building a successful start-up.
In terms of tools and technologies to achieve objectives, the brothers keep it simple: a diary and lists.
"At the start of every day I accept that I won't get everything done on "the list", but I put a star beside the things I absolutely must aim to get done today. Then I just surrender to the outcome of the day – good, bad or indifferent. Something really urgent that was unforeseen might come up that needs my attention and I might not get all of the prioritised tasks completed, but at the minimum I've created focus and I know what I need to be working on next. This ensures we prioritise and keep on top of things.
"Don't feel you have to become the idealistic model entrepreneur who puts in 100+ hours a week, 52 weeks of the year. Yes, this is not really a 40 hour a week role and it will consume a lot of your time and energy, and you need to be love it as much as the thing you love most in your life, but you need balance too. You have to be in good mental and physical shape, for your business to be in good shape. Give yourself permission to take out time and prioritise yourself and your relationships with your partner, family and friends."
His advice to fellow founders is to "go slow to go fast later."
You need to get the basics right in the early days because if you don't, you'll scale up on a rocky foundation and you're not going to be able to solve these problems and you're going to make big and expensive mistakes.
"The key mistake I see in early-stage start-ups is a lack of focus. Early-stage start-ups are by their definition limited in resources, both time and money. At the start anyway, 'ancillary' activities like the fancy website or the professionally designed slide deck are not as important. Make sure you focus on what is important – only do something if it's going to bring you paying customers."