Black Friday saw footfall drop by over a third compared to last year, but there are still clear opportunities for retail, writes Owen McFeely from PwC.
In recent years, Black Friday has driven customers online and into stores to start their Christmas shopping.
Recent data by Three Ireland, provided to PwC as part its continuing analysis of the retail market, has highlighted the impact that the recent lockdown had on city-centre footfall over the recent Black Friday weekend. With that weekend playing a key role for Christmas shoppers, store closures presented a real issue for both retailers and consumers alike.
"With most shops now trading again, bricks and mortar retailing will continue to play a key role in this year's Christmas shopping experience, balanced with an integrated role for online"
Footfall data, provided by Three Ireland to PwC on an aggregated and anonymous basis, highlighted that footfall movements in the Grafton Street area over the Black Friday weekend declined by 36pc when compared to equivalent shopping days in 2019.
Based on this data, 2019 saw an average of 90,245 footfall movements occurring through the Grafton Street area per day over the Black Friday period compared to 57,747 in 2020.
Although the majority of stores were closed at this time, the drop in footfall was less severe than the first lockdown as schools, non-essential retail and takeaway food service operators remained open.
With a drop of only 36pc, there are clear opportunities for retail to provide a safe and secure shopping experience, in compliance with Government Covid-19 protocols.
The omnichannel future
With most shops now trading again, bricks and mortar retailing will continue to play a key role in this year's Christmas shopping experience, balanced with an integrated role for online.
The social and experiential elements of retail are still in demand. PwC's 2019 Retail & Consumer report revealed that over half (54pc) of consumers shopped in-store weekly or more frequently. But this will not be without its challenges.
Lower footfall volumes may leave unfulfilled potential revenues for retailers across Ireland. The importance of commuters and their impact on high street footfall cannot be underestimated. With many offices either closed or operating at reduced capacities in December, this also negatively impacts store footfall.
Five actions for retailers for a Covid Christmas
The question now is: how much of this lost retail business will return for what is left of the Christmas period? Consumer sentiment is still considerably lower than last year. When set against the backdrop of record personal savings levels in 2020 of €20bn, as reported by the ESRI, Christmas 2020 is all to play for. There are five clear actions that retailers and consumer goods companies can take to win the remainder of the Christmas season and unlock consumer spending.
1. Balance safety with enjoyment in-store
Despite all of the challenges that Covid-19 has thrown at people this year, there is still considerable consumer appetite to get back into shops. With many stores now reopened, along with services such as hairdressers, gyms and restaurants, there is an opportunity for stores to capitalise on consumer footfall. Drawing on research from the recent global PwC Holiday Report, over two-thirds of consumers are willing to shop in-store if pandemic safety measures (e.g. masks, hand sanitisers, etc.) are in place. Therefore, retailers will have to accommodate these measures in order to drive footfall and provide a safer shopping experience for consumers. Also, the prospect of extended store opening hours should reduce the pressure on traditional peak shopping times and encourage more consumers to shop in-store.
2. Ensure channel mix gives greater weight to online shopping
A clear winner this year has been online shopping, with all retail segments witnessing significant growth. According to the Central Bank of Ireland's statistics from January to September, eCommerce sales are up 23pc on 2019's performance. Considerable progress has been made since the first lockdown with many Irish retailers leveraging the Enterprise Ireland Online Retail Scheme to either build or upgrade their online platforms. With future lockdowns not ruled out for the New Year, it is vital that Irish retailers continue to build resilient digital and eCommerce capabilities, as well as the supporting supply chain capacity to meet growing consumer demand which is unlikely to abate in 2021.
3. Capitalise on convenience
The global PwC Holiday Report also found that 61% of consumers will use online as part of their 2020 Christmas shopping. Retailers need to become more innovative and offer flexible collection and delivery options. Globally in 2020 there has been a proliferation of kerbside pickup and click-and-collect services to cater to more cautious consumers.
This minimises costs and risks, as well as providing goods to consumers faster through quicker fulfilment. For those customers who choose to visit stores and then face the challenge of queues, this is a prime opportunity for retailers to engage with the customer as they spend time waiting to enter the store. Store greeters could check stock availability, sign customers up for loyalty cards, but overall ensure their queueing time is positive.
4. Leverage consumers' growing appetite to shop local and 'Buy Irish'
With the Irish economy reeling from a tumultuous year, consumers recognise the importance of buying Irish. A number of recent initiatives, including the "Green Friday" shopping campaign and the new Guaranteed Irish Gifts website, encourage consumers to shop local and support small Irish businesses. PwC's 2019 Retail & Consumer Report found that two-thirds of consumers will buy Irish products to support the Irish economy. It is important to convey this image to consumers who will be eagerly anticipating Irish, seasonal offerings. 2020 has certainly seen considerable consumer interest in shopping local and it is expected that this trend will continue over the Christmas period.
5. Turn data into rich insights
With new digital capabilities, such as website analytics and online customer support software, there is an opportunity for retailers to gain new insights that are now available as a result of the growing online channel share. These capabilities provide retailers with a better understanding of their customers which, if leveraged correctly, can optimise and enhance business performance.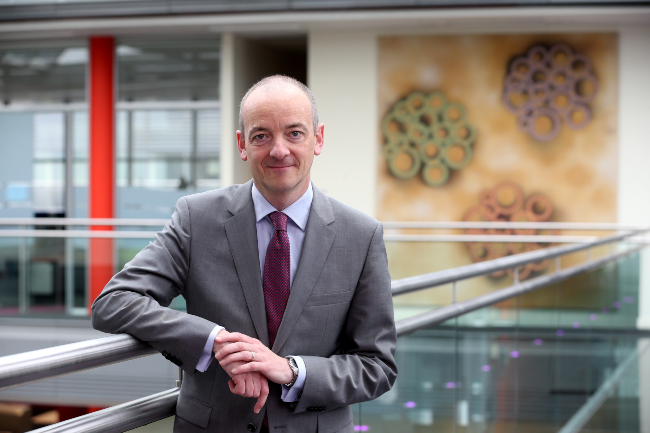 Owen McFeely is a director in PwC Ireland's Retail & Consumer Practice. He works with a broad base of clients across the retail and consumer sector having over 20 years of experience in food retailing and wholesaling gained across the UK and Ireland. Having held senior management roles within the food wholesale sector in both operational and business change capabilities, Owen has a deep understanding of the issues facing the retail and food sectors. He is a regular commentator on the business of food and retail.