Some people are followers of fashion. Some call themselves influencers. But for 24-year-old Aoife McNamara from Limerick, who will be speaking at the upcoming Friday Breakfast Club, it is about designing a sustainable future of fashion using Irish fabrics.
It is one thing to have a dream, it is another more fundamental matter to pursue that dream and make it possible. And that's exactly what Aoife McNamara (pictured above), founder of the Aoife Ireland clothing brand, has done. And in doing so she is a beacon for other millennials to follow their dream, however impossible they think it might be.
The 24-year-old graduate of the Limerick School of Art & Design (LSAD) is an achiever; not someone who waits for opportunities to come along but instead someone who seizes them. When she finished her four-year course in Limerick in 2018, she took a job as an intern for Paris Fashion Week as well as stints at Marc Jacobs and other during her summer holidays.
"In business, you learn every single day. Especially when you are in at the deep end"
She is now the person driving the brand Aoife Ireland, which is all about sustainability and ethics. In doing so she makes assiduous use of Irish fabrics such as wool, cotton and linen in her creations. As well as this she has won commissions from celebrity blogger Suzanne Jackson as well as endorsements from celebrities like Roz Purcell, Louise Cooney and Vogue Williams.
McNamara will be the guest of honour at the upcoming Friday Breakfast Club at the Bank of Ireland Workbench in Limerick in partnership with the Local Enterprise Offices' (LEO) Local Enterprise Week, a nationwide series of events between 2 and 6 March aimed at inspiring people who are starting or planning a business or growing an existing enterprise.
Mary Killeen Fitzgerald, senior enterprise development officer for Limerick LEO, explained what Local Enterprise Week is all about: "Whether you are Planning, Starting or growing a Business, Local Enterprise Week has an event taking place to help bring your business idea to life, and enable existing businesses to grow and thrive."
A dedicated designer of fashion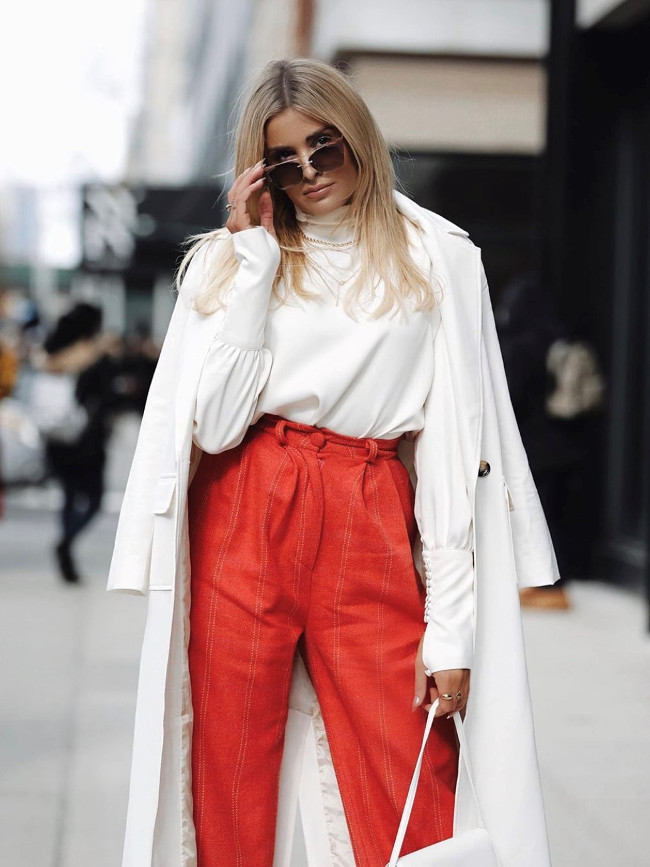 A turning point for her was attending a fashion show while in LSAD. "I remember being mesmerised by all the clothes and the runway and the fact that people made those garments with their hands. Since then I didn't think of doing anything else."
I point out to McNamara that many people rarely pursue their dreams and it takes a rare few Irish individuals from musicians and writers to tech entrepreneurs to realise the world is their oyster. Did she ever have any doubts? "I don't think so. I was really lucky because I had my family who were always very supportive. They were never like 'that's silly! Why would you do that.' It was always more 'of course you can do that." So, I was lucky in that regard."
But she also realises that it takes grit and determination to succeed in the fashion business. "I think you have to love fashion to make a career in it."
A factor in her success so far at such a young age has been the pursuit of internships from Marc Jacobs to Paris Fashion Week. "I was always doing internships. I went to work in New York while I was in third year in college and after I finished college I lived and worked in Paris for six months. This was all I ever wanted to do and I was determined to get there. I also took every opportunity that came my way. Especially when Suzanne Jackson asked me to create a piece. I took everything that came at me and I never said no to an opportunity."
She describes her move into entrepreneurship as "organic", spurred on by the power of Instagram. "I just literally enjoyed the whole process and just went with it."
She describes the typical wearer of her product as a go-getter. "My client is definitely a girl who is out there, not afraid to wear bright colours. She's very ambitious, probably a bit business-oriented. I like silhouettes with powerful shoulders and a sinched-in waist. I'm all about empowering women through clothes that matter with sustainable materials.
Standing up for sustainability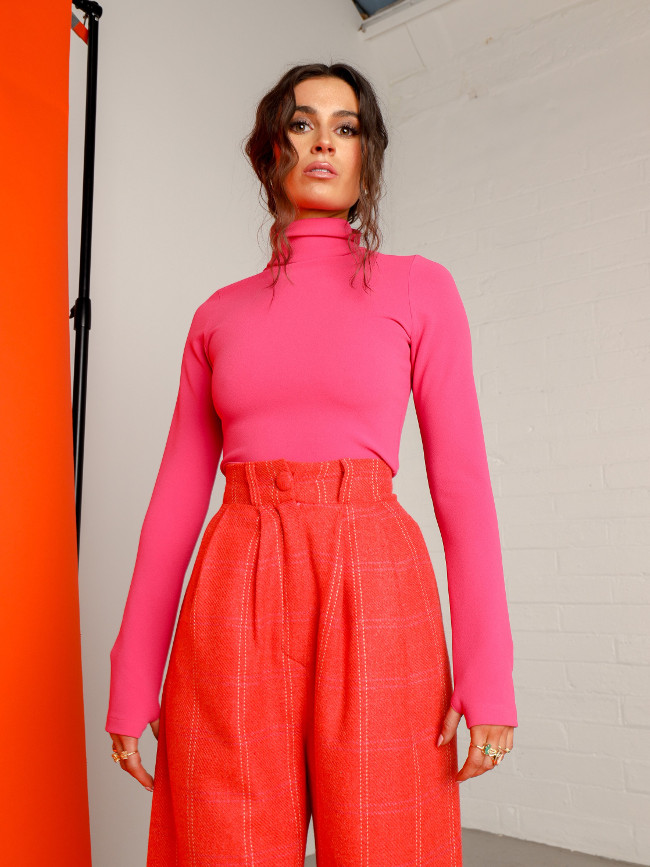 McNamara no longer makes everything by hand, but has her clothes manufactured in Dublin in order to keep up with the volume of business.
At the heart of what makes Aoife Ireland different is a penchant for sustainability. "I collaborated with John Hanly Woollen Mills in Nenagh to create my own Irish wool and going forward what I want the Aoife Ireland brand to stand for is sustainability."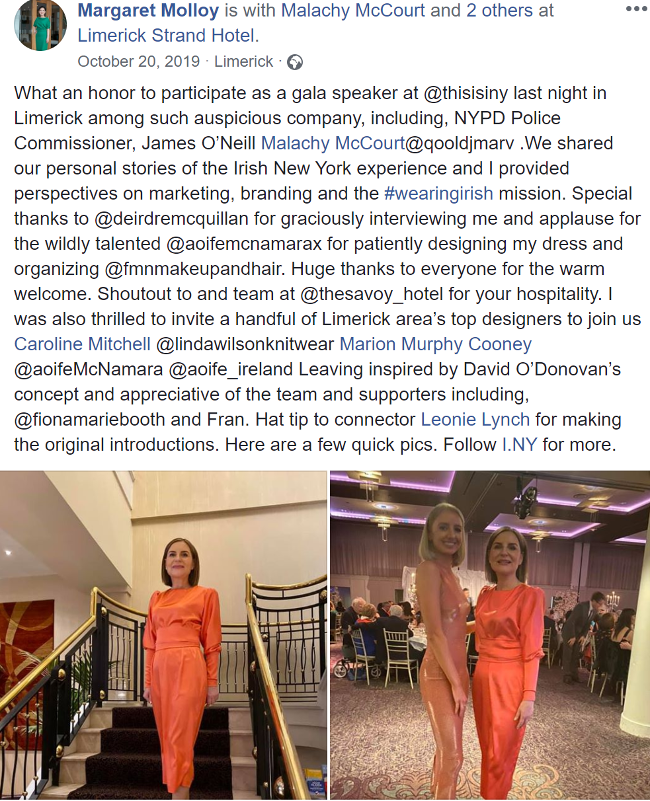 McNamara's voice is that of her generation, a generation that refuses to be silent about the damage previous generations have done to their planet and want to preserve the world for future generations.
"It is what I talk about with my friends and I suppose since starting my business it has been a soul play. It's what I envisioned Aoife Ireland to be since I started. All my packaging is recycled. I want to showcase the fact that it is not impractical to be sustainable. Here in Ireland, there is so much opportunity with Irish wool to use it in a contemporary manner. It's always been what I envisioned Aoife Ireland to be all about."
Ireland's traditions in natural fabrics, whether it is wool or linen are seeing a revival thanks to the efforts of designers like McNamara who says it is a no-brainer in terms of carbon footprint and reviving local industries and artisans. "The amount of amazing materials we have in this country is crazy and I really don't think we use them at all the way they could be. It's definitely something I want to bring into every collection we make."
McNamara is happy to remain based in Limerick and travels for meetings and shows. "This year I'm going to be launching into the Kilkenny stores and hopefully in New York. I'm already launched in the UK and my plan is to be recognised internationally as a label."
She counts herself lucky that when it comes to business advice both her dad and her sister are business owners. "I bounce loads of ideas off them and they have helped me out a lot. In business, you are learning literally every single day.
"I've also been lucky in that I have had great support from my Local Enterprise Office who have linked me with different events and services like accountants. I was also on an entrepreneurial fellowship to San Francisco which taught me a lot about running my own business.
"In business, you learn every single day. Especially when you are in at the deep end."
The next Friday Breakfast Club takes place on 6 March featuring Aoife McNamara. To attend click here
Written by John Kennedy (john.kennedy3@boi.com)
Published: 17 February, 2020