Podcast Ep 180: From derelict buildings to poor planning decisions, Ireland's small towns need better care to drive commercial footfall urges Midleton, Cork, businesswoman Adrianna Hegarty.
One of the very few female-owned and managed property businesses in Ireland, Hegarty established Hegarty Properties in Middleton, Co Cork, in 2005. She is the current President of Midleton Chamber of Commerce and recent winner of the Network Cork Established Businesswoman of the Year awards.
Midleton is currently one of the fastest-growing parts of the country when it comes to property.
"Even sitting here in my office, I look across the road and there are buildings that have been sitting idle for the last 20 years and nothing is being done with them and that is a disgrace"
Hegarty knows a thing or two about property markets having worked in the competitive LA property scene earlier in her career and used this experience to break the mould by staging homes in Ireland long before the practice was widely known. The businesswoman was one of the first in her field to insist on sole agency listings as opposed to multi-agency and invested in colour brochures before it was the norm in the market.
Doing things differently
Prior to working in LA in the 1990s Hegarty cut her teeth in the property market in Cyprus. Looking back on her time in LA in the 1990s she said the work there was anything but glitzy. "It was hard work and very, very competitive. We were working against other agents all trying to sell the same property."
She found a similar dynamic was at play in Ireland and so was determined to put her own stamp on the Irish property market when she set up her own business. "When I opened my office in Midleton I was adamant back then that I would not do multiple agencies.
"That was a bit of a shock in Midleton when I opened up but I was determined to do it my way. I was adamant from the beginning – start fresh and do it differently."
The market at the time was fairly male-dominated. A breakthrough came for Hegarty when a local builder and his wife decided they wanted her to sell the units and the rest is history.
While Hegarty notes more women are in the property business, the businesses are still run mostly by men. "Through Network Cork and being president of the Midleton Chamber it's good for women to see what I've done. I've mentored a few different girls that have come up and I'm happy to mentor more. I think I'm a good example for them."
Driving footfall to town centres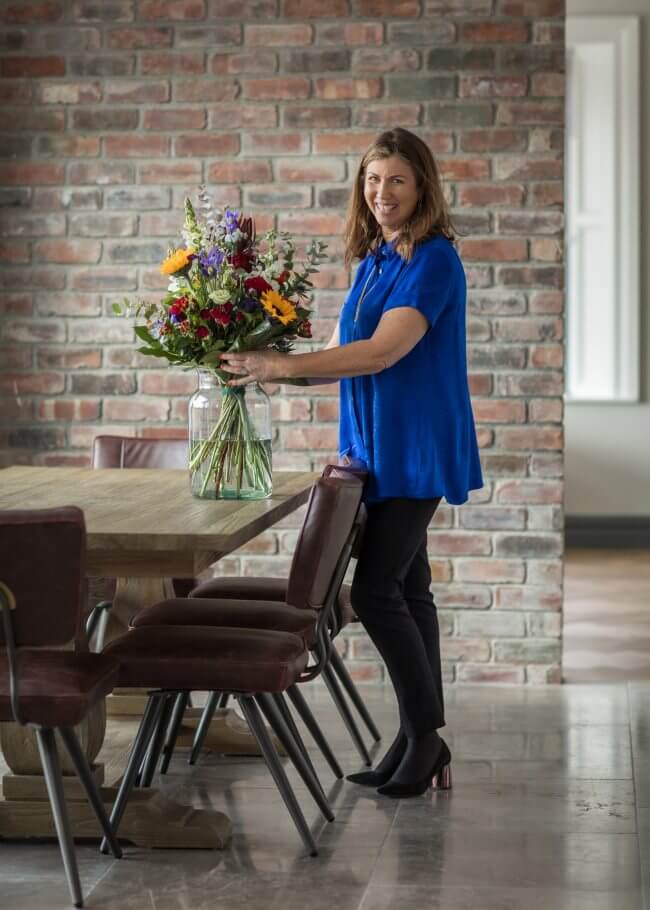 Ireland's property market problems have been well documented. As a businesswoman on the frontlines of the issue, Hegarty believes there is no quick fix. "I think we are getting there, slowly. For instance, in Midleton and East Cork there are around 1,000 new houses and more coming on stream. The Government have given planning for more and more housing. The First Time Buyers Grant is helping a lot.
"The only thing is there is still a lot of derelict buildings around. Even sitting here in my office, I look across the road and there are buildings that have been sitting idle for the last 20 years and nothing is being done with them and that is a disgrace."
I point out that the centre of every town in Ireland shuts down at 6pm during the week and that there is no one living above shops or other businesses, which could go a long way to alleviate housing shortages.
"There are simply too many complications," she points out. "A lot of it has to do with fire safety, for example. To make these into residential units they have made it very complicated and expensive. If the Government could make it a little bit easier."
Hegarty believes planning laws have improved considerably but more generous grants to encourage businesses to transform unused commercial space into useful residential spaces should be considered.
"There is a grant but it's not enough. And they need to cut back a bit on the restrictions a little. Fire safety restrictions are there for a reason. But there are so many villages and towns, including around Cork city and county, with numerous empty buildings."
She points out that an existing €50,000 grant for renovating properties requires businesses to come up with the money first, which once again prevents them opting for it.
Crucially, stronger policies that drive footfall into small towns and cities need to be embraced in post-pandemic Ireland. "I think town planners are not doing enough for our small towns. Here in Midleton we have lots of discount stores and it wasn't always like that. Plastic signs have replaced the old, traditional signage and we need to focus on the streetscape to bring more life into the town. I think we are definitely losing a lot in our towns. We have lovely main streets but keeping them alive is hard.
"Even Midleton, which has always been a great town is finding it difficult to get the footfall."
While in the past many large towns like Midleton would have been a major draw for the surrounding areas in terms of activities like marts and more, towns she said have to get inventive.
"We're very lucky in Midleton because we have a farmer's market that was set up by Darina Allen of the Ballymaloe Cookery School and that's great for any town. It's held every Saturday and generates a buzz.
"In my role as president of the Chamber of Commerce I'm meeting a lot of people. A lot of people are working remotely and it's hard for them to network and meet people in their neighbourhoods so I'm encouraging a lot of remote workers to come and join the Chamber and that has been fantastic."
Looking to the future of her own business, Hegarty is quite clear. "To keep giving a good service, to keep doing what we're doing."