Here are eight good places to start if you are interested in making it in the food business.
This should be your first port of call. It has handy guides on food law, starting a food business at home, and detailed information on how to set up a food stall at a local market.
This is a simple guide to becoming a market trader. A very useful little book and it's free.
3: Go back to college
There are many University course specialising in food production. One of the best is UCC's Diploma in Specialty Food Production. The Diploma is for those who want to produce and sell speciality foods or as a way of adding value to their farm's produce. See the video below.

4: Organic food
If organic farming and organic food are more to your tastes, your first port of call should be the Organic Trust.
Whether you are starting a food business or are in the early stages and looking to grow, the Food Academy is worth contacting.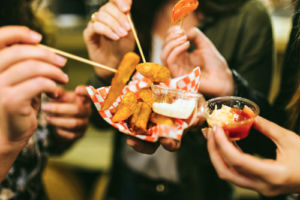 6: Franchising
This is an option for people with cash who want to invest in a recognisable food/retail/restaurant brand. There are pros and cons to franchising, so make sure to do your research. The Irish Franchise Association's site is a good place to start.
Whether you want to launch a goat farm or set up a honey production company, this website is for you. There are guides and fact sheets on everything from farm shops to rearing ostriches.
8: Seafood
Ireland is surrounded by the richest seafood waters in the world. BIM has lots of info on how to set up a seafood business and sell to international markets.
Artisan food and craft brewing
The Irish artisan food and craft brewing sectors are experiencing a period of rapid growth and will be worth more than €460 million euros to the economy in 2015. The Irish Craft brewing industry alone has grown its output by almost 200% in the past two years, and will be worth €39.6m this year (despite excessive excise charges). There has been a 50% increase in the number of microbreweries from 32 in mid-2014 to 48 in mid-2015 and by the end of the year, it is estimates that this will rise to approximately 58.