As part of ENACT's 'Greening Commercial Properties: Explained' series, a forthcoming webinar will delve into green finance options for SMEs.
Next week (25 July) SustainabilityWorks, a partner within the ENACT initiative, will host a webinar aimed at demystifying the financing of energy projects for SMEs.
The entire construction process and operation of buildings is responsible for 37% of all carbon emissions in Ireland, according to Mary Teehan, head of Research & Projects and ENACT lead at the Green Building Council.
"Are you an SME that owns or rents an office, retail building, warehouse, hotel, pub or leisure building? Join us for a lunchtime webinar with leading experts to demystify financing energy questions!"
ENACT aims to answer SME business owners' questions on green retrofitting by making hand-picked experts available to help them apply the latest knowledge in their daily business lives.
Ask the experts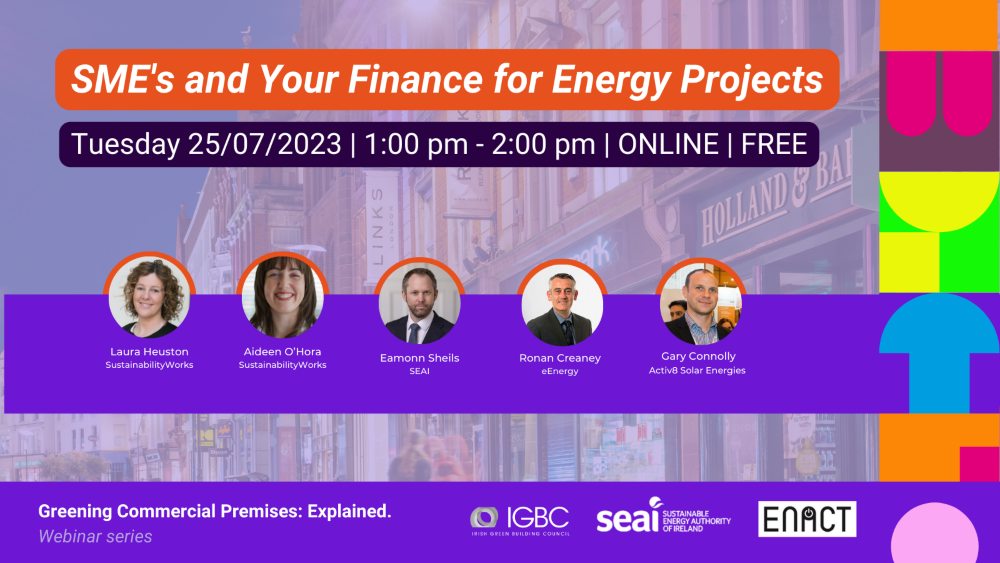 The 25 July webinar is aimed at SME business owners who rent offices, retail buildings, warehouses, hotels, pubs or leisure buildings.
Speakers include:
Laura Heuston, Co-founder, SustainabilityWorks
Aideen O'Hora, Co-founder, SustainabilityWorks
Fergus Sharkey, Head of Business Supports and Transport at Sustainable Energy Authority of Ireland (SEAI)
Ronan Creaney, Operations, eEnergy
Gary Connolly, Commercial Director, Activ8 Solar Energies
ENACT is a three-year initiative, tasked with 'enabling national action on commercial renovation. The SEAI funded initiative is led by the Irish Green Building Council, and is run in partnership with the University of Galway, Sustainability Works, Dublin Chambers of Commerce and the Society for Chartered Surveyors of Ireland.
"Commercial buildings are a substantial contributor to greenhouse gas emissions. In these last few years, the operations of the commercial sector have also undergone a huge change," Teehan told ThinkBusiness recently.
"There are financial, technical, knowledge and behavioural challenges. Through ENACT initiative, we want to enable the commercial sector to overcome those barriers to achieving targets and positively contributing to climate change."
To learn more about the webinar series click here. CPD points are available at the end of the series.