One of Colin Hart's biggest clients is Paddy Power. His motto is simple: 'Boring doesn't sell'.
Colin Hart is the managing director of Public House, one of Ireland's leading advertising agencies. The agency partners a number of different companies, with Paddy Power being one of their biggest clients.
Speaking at the OFFSET design conference in Dublin, he said; "Eighty percent of advertising is pretty much spam. We don't want to be a part of that. We know it doesn't sell so what's the point. Our motto and founding principle is 'boring doesn't sell'."
Creative push
While Public House likes to push its clients in terms of creativity, they don't believe in being overly creative and bold when it's not necessary. "There has to be substance," said Colin. "We work with 123.ie insurance and we tried to find a nice edge. With Paddy Power, we tend to push them even further."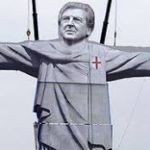 One of their most successful campaigns came with Paddy Power in 2012, during the opening of the European Championships. On the eve of the England vs. France game, Paddy Power revealed a 100ft tall construction of 'Roy the Redeemer' on the White Cliffs of Dover. The huge image of the then England manager Roy Hodgson could be seen all the way across the English Channel in France.
"Originally, we planned to put a giant finger put on the Cliffs of Dover, so France could see it," said Colin mischievously. "Then we came up with 'Roy the Redeemer'."
The statue was a reproduction of the iconic Christ the Redeemer statue which overlooks Rio de Janeiro, but the face of Christ was replaced with England's new 'saviour', Roy Hodgson.
"We were small and trying to make an impact," said Colin. "It was covered by every national publication in the UK and France. France thought it was good fun. We present in headlines rather than pitches."
"Provoking debate looks like success for us. We go big or go home."
Olympic hijinks
During the Olympics Games in London in 2012, Paddy Power put up billboards saying it was sponsoring 'the biggest athletics event in London'. Initially, it was assumed Paddy power was referring to the Olympic Games, however, it was actually referring to an egg-and-spoon race it was sponsoring in a small village in France, ironically called London.
"We make an opportunity out of nothing. Before the All-Ireland hurling final last year, we put a 'cousin shifting booth' outside Copper Face Jacks in Dublin for fans from the country to enjoy," says Colin.
In an effort to give Mayo's footballers some divine inspiration ahead of their All-Ireland semi-final against Kerry in 2017, Paddy Power projected a 70ft image of the Mother of Christ holding the Sam Maguire trophy onto the front of Knock Basilica.
"If you know how far you can push it in one area, it means you know how people behave. We get lots of analytics and we can use it with other brands. Provoking debate looks like success for us. We go big or go home."