What a great name for a design company – Red Lemonade Creative. Here John Cleere, the founder, talks about starting a business in the South East and the rise of Kilkenny as a major hub for the design, creative and tech industries.
Tell us about your background and what you are working on at the moment?
I am a native of Kilkenny and returned to the city 15 years ago, after a spell working in Dublin, to set up the design agency Red Lemonade Creative. Kilkenny is the perfect location for a healthy work-life balance.
At Red Lemonade we help clients design better products and services. Currently, we are finding opportunities to develop beyond our design and production services to including the growing need for business design strategy. We are now working with client teams on Design Sprints, a process of design that rapidly tests new business ideas and features, and finds problems and solutions, creating real, constant progress.
The projects we work on are always varied, engaging with new industries on a continuous basis. Right now, for example, we are designing websites for a new Kilkenny festival and a biotech company. We are also midway through a corporate brand and digital strategy for a new business innovating in off-site construction.
"Design is one of the largest growing industries creating value in the economy."
What are your passions? What drives you?
Design is obviously my passion, and I see tremendous possibilities here for industry, communities and employment. This inspired me to set up 'Tech Thursday Kilkenny' which has now been running for two years. It's a monthly meetup of business people and curious locals interested in the new industries of tech, design and innovation. The meetups have more than 200 people attending and are growing in strength.
Can you tell us more about 'Tech Thursday Kilkenny'?
Tech Thursday Kilkenny came about due to an opportunity I saw for the city to re-establish itself as a centre for industry and innovation. The world-renowned Kilkenny Design Workshops (KDW) was a flagship for design in business from 1965 to 1988. The KDW worked with many diverse industries in Ireland and abroad to improve their products using design. After KDW closed the legacy left was a craft industry that married well with a growing tourism industry. This, in turn, complemented a strong service sector that today we are perhaps over-reliant on for employment.
"Today design in industry, especially in the tech industry, is booming. As a city, we should capitalise on this. After all, design is in the city's DNA."
Developing a culture for tech and design is foremost in my current ambitions for Tech Thursday, which in turn creates a hunger for, and provides opportunities for, a smarter economy. The plan is to take this even further in 2018.
To date we have had over 40 tech companies, local, national and international, taking part. We partnered with Kilkenomics (a festival of economics and comedy). We built strong regional and national sponsor relationships with our LEO, Bank of Ireland Innovation, Vhi, the NDRC and the Kilkenny County Council to name a few. The events have been hosted in six locations across the city, and over 1,500 people have attended to date. It is a free event, and anyone can participate.
Outcomes from the events have included attendees finding employment, companies finding new business opportunities and in November of this year getting involved in organising the first Google TechStars Startup Weekend in the South East.
"A private industry-led accelerator hub approach, such as in Tel Aviv, has proven to be successful."
What would you like to see more of in Kilkenny?
Having well paid; skilled employment is what I would like to see. A few actions would get us moving in the right direction, including:
1: Attracting and targeting scale-ups to relocate to the city with a combined effort from local grassroots industry and grasstops local government. It requires a strong vision that goes beyond the 'Dublin is too expensive' pitch. This would involve a full time dedicated concierge to promote and develop Kilkenny as a destination for business. If we put half the effort we put into our active and prosperous tourism industry it would go a long way.
2: A private industry-led accelerator hub approach, such as in Tel Aviv, has proven to be successful. This would involve a new strategy of engagement with large, local corporates and existing startups and scale-ups to pursue job creation and evolution.
3: A new FDI strategy of connecting existing Kilkenny companies with foreign companies would create an abundance of openings. For example, design is one of the largest growing industries creating value in the economy. A new FDI approach, seeking out foreign industry that lack design innovation in their products and services, should be tested (there are enormous global opportunities here). It is no longer good enough to tag Kilkenny as a "financial services hub", or a "lovely place to live". A more dynamic approach is required to engage and entice foreign investment and grow existing companies. This would create new types of high-value, local employment opportunities while giving foreign companies the opportunity to engage with local industry, before committing to locating here. A taster. More value would be created, and local companies would have a better chance of survival if they were part of a larger ecosystem, which is how the business world is now evolving.
"Networking at the Tech Thursday events has shown there is now a pattern of highly-skilled people coming to live in the city and work remotely."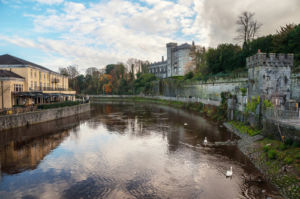 What trends and changes do you see in Kilkenny and the South East?
The new Abbey Quarter that is currently in development in the heart of Kilkenny holds many opportunities for the future. I feel that a forward-thinking approach is required and tangible actions still need to be addressed to fully harness the opportunities available.
There is a new-found call for a third-level institute in the city, but it seems to be falling on deaf ears. I see an opportunity to act by pushing further with private enterprise, creating opportunities for the existing highly-skilled college graduates that surround us in the South-East. Taking control of our destiny, rather than waiting for government intervention, will prove more lucrative for business, culture and community both in the short term and long term.
Finally, networking at the Tech Thursday events has shown there is now a pattern of highly-skilled people coming to live in the city and work remotely. This is a growing trend that will open doors in the future.
You can find out more information about Red Lemonade Creative at redlemonade.ie, @redLemonade, and #TechThursdayKK
The next Tech Thursday Kilkenny takes place on the 11th Jan, 7 pm at the Set Theatre. You can sign up for the newsletter on the upcoming event, tickets and insights at redlemonade.ie/techthursdaykk.
Interview by Sandra Wycech.