Podcast Ep 66: In a working world transformed forever by the pandemic, Irish business Sing at Work has found a way to boost workers' energy and moods.
Ross Scanlon and Linsey Dempsey are founders of a new globally focused business called Sing at Work where they literally boost the wellbeing, confidence and moods of workers by encouraging them to exercise their vocal cords and breathing.
It is a surprise to many people who never thought they could sing in the first place to learn. They deliver singing lessons remotely by Zoom and are preparing to bring the platform into the physical workplace as workers return to the office.
"The voice also connects to a person's overall perception of themselves, the inner critic and is the one thing you feel constantly judged on, so this opened up the idea of helping employees feel better within themselves in order to connect better at work"
Founded by trained opera singers Linsey Dempsey and Ross Scanlon the business really took off during the pandemic with companies in Ireland and as far afield as San Francisco booking classes for their colleagues.
Recalling the founding of the company, Dempsey said that after experiencing personal health challenges she pursued the holistic path of singing. "Everything is connected to our sound and our voice. And at the same time, I had always been interested in businesses valuing their workers more than they do."
She found that helping workers to realise they had a singing voice made a huge difference. "Some of them would be having a terrible day at work and then at the end of the lessons they were just transformed. Even if they didn't want to sing, after half an hour of just making sounds and vibrations some of them saw the benefits of it."
Scanlon said that classes can be tailored for both the individual and groups. "We have a lot of people come to us for one-on-one individual sessions via Zoom. Our aim was to bring this to the workplace in March last year but obviously because of the pandemic we had to do a rethink. If anything, it has been great because it has given us more of an international kid of reach. We've been working with people in San Francisco, across Europe, in Hong Kong, which we didn't envisage at the start."
In harmony
We put more questions to the Sing at Work team:
Why has no one thought of it before?
There are two companies (UK and US) that run one to one lessons in various instruments and choirs (we only discovered this after starting the business) but we felt the voice was not being utilised enough in the workplace considering it is one of the greatest tools for business, sales and communication. The voice also connects to a person's overall perception of themselves, the inner critic and is the one thing you feel constantly judged on, so this opened up the idea of helping employees feel better within themselves in order to connect better at work. With the research between wellness and sound making in particular the Vagus nerve connection and Polyvagal Theory, we wondered could we give people a wellness experience during the day at work not too obvious to them but with a fun experience while also creating a safe space for them to grow, develop good vocal habits and tools to explore their vocal capabilities. We think our own personal vocal journeys and unique teaching experiences have led us to see an opportunity to fuse all these wonderful elements together to create a new product and experience and this is possibly why no one else has thought about it before.
What is the problem you are trying to solve and the size of the market you are addressing?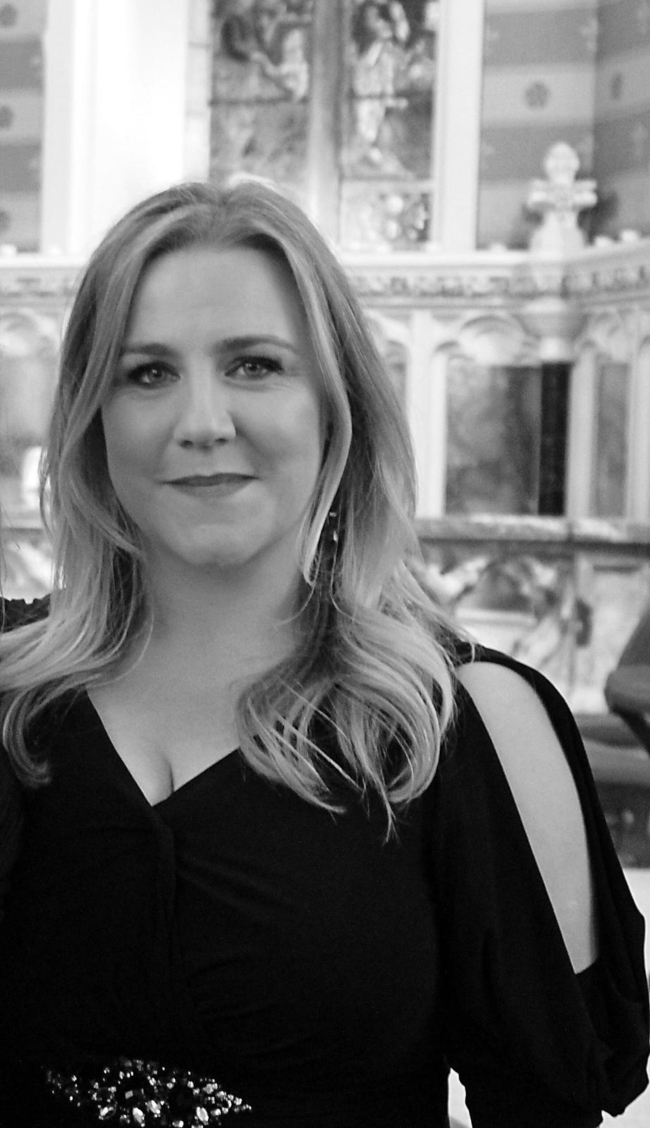 Linsey Dempsey, co-founder, Sing at Work
Our aim at Sing at Work is to invest in the individual rather than the office group as a whole. The norm is various team building activities that tick a box that many people often are not interested in or like. We are aware that this means more expense but we believe if you invest, nourish and value each individual employee you will create a much better community and team overall.
We felt the workplace was the one place a lot of people struggle with putting themselves first. Individuals work long hours, many in high pressure situations and therefore the workplace remains somewhere it can be hard to be seen and heard for who you are. Several studies already show that when a person feels valued they will rise to the absolute best version of themselves. We wanted to create a tool for businesses to become a place where people can thrive and in return grow the business even further.
One thing that always stands out to me is if I walk into a coffee shop and the person behind the counter is smiling, engaging and speaks to me in a real way, I feel instantly boosted and I go out of my way to return to that coffee shop time after time.
We are looking to reach corporates who may already have a well-structured wellness programme already but are looking for new innovative ways to engage their staff. We would equally love to work with SME and start-ups to look at setting up bespoke wellness programmes for their company. This is a company we eventually want to grow internationally, even though we wanted to target Irish companies initially; the idea is one that can be delivered to a global market because it is adaptable to each company and each individual.
What is the core product and service about and how does it work?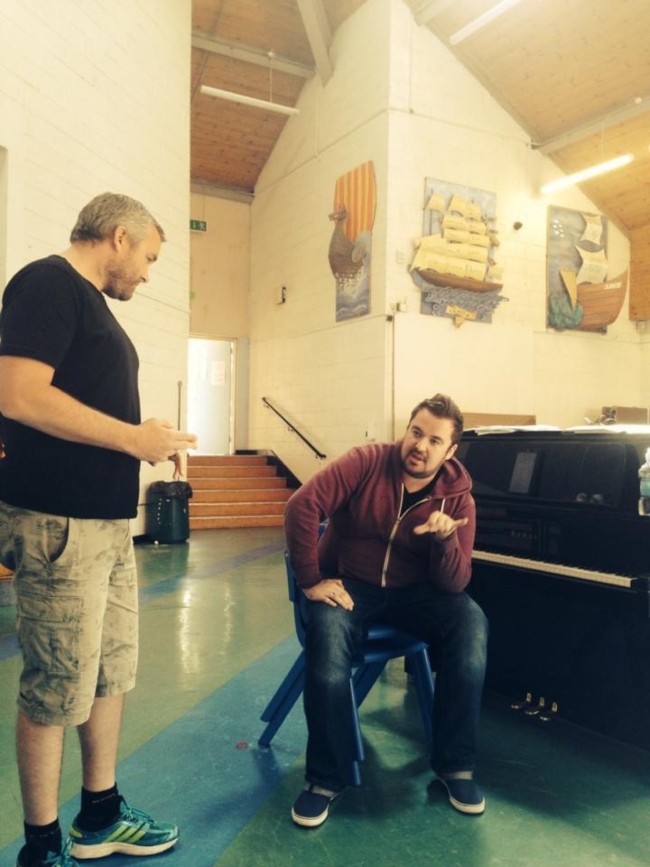 Ross Scanlon (seated), co-founder of Sing at Work, giving a singing lesson
The core product is an opportunity to have a break in the working day that is guaranteed to be mood and energy boosting, refreshing and engaging. We wanted to replace that coffee hit needed for the energy slump. The desired end result is that you finish your working day with renewed energy and heightened productivity. The main objective before Covid was to be in the office and work with people physically – to become a part of the office resources.
We have adapted our services to online which has given us a wider reach to the working community and has also encouraged the more introverted client to sign up because of the extra layer of safety they feel from the Zoom platform. For us this means people can try out the sessions in an environment where they are very much in control and for some people this is key.
Who are the founders of the company and what are the experiences that encouraged you to become an entrepreneur?
The founders of Sing at Work are Irish opera singers Ross Scanlon and Linsey Dempsey who both trained together at the DIT Conservatory of Music and Drama, Dubin.
Linsey Dempsey, after training in opera and spending many years working, experienced huge body tension and lockdown. She committed to working through the issues by exploring yoga, meditation, somatic breathing, Alexander technique and many other areas relating to connection to the body. While doing so she experienced the wellbeing benefits of singing and concentrated on teaching and including many of these elements in her lessons. The results were obvious but with corporate clients they were extraordinary.
Ross Scanlon trained as an opera singer and went on to have an extremely successful career on both the operatic stage and concert platform. Spending 10 years in London he trained at the Royal Academy of Music where he obtained his teaching qualification. While studying Ross worked for a company who went into corporate companies to teach them singing and piano. He soon realised how beneficial these lessons were for these people who were in highly stressful and demanding jobs. The benefits were numerous and this first-hand experience led him to linking up with Linsey to combine both their experiences to create this unique blend of the voice and the corporate world.
What are your impressions of the start-up ecosystem in your region and in Ireland in general?
We have found the ecosystem very supportive to date. We have attended some meetings with Wicklow and Dun Laoghaire Local Enterprise Office. The local enterprise boards have been informative in several ways but generally things are a little more challenging for start-up companies based in the arts sector. We have been met with good will from all the companies we have made contact with as well as words of encouragement that have been refreshing to hear.
Are you raising funding at present?
No. Everything that has gone into the business so far has come from our own contribution. Some client contracts to date have added to this small amount of money we have. Again, this is an area that interests us and would be something we would hope to gain from to help our business grow.
What are the biggest mistakes or lessons you have learned so far?
Do not take an initial email or meeting with a company as a guarantee that work will come from it. Be prepared to follow up with clients on several occasions to solidify a deal.
Your original product could completely change and evolve over time. Do not be afraid of the change and be flexible with the outcome.
Try to make the best out of a bad situation. A perceived event, such as Covid-19, does not necessarily mean a bad thing for business.
Relying on your own knowledge and experience. We have learnt to have more confidence and certainty in what we know is best for our business.
Do not try and please everyone.
We continually prompt ourselves to go back to the original model and idea to remind us what it is we do and why we are doing it. That can sometimes get lost in the busy nature of things.
What advice do you have for fellow founders?
Get yourself a good advisor who works in the corporate world. Someone who knows how to mentor new founders and business ideas.
Have a good clear plan about what it is you are setting out to do.
Be open to change and evolving regularly.
By John Kennedy (john.kennedy3@boi.com)
Published: 10 June 2021