As Irish businesses prepare for the post-pandemic workplace, they need to consider new ways of engaging with employees says Terri Moloney from Salesforce.
The past year has fundamentally changed the way we work. And as optimism grows that the end of the pandemic may be in sight it is clear that workplaces will never return to the way they were.
The benefits of greater levels of flexibility have become clear to companies and employees alike. One study by NUI Galway has shown that after the crisis 94pc of people in Ireland would like the flexibility to work remotely, at least some of the time.
"While we could not have foreseen the rapidity at which the world of work would change, we do have an opportunity – and responsibility – to build something better"
The Irish Government's new Making Remote Work strategy aims to ensure that remote work is a permanent feature in the Irish workplace.
New ways of working require new responsibilities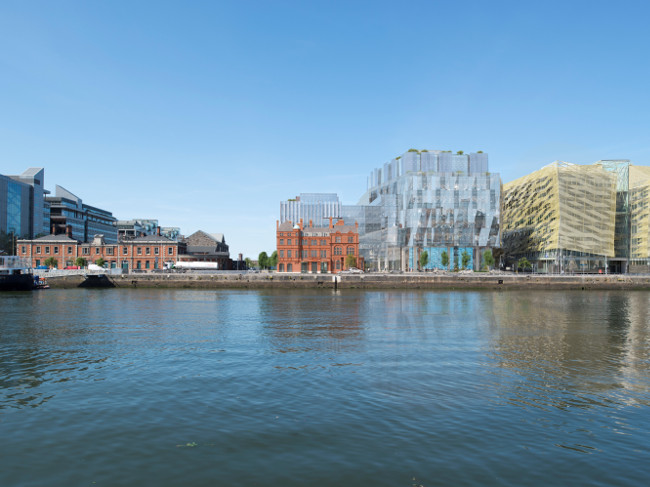 Render of the new Salesforce Tower in Dublin.
These changes, however positive, also require added responsibilities of employers, particularly to avoid risk of anxiety and burnout. Indeed, it is one thing to adapt new practical ways of working. It is another to evolve or scale a company culture that works for everyone.
Businesses across Ireland, large and small, are now considering how they will build a post pandemic workplace. In doing they must consider how to improve the employee experience.
Here are three ways that we can implement new technologies and arrangements both creatively and responsibly.
1. Prioritise employee engagement
In the race to improve customer engagement, many companies have left employee engagement behind. Just as technology can be used to create great customer experiences so too can it be used to engage employees throughout their journey at a company. More than ever companies need to adapt quickly and create more relevant and engaging employee experiences wherever they are – just as we would for customers.
In an all-digital world, one of the greatest challenges companies face is maintaining their culture. As our working styles become more hybrid, forging a shared sense of purpose and belonging will become increasingly important. Just as data can help make faster and smarter decisions to benefit customers, intelligence gained through surveys and other forms of engagement can assist in building team togetherness and implementing initiatives that prioritise wellbeing.
2. Encourage flexibility and ensure fairness
Trust and flexibility are key to a work from anywhere strategy. Employers must trust employees to get the job done during the schedule that works best for them and offer flexible options. Creative initiatives such as time-off strategies can help make teams healthy, happy, and ultimately more productive for the company. As teams become more distributed, leading with empathy and understanding will become even more important.
While flexible working arrangements can offer greater life-work balance, if not implemented with care these changes put at risk some of progress in the ongoing fight for pay and workplace equity. Just as businesses have a responsibility to create an equal, fair, and inclusive environment in-office, it is imperative that this experience translates virtually.
3. Cultivate a culture of continual learning
Technology is helping organisations to do business better and faster than ever before. With automation, for instance, companies are able to streamline customer service operations and offer 24/7 support from anywhere, and empower employees to focus on more strategic tasks. Just as the all-digital world we live in presents employers an opportunity to transcend traditional boundaries and tap into new pools of talent, it also requires us to further invest in hard and soft skills.
In the digital economy, every company is going to need teams which can leverage new technologies fast. Increasingly, too, they will rely on individuals who can solve complex problems, challenge the status quo, and engender a shared sense of purpose among distributed teams. To get the best out of people, leaders need to cultivate a workforce culture of continual learning and development in line with business needs.
Building a better world than we had before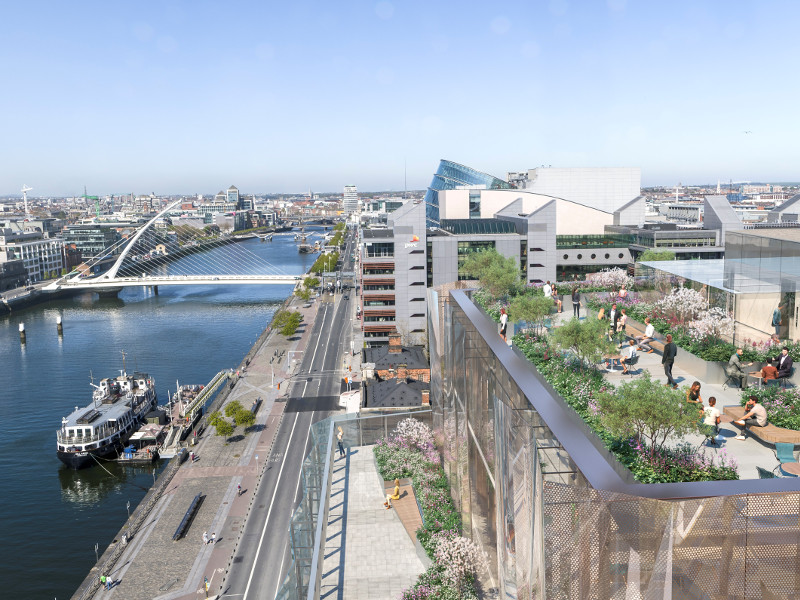 Render of the new Salesforce Tower in Dublin.
The future of work is improving the ways we do our jobs, but it's also evolving our culture.
By using this opportunity to build a better workplace we can provide meaningful roles, prioritise reskilling initiatives and inspire teams with a common value set.
To succeed, this means rolling out working arrangements that are fair and afford equal opportunities to everyone.
While we could not have foreseen the rapidity at which the world of work would change, we do have an opportunity – and responsibility – to build something better.
Terri Moloney is the director of Employee Success at Salesforce
Published: 5 April 2021