Positive Carbon has created automated technology that helps businesses in the hospitality and foodservice industries to reduce and track food waste.
Founded by friends Aisling Kirwan and Mark Kirwan Positive Carbon provides food waste data to commercial kitchens to allow them to cut their food waste in half, reduce waste collections and reach sustainability goals.
"Food waste is a global problem," says Aisling Kirwan. "Every year, one third of all food we produce goes into the bin, that equates to 1.3 billion tonnes of food, costing the economy $1 trillion and contributing to 10% of all greenhouse gas emissions.
"Try to find a first customer who loves the product as much as you do"
Positive Carbon is working with the foodservice and hospitality industry to address the problem.
"The crucial issue is that there is a lack of visibility," Mark added. "If businesses don't know what's going into the bin, how will they know what changes to make to their operations to reduce it."
As these businesses become increasingly concerned with protecting profits and hitting sustainability targets, the need for food waste reduction solutions is expanding rapidly. With 660,000 hotels and resorts worldwide and an additional 15m restaurant market that is eager to move towards more sustainable ways to conduct business.
Waste not food not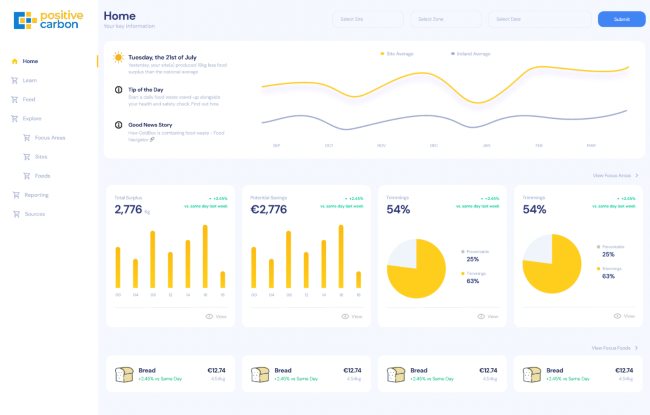 "We enable commercial kitchens to cut their food waste in half using our fully automated food waste monitoring sensors," Mark said. "There are multiple sources of waste in commercial kitchens, from preparation waste, unserved food and plate waste. Our sensors track and analyse every single item of food that is thrown in the bin.
"All of this captured data is presented on our reporting dashboards where kitchen staff, operation teams and management can easily review daily, weekly and monthly waste reports. By giving kitchens full visibility of their food waste, it allows them to see what they're wasting and how to make changes to their purchasing, preparation and production habits.
"With increased staff engagement, KPIs to measure success and stock reporting, and identifying where the waste occurs in the first place, kitchens can make savings of hundreds of thousands all while helping the environment."
Data provides food for thought
Mark Kirwan and Aisling Kirwan (no relation) set up Positive Carbon with the aim of providing the foodservice sector with the same level of data that the supermarket sector has benefited from for decades. They have been working in the area of food waste for almost ten years, having gotten their start in FoodCloud in Ireland.
The food retailers has managed to suppress their wastage to 1-2% whereas the hospitality sector still struggles with wastage of 10%+. They noticed that the reason the hospitality sector did not have the same ability as retailers to reduce their food waste was due to their inability to record, measure and evaluate the issue.
Mark and Aisling saw an opportunity to address a large problem challenge in the industry. Throughout the pandemic they conducted an immense amount of market research and product iteration. They spoke to hundreds of chefs, general managers and hospitality personnel to understand the challenges they face when it comes to food waste and what the ideal solution would be if they were to install a piece of technology in their kitchens.
Positive Carbon now works with some of the largest multinational companies and hotel groups in the country helping them understand their food waste and save costs.
Critical networks
Positive Carbon has been deeply integrated in the Irish start-up ecosystem over the last few years having taken part in New Frontiers in 2020, Social Entrepreneurs Ireland (SEI) Impact Programme in 2021-2022 and as the Bord na Mona Accelerate Green cohort in 2022.
"These have been critical networks to help Irish businesses building products and services that contribute to sustainable development," said Aisling.
"They not only provide vital funding to help develop a company in its early stages but supply invaluable training and support to develop core skills that will improve and progress their solutions.
"Participating in these programmes also offers the chance for peer support and networking. As companies become alumni they have the honour to give back to the community by remaining in the network to support and build the next round of entrepreneurs."
Aisling said the biggest lesson the Positive Carbon founders have learned is not to wait. "Don't wait – get your product out in front of customers at the earliest possible opportunity – this wasn't always in our control, having been founded during the pandemic – to test it in the real world and start getting feedback. Take this feedback onboard and build the product your customers want, not the product you think it should be. They are the ones using it and they know best."
Aisling's advice to fellow founders: "Try to find a first customer who loves the product as much as you do. This may take a bit of time in the beginning, but it's so important to find someone who is committed to using the solution and will give you honest feedback. Your product could be in the hands of ten people who think it's fine and hardly use it. It's so much more valuable to have one person who really cares about it and gives you feedback about what they like and don't like."
Main image at top: Positive Carbon founders Aisling Kirwan and Mark Kirwan