Founded by the creators of MyKidsTime, new venture ParentsandBrands delivers actionable insights for commercial brands by gathering honest views of parents.
There are no doubt parents across the world who feel they owe a debt of gratitude to 14-year-old parenting website MyKidsTime, a valuable resource of knowledgeable information on everything from activities to life hacks that save them time and money.
The brainchild of Jill Holtz and Michelle Davitt, MyKidsTime's loyal cohort of global users has now sparked a new spinout business called ParentsandBrands.com aimed at helping commercial brands ascertain the real-life views and opinions of parents and turn them into actionable insights.
"More than 6m global parents connect every month with our channels. We create segments from this engaged community to form tailored insights panels"
"Traditional market research can be costly, particularly, qualitative research," Holtz explained. "Our mission at ParentsandBrands is to uncover intelligent, valuable and actionable insights from engaged, informed and articulate parents for the commercial success of brands.
"We offer a unique hybrid service linking insights to digital marketing to connect brands with parents for mutual benefit. We can potentially help any brand or business across the globe who wants to better understand parents who are the gatekeepers to family life, to increase connection to activate those parents and ultimately drive sales."
Parents are the real influencers
What needs to be understood about what Holtz, Davitt and their team have done over the past dozen or so years is they have created a vibrant global community. And now it is about tapping into that knowledge.
"More than 6m global parents connect every month with our channels. We create segments from this engaged community to form tailored insights panels," Holtz said.
"We use our ready-to-go, private, secure and owned platform to deliver bespoke research quickly and at a reasonable cost. Our panel participants are not remunerated. They give feedback because they want to be marketed to in a better way. We put time and effort into nurturing the relationship with parents so businesses can tap into this quickly and easily. And as parents ourselves as well as being experienced marketers, we have a clear understanding of and expertise of marketing to the parent segment.
"It's about research design and interpretation that is strategically relevant and genuinely generates actionable insight in line with commercial objectives. After the research has helped inform the design, we can take a brand's message to parents through marketing on MyKidsTime, making us a truly end-to-end service."
A key aspect of ParentsandBrands' modus operandi is the creation of small, focused panels that give honest and clear feedback to commercial brands. There is no monetary aspect to it, instead occasional prize giveaways are awarded.
"It's very important that the feedback isn't motivated by money or points," Holtz said. "Many of the parents who take part love the fact that the brand is asking for their feedback and they are really interested in telling the brand what they think."
The immediate future is about building and scaling the technology platform for ParentsandBrands and leveraging the global audience that MyKidsTime has built up in the past 14 years. "We have a global community to call on because our content is universal."
Another aspect that many brands overlook is that parents are, in their own right, enormous influencers. "You have to think of their own purchasing power and their influence on other networks such as other parents, growing teens and more people in their network. It's a missed opportunity for many brands."
From kitchen table to trusted global brand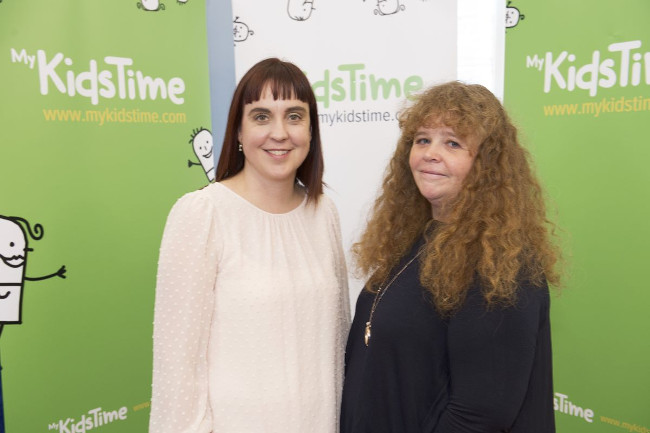 MyKidsTime and ParentsandBrands founders Jill Holtz and Michelle Davitt
MyKidsTime was founded in Galway in 2007 by Holtz and Davitt.
"Over the last 14 years, MyKidsTime has grown to become one of the most trusted online brands with a global audience"
"Originally we founded our listings website from our kitchen tables in Galway, completely based on personal need as it was tricky to find out information on kids activities, classes and family events," says Holtz.
"We decided to build a website and help parents because we found it so frustrating. Over the last 14 years, MyKidsTime has grown to become one of the most trusted online brands with a global audience.
"Last year we saw an opportunity to launch our new insights service to better connect brands with our parent community."
Time to help businesses scale
Holtz said that the start-up ecosystem in Ireland has come along leaps and bounds since they started MyKidsTime in 2007.
"LEO Galway have been completely supportive along our journey in recent times, and we see such great things happening in the start-up eco system. We'd love to see more for scaling companies, we think there's still a gap to support company owners to make the jump to being bigger and more global.
"Recently we participated in the Breakthrough Innovation Programme through Dublin BIC and found that to be excellent, but we happened upon that almost by accident. We'd love to see 'account managers' put in place from start up through to 'global domination' stages, helping businesses to access whatever they need at the various stages of their journey. It still feels a bit piecemeal honestly."
Holtz said that both SBC and LEO Galway have supported the first stages of the new spinout ParantsandBrands.
"We are investing in streamlining the digital access for parents to register and participate in panels, as well as facilitating secure, self-programmable requirements and insights reporting access for our client marketing teams. Adding a self-serve element which can be accessed by customers around the globe so that we have recurring, multiple projects running is our next milestone.
"We are also looking at opportunities for new technologies that we can partner and bring in to add even more value to both participants and our customers. We are working on a primer at the moment towards further investment for all the technology development that we see as key for growth and scaling, so watch this space."
The 'why' of business is critical
Mistakes learned from their first business has thought them some valuable lessons that they will carry into the new spinout venture. "Not focusing on sales from the get go. Neither of us had sales experience, and it took a long time to build our skills and to understand how to sell well.
"Being family-friendly and flexible has allowed us to retain our amazing team, something that's also one of our core company values, after all, our company name has 'kids' in it, and this has really made a difference to building core competences as well."
Her advice to fellow founders is to stay the course and not be daunted. "It's genuinely two steps forward followed by one step back, but don't be disheartened and keep the 'why' in your mind, why you started the business, why you want to help your target customer, that's what will help you to get out of bed to keep driving your business forward. And talk to lots of other founders, it helps you not feel alone."
As remote workers from day one in 2007, the pandemic didn't phase the founders. "We have been remote workers from the get go, long before the current trend because we wanted to facilitate family friendly working hours.
"So we've always explored tech tools to help work with a remote team. We use a variety of tools to manage projects, communicate internally and externally and to keep an eye on trends. Whenever we see something new we look to see is that something we can use? Would it help make things even better in our business?"
By John Kennedy (john.kennedy3@boi.com)
Published: 15 July 2021