Podcast Ep 121: Cork firm DP Energy's head of Offshore Adam Cronin explains why it's time for Ireland to capitalise on the potential for offshore renewables ahead of its 80% renewables target for 2030.
Wind. Ireland has plenty of it and all across the land there are new wind farms popping up on hills and mountainsides to use the wind to power homes and industry. But will this alone be enough for our future needs? No.
One area where Ireland has lots of untapped potential is offshore wind energy. Despite having an early leadership advantage in the mid-1990s, very little has been done to capitalise on Ireland's offshore wind potential given that the island boasts one of the longest – and stormiest – coastlines in Europe.
"This is potentially a big economy-boosting industry for Ireland"
For DP Energy's head of Offshore Adam Cronin, Ireland is in a race for time to once again re-establish its lead otherwise the opportunity to not only power hundreds of thousands of homes across Ireland but also across mainland Europe could be lost to neighbours like the UK.
Cronin leads DP Energy's technical and engineering teams in the delivery of the company's exciting and ambitious offshore renewable development brief in Ireland.
He has decades of experience in the design, consenting and development of marine and offshore projects. This includes offshore energy, subsea cabling, dredging and port and harbour developments supporting the offshore renewable sector and is thus ideally placed to understand how these crucial projects are funded and developed.
A new industry is on the horizon
Thirty-year-old Cork headquartered DP Energy develops projects worldwide and already has a global portfolio of over 5GW under development across onshore wind, solar, and offshore wind technologies in Australia, Canada, the UK as well as here in Ireland.
Most recently it has entered into a joint development agreement with major utilities player Chubu Electrical Power and international cargo shipping firm Kawasaki Kisen Kaisha (K Line) to develop the first phase of its tidal energy project in the Bay of Fundy, Nova Scotia, Canada.
The company has submitted foreshore site investigation licences for three off-shore wind projects around the Irish Coast and to develop these projects, DP Energy has partnered with global energy leader Iberdrola, one of the world's largest renewable energy producers. Iberdrola has substantial experience in offshore wind development and shares DP Energy's commitment to a sustainable and ethical approach to development. Delivery of these three schemes, hoped to be operational between 2028 and 2030, will significantly contribute to Ireland's Climate Action Plan target of 80% renewable electricity by 2030.
The paucity of offshore wind projects versus onshore might be about to change. In June the Gael Offshore Network was established by Enterprise Ireland to bring together and grow expertise in Offshore Wind in Ireland. The cluster is made up of over 65 member companies.
An 'export' opinion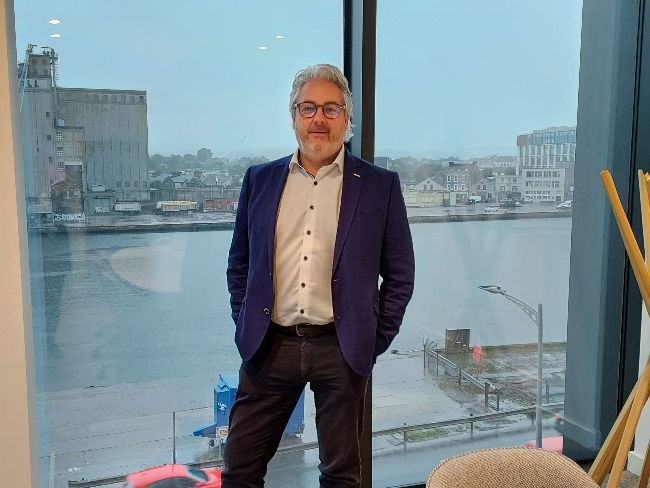 "Each of those projects is capable of 1-gigawattt of power generation. That's enough power to power between 700,000 and 800,000 homes per farm. These are very, very big energy generation projects"
Already more than one-third of Ireland's energy meets are being met by wind energy, mostly from onshore resources. Wind Energy Ireland recently released its May Wind Energy report, which shows that wind energy provided 34% of Ireland's electricity in May 2022, up 9% on May 2021 and that wind served 37% of the country's energy needs since the start of the year.
Adding offshore wind has the potential to be a game-changer for Ireland's reliance on fossil fuels.
Cronin agrees. "We've developed quite a lot of onshore wind farms across Ireland. There can be difficulties with consent, but the move really internationally and in Ireland is to go offshore."
He points out that in the 1990s Ireland had established offshore wind farms on the Arklow banks that at the time put the country in the global lead but the country failed to consolidate this lead.
"But now we are looking very seriously at moving offshore for Ireland's energy needs."
Ireland last year updated its target of renewable energy to serve Ireland's needs to go from 70% to 80% by 2030. "But the figure we're really interested in is the Net Zero target by 2050. The desire is for Europe and Ireland to be carbon neutral by 2050. And the only way we are going to do that is to be generating electricity renewable at scale. And for that we need to go offshore."
But does Ireland have the expertise? Cronin believes it does, pointing to DP Energy's status as one of Ireland's oldest renewable energy developers. "They're a family business actually run by a mother and son team who founded the company. Originally they would have been involved in onshore wind in Orlando but they've expanded and extended the brief. And now we have a presence in the UK, Australia, and Canada. And in recent years Ireland has become a very important space for us."
Cronin pointed out that offshore wind projects are highly complex and for that reason DP Energy's partnership with Spanish firm Iberdrola, which has vast experience including working with Scottish Power as well grid players in the US, is critical.
"At the moment we have 3-gigawatts of projects planned, with a pipeline beyond that, I might add. We have one project on the east coast off the coast of Wexford, we have a floating wind farm aspiration off the Cork coast and we have another floating project planned for just off the Shannon estuary.
"Each of those projects is capable of 1-gigawattt of power generation. That's enough power to power between 700,000 and 800,000 homes per farm. These are very, very big energy generation projects."
Cronin believes that in its entirety, the Republic of Ireland's coastline is a powerhouse for renewable energy generation. "Various studies looking at the west coast point to between 70 and 90-gigawatts of capacity. At the moment, Ireland has a 7-gigawatts requirement to run itself. But that will change as we move to Net Zero and we will probably need to be generating around 30-gigawatts of renewable energy by 2050.
"If we as a country only need 30-gigawatts, that leaves a potential 90-gigawatts of capacity to be freely exported to Europe either by direct connection by electric cables or indeed by hydrogen. That really should be the goal for Ireland. This is potentially a big economy-boosting industry for Ireland.
"We need to meet our own needs, but most definitely exports to Europe could be key. Europe will probably need around 3,700-gigawatts and as you know, a lot of European countries wouldn't have an amazing wind resource. The west coast of Ireland is one of the best wind resources in the world."
Cronin believes the technology to harvest such quantities of renewable energy from wind have developed to such an extent that now is the time, provided the legislation to allow wind farms to operate beyond a 12-mile nautical limit from shore is put in place.
"There's no doubt in anybody's mind the need for this now. We are seeing temperatures on the planet rising. We also see the impacts from geopolitical forces. Ireland really needs to be able to ensure its own energy security for the future to make energy pricing much more stable than it currently is and reduce our reliance on foreign fossil fuels. Ultimately it will benefit climate change and our transition away from the older sources of energy."
Bustling sea ports ahoy
Cronin points out that the further offshore wind farms are from the coast the more likely they are to be floating farms, tethered to the surface via chains and anchors.
"These will be a huge challenge. They are major civil engineering projects and marine projects than Ireland has seen before."
But in these challenges lie opportunities. To build massive offshore wind farms, there will be the need to build or expand large sea ports as well as onshore facilities to house materials, not to mention the ships. These bustling sea ports will be economic powerhouses in their own right.
The resources in terms of material, people, shipping and technology will be immense.
"DP Energy will be developing an indigenous supply chain as much as possible to give us that security of supply."
Cronin said that these new offshore wind farms are currently in the development phase with the first phases of construction envisaged to begin in 2028. "We have a whole tranche of work to do in terms of developing the skills in the workforce. We're looking at the supply chain for all the materials we're going to need by 2028. And we're talking about the ports as well. So there's quite a lot of early stage work happening now to get us to starting construction in 2028 with a view to having those blades spinning by 2030."