A forward-thinking investment in biomass has enabled Macroom business Mid Cork Pallets to reduce its carbon footprint and even generate electricity for more than 1,200 homes.
"You can't be short-sighted when it comes to looking to the environment and sustainability"
E – 13,000 tonnes of carbon saved per year with biomass bi-product converted to electricity. Solar panels generate almost 600kW for own use, reducing CO2 emissions by a further 265 tonnes a year
S – Mid Cork Pallets supports local charities and sports teams and is the largest employer in the region
G – Well-developed management and governance framework, including investment in achieving ISO 9001 & BRCGS
Nestled in the hills north-west of Macroom a 45-year-old business is blazing a trail – literally – for other businesses to follow in terms of how it can sustainably generate energy and reduce its carbon footprint.
Mid Cork Pallets has been very successful to date in terms of 'greening' its business model and is a long-standing employer in the Macroom area with around 100 staff.
The environmental impact of the company's investment in a combined heat and power unit as well as solar panels on its roof amount to more than 13,000 tonnes of carbon saved every year with biomass converted to energy.
Founded by John Lehane in 1978 and run today by Aidan Harty, managing director, Mid Cork Pallets (MCP) is the largest manufacturer and supplier of wooden pallets in the country. Not only that but it has developed a successful packaging business that serves the food and drinks sectors, designing and storing packaging including corrugated boxes and solid board until required.
Combined heat and power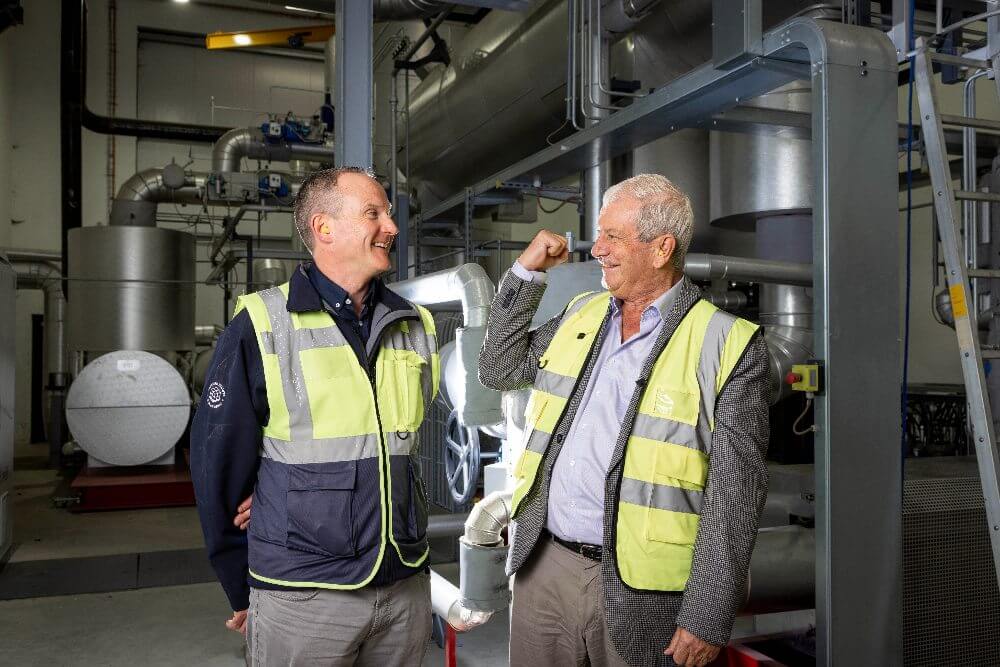 Mid Cork Pallets CEO Aidan Harty with founder John Lehane
"One strength of our business lies in the fact we are moving off the grid as much as we can"
The company has established a combined heat and power plant (CHP) as part of a venture called Cork Green Energy (CGE) which is powered by a bi-product from its pallet manufacturing operation.
As well as using the heat to generate electricity and reduce dependency on fossil fuels it treats kiln-dried pallets at its factory. Through a relationship with a national grid player, the Cork company generates enough green electricity per hour to power more than 1,200 homes.
The CHP plant was established in 2019 and funded by an EIIS (Employment Investment Incentive Scheme) involving MCP and local timber merchants. The business recently entered into a relationship with Bank of Ireland to both buy back ownership of Cork Green Energy and also support the ongoing expansion of the MCP plant in Macroom.
In tandem with growing its packaging business, MCP is also providing storage for a large number of local businesses and is heavily vested in its local community of Macroom.
A natural move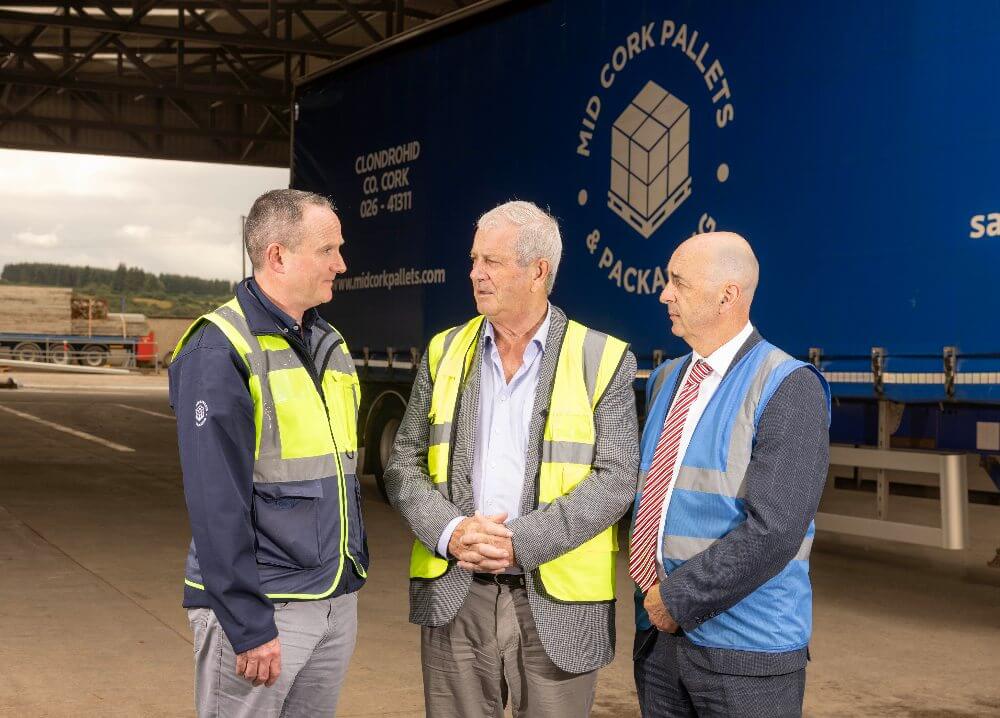 Aidan Harty and John Lehane with William Madden, Bank of Ireland
"It made sense from a business point of view when we looked at the bigger picture"
Aidan Harty explained that the pallet business went from strength to strength down through the years as it became more automated. The move into packaging, including corrugated packaging, he explained was a natural progression and today it includes design services.
"Our decision to look at the combined heat and power plant as well as using biomass to generate electricity came about as a result of our efforts to be both more economical but also to be a good corporate citizen.
"We have a lot of residues from making pallets and we had been using a form of biomass to heat hot water for kiln drying pallets. We spotted an opportunity to do it on a bigger scale and to invest in it in a meaningful way."
The business has also festooned its warehouse and factory roofs with solar panels that generate electricity for use by the business as well as reducing CO2 emissions.
"One strength of our business lies in the fact we are moving off the grid as much as we can," said Harty. "I'd say we are 50% of the way there already."
Think bigger about ESG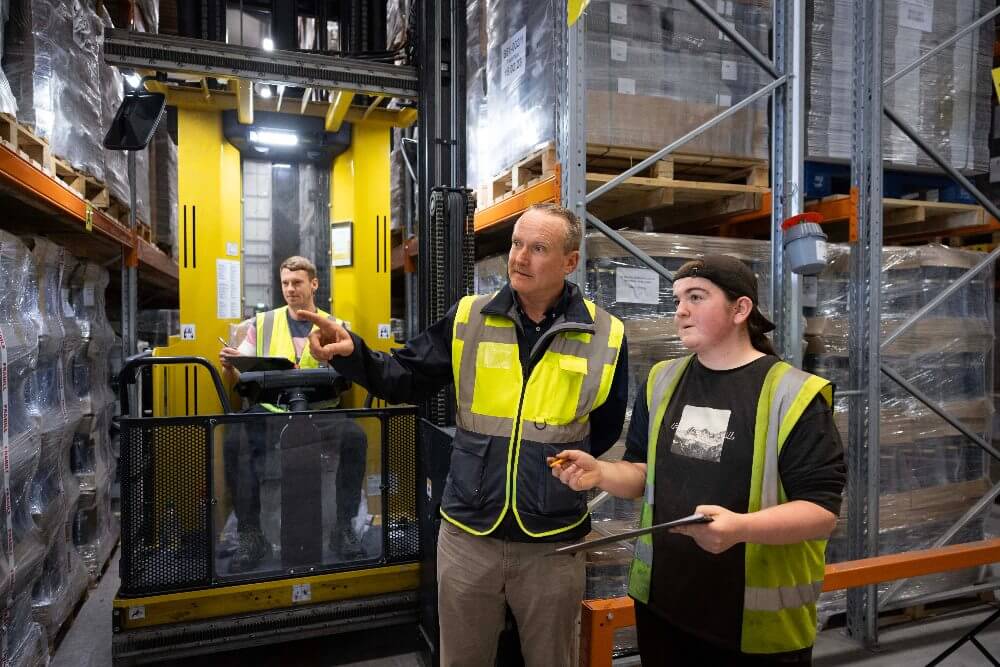 Aidan Harty with colleagues at Mid Cork Pallets
"A lot of customers are gobsmacked that we're so far down the road on this"
New research from by Red C on behalf of Bank of Ireland found that 70% of Irish businesses are concerned about sustainability issues. 62% see sustainability as a risk but 73% see it as a critical factor guiding the success of their business.
The research found that only 13% of Irish SMEs have set sustainability targets. However, for those SMEs with sustainability targets most (70%) have aligned them with their company's strategic business measures. 19% see financial incentives for achieving these targets.
Harty pointed out that if businesses wish to see a return on their investment in ESG, they have to think of the long term picture.
"Anything to do with ESG requires investment. We started small and looked at the simple things first and then we looked at the bigger investment pieces and the long term benefits. You can't be short-sighted when it comes to looking to the environment and sustainability. We are in the timber business, which is very renewable. We are also in the paper business, which is sustainable and renewable."
William Madden, head of New Business for the Munster Region at Bank of Ireland, said the bank was delighted to be enabling MCP to take ownership of Cork Green Energy and focus on its ambition of becoming a fully sustainable manufacturer.
"Management have grown a business from humble beginnings to being a very substantial business and we shall be happy to continue to support the company in its growth journey," Madden explained.
Harty said that the investment in the CHP and solar arrays will pay for themselves within a five-to-seven year period. He said businesses need to give themselves longer timescales to reap the rewards of carbon saving investments.
"The investment we've made in the CHP plant and in the solar panels over the past few years fit well with the business and are also on-trend with what's happening all over the world. It made sense from a business point of view.
"We want to lead, not be chasing from behind. And now it's happening. Our suppliers are coming to us and say that ESG is important and ask us what's our sustainability looking like. Many are blue chip companies and they have sustainability responsibilities too.
"It really is the circular economy in action. We make the products, we sell the products and they have to meet the standards for the people who consume them. They know we're environmentally safe. And we are reducing their carbon footprint as well as our own.
"A lot of customers are gobsmacked that we're so far down the road on this."
Colette Shirley, director of Sustainability for Corporate & Markets, Bank of Ireland commented: "We fully endorse MCP's long term approach to sustainability ensuring they are basing investment decisions around both their ESG strategy and the longevity of their business, which positions them well within their supply chain with blue chip corporates. We are delighted to partner with a well-established Cork business that supports local employment and community practices whilst also innovatively investing in a sustainable business model."