Every year €30 billion worth of Europe's water is contaminated by pesticide run-off. Irish entrepreneur Gary Wickham wants to change this.
Gary Wickham's career spans thirty years, working initially as a process chemist with Loctite, then as head of Reheis Pharmaceutical, to co-founding StayDublin (StayCity) a very successful serviced apartment company with revenues of €50m. Since then he has on co-founded MagGrow, a startup pioneering magnetic spraying technology for arable crops and horticulture – collecting prestigious international awards along the way.
Where did you get the idea for MagGrow?
It came from a chance meeting a few years ago, when my brother Derek met Ted Lenhardt, a Florida-based inventor with a background in agriculture spanning 40 years.
Ted had developed the basic concept for what is now MagGrow. From his extensive research, he was aware that existing pesticide spray technologies for crops were a compromise, between coverage and drift control, which meant that approx 70% of what is sprayed during conventional pesticide spraying is wasted.
"This is a game-changer for the 500 million small farm holders worldwide."
What problem are you solving?
In conventional crop spraying technology, one of the biggest challenges is controlling pesticide spray drift from moving outside its intended target area.
Drift can occur during spraying applications, when pesticide droplets drift into adjacent fields of the farm, into neighbouring farmland or water sources, causing potential cross-contamination.
Crucially in Europe, spray drift is also a big problem, as every year €30 billion worth of Europe's water is contaminated by pesticide run-off.
Why did you become involved?
I am passionate about technology and was intrigued by Ted Lenhardt's work, then my brother and I, along with David Moore, decided to invest in the system, with the aim of revolutionising crop spraying technology across the world.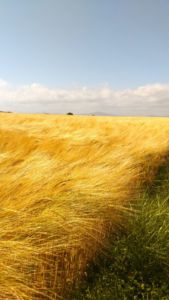 What's been the journey so far?
In 2013 we launched MagGrow with two employees along with backing from Enterprise Ireland. Our head office is now located at Orchard House, Clonskeagh Road and since then employee numbers have risen to almost forty. By July 2017 this number is expected to total to one hundred, with offices in San Francisco, Ethiopia and Kenya.
We operate across four regions: Africa; Europe; the US and South America. Since we started, our technology has been patented across 127 countries, which equates to 85% of our addressable market. We have just launched commercially, after spending the last three years developing three products and then testing them with leading research centres and select customers and have forecast sales of €20m for 2017.
Presently we have three main product lines: our plug and play crop sprayer system, retrofitted to a tractor for field scale operations, our backpack sprayer system for large greenhouse operations and backpack unit for small farm holders, which represent 65% of the world's farmers.
How has the company been funded to date?
To date, we raised a total of €6 million, all of which came from within my network of family, friends and personal resources and without any reliance on venture capital. During this period the value of the company has been driven five-fold.
How does spray drift occur?
Spray drift itself is influenced by factors such as air movement, the wind, nozzle size, tractor speed, boom height and the size of the droplets used – it's worth bearing in mind that there is an inverse relationship between droplet size and drift.
Using fine droplet size gives more uniform coverage across the bottom and top of a leaf and the leaf canopy, resulting in less risk of pesticide runoff to soil or water. However, using fine droplet size while trying to maximise drift control is a key challenge for conventional drift reduction technologies, as fine droplets take longer to fall out of the air and are harder to control.
How does your technology work?
MagGrow uses off the shelf nozzles – that create fine or smaller droplets, but without the associated drift. MagGrow achieves this by using magnetic inserts to induce a positive and negative charge into the pesticide solution which in turn makes it easier for the droplet to attach to the crop.
Significantly, this charged liquid, in conjunction with fine droplet usage, ensures that the MagGrow system provides superior spray drift control of over 80% along with superior coverage, with a 90% better droplet attachment to the target.
What benefits do farmers derive from your technology?
Greenhouse product: Within the flower industry in Africa, we now have customers using 50% less water and 50% less pesticide with our backpack product.
Small farm holder backpack product: On one particular trial with the Transformation Agency in Ethiopia, a spraying application that typically took a farmer eight hours work, can now be completed in under two hours, with a 300% higher yield while using the same amount of active ingredient. This is a game-changer for the 500 million small farm holders worldwide.
Large-scale commercial farmers: With our tractor boom product, farmers can retrofit their current sprayer boom with our technology at the cost of €24,000 for a typical 24m boom and customers typically have a six to nine-month payback. Worldwide, using conventional technology, 30% of spray goes to the crop and 70% is wasted. With MagGrow less than 5% is lost, with 95% going to the crop.
"In Ethiopia and Kenya, farmers pay for everything using their mobile phones. In effect, this means that they can, 'text money'."
What other revenue streams do you have?
We are pioneering the 'spraying as a service' model where under a licence we recruit, train and provide backpack sprayers to agents, who in turn act as contractor sprayers for farmers.
Interestingly in Ethiopia and Kenya, farmers pay for everything using their mobile phones. In effect, this means that they can, 'text money'.
Everything is digitised – so the farmer can pay for each spray event; the phone company gets a transaction fee; the agent gets his spraying fee, and the farmer achieves a higher yield. We, in turn, make money by buying chemicals from the manufacturers and selling directly to the agent. This means that the farmer knows for sure, that the chemical not been tampered with or diluted.
We also sell our product directly. We've just completed a trial for a corporation in Ethiopia with a reduction in water usage by 67%, chemical usage by 52% and 55 mins per Ha of land sprayed. They have 125,000 sprayers, and they will currently save €2 million a month on chemicals and plan to triple the size of their operation.
Are there other applications for your technology?
We are researching other innovative applications within the irrigation sector, spraying with drones and digitally collecting basic data to provide agronomy services. We also plan to sell additives that further enhance the performance of our system.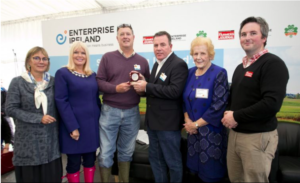 What awards have you won?
This year we received awards at the Ploughing (IRL); the LAMMA Agricultural Show (UK); the THRIVE Accelerator (US); and the GCCA Cleantech Award where we were the only ag-tech award winner and the only company from Ireland to receive an award. Winning awards gives us access to capital, customers, extended networks and the opportunity to work with the leading research institutes
What's your vision?
We aim to be the biggest ag-tech company in Ireland, if not in Europe and to be part of the solution contributing to help solve the world's food and water challenges in a meaningful way.
Interview by Brendan Byrne.