Lintil has transformed home-buying by building the world's first virtual assistant for home-buyers.
"Buying a property is often described as one of the most stressful life events anyone can ever undertake," explains Emmet Creighton, co-founder and CEO of Lintil.
"In terms of anxiety and stress it's consistently ranked alongside death and divorce. The reason is all the services needed to get the deal done are siloed and seperate and the buyer is alone to navigate their way through the process.
"Our aim is to simplify an industry that has changed very little in the last 100 years"
"Lintil is changing that. There are over 50,000 properties sold in Ireland every year and in almost every case the inexperienced home-buyer is burdened with the complexity and hassle of getting through the process alone.
Home buying concierge
Lintil offers an expert-led home-buying concierge service for its users.
"We have broken the home-buying process into eight steps and at each step we offer a range of services that are leveraged by technology that help our clients buy the house they want while saving money, time, and hassle in the process.
"We offer this service in two ways as a free-to-use version and a premium version. We are also developing exciting additional products and services that will be a must-have for every home-buyer in Ireland and this is scheduled for launch in late July," Creighton explained.
"Home-buyers will be able to sign up and we will assign them a dedicated home-buying expert who will manage all aspects of the home-buying journey on their behalf. Keep an eye on lintil.com for details."
The desire to build something worthwhile
Lintil was founded by Creighton and three others with expertise to solve this huge problem.
All of the founders come from entrepreneurial backgrounds which include successful exits, family entrepreneurial backgrounds and a common desire to build something really worthwhile.
"Our aim is to simplify an industry that has changed very little in the last 100 years," Creighton pointed out.
Emmet Creighton is a solicitor who helped high net worth clients navigate the property purchase process. Dr Jonathan McLaughlin is a technologist and problem solver who saw an opportunity to use new and existing technology to help home-buyers through the process of buying their next home. Clare Corrigan is an experienced operations and financial services executive who understood how project management and customer service were key to changing the way in which people bought their next home. Ken Moulton is a successful entrepreneur with experience in starting and scaling companies.
"We all believe that the home-buying journey in its current format is ripe for disruption," Creighton said.
What gets measured gets managed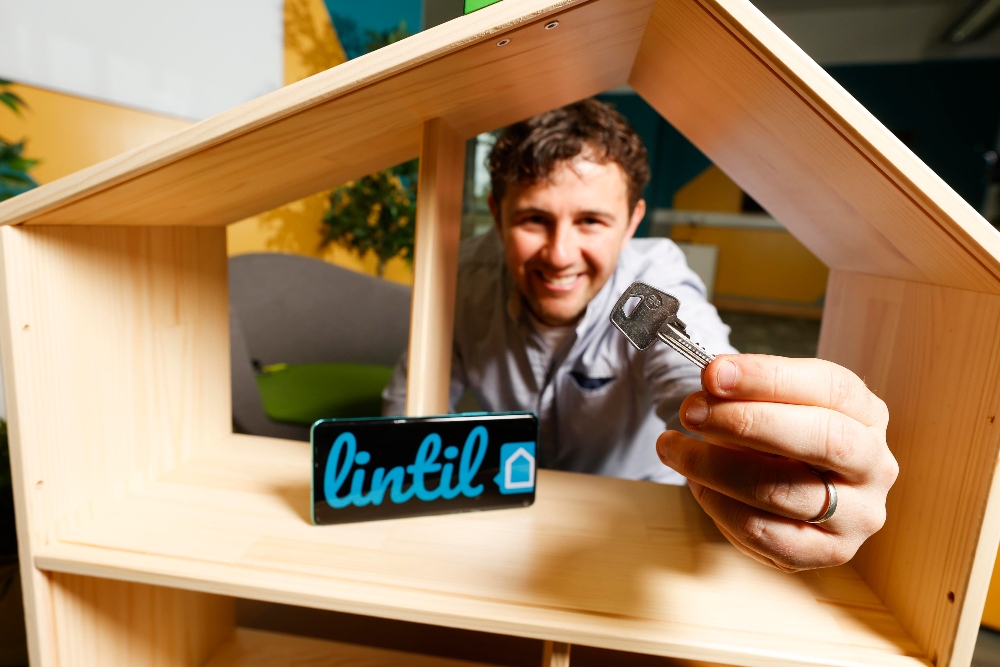 Emmet Creighton, CEO, Lintil
"The ability to build should always be balanced with the ability to measure and learn as you go"
Creighton points out that there are great soft supports for Irish start-ups but that the tax environment is still somewhat lacking compared to the UK.
"There is a thriving ecosystem where you can get access to quality experience and expertise relatively easily. The tax incentives available for investors have also played a key part in engaging and securing funding. Unfortunately, in my opinion the UK still remains a more attractive destination for early stage start-ups, due to support available."
The company is in the midst of raising funding and sharpening its proposition to the market.
"We have put a lot of time and effort into product development and placement in the last two quarters. We found out that there were two cohorts in our target market where their home-buying needs were not met with the antiquated home-buying process that is currently in place.
"From this discovery we have created Lintil Premium which is similar to Lintil but it gives the home-buyer an upgraded experience. With their own personal account manager right the way through the home-buying process, the home-buyer will not only be guided but Lintil Premium will manage the home-buying process in its entirety on the home-buyer's behalf.
"With this new dual approach we have a robust product offering which we are eager to introduce into the UK and further afield. We will be starting our next funding round in September to fund this expansion. I'm happy to report we have already secured a large portion of the next round."
Fast-paced environment
Creighton said that when it comes to learning the finer points of entrepreneurship, the Lintil team had to learn fast.
"There are so many lessons to be learned on a daily basis running a start-up. In the fast-paced start-up environment where quick decisions are required, we have to be mindful to track and monitor progress and improvements in each area of the business so it is clear which decisions and strategies are the ones that produced improvements and best results. In my experience, the close monitoring of new implementations and iterations is key.
"The ability to build should always be balanced with the ability to measure and learn as you go."
To stay agile, the company uses all the latest technologies at its disposal. "We use a wide range of analytics software to monitor, analyse and learn from user behaviour. We deploy these tools at all steps of our user journey, beginning with clicking on an ad, through the signup process and throughout the use of our products. This has meant that we have been able to run a multitude of A/B tests on every aspect of our offering. The results of these tests have been used to increase sign ups and optimise the flow and user experience of our products."
Creighton's advice to fellow founders? "Having a clear idea about what your customer needs will determine your product offering, after that everything rests on your user acquisition and sales strategy.
"Getting as close as you can to your customer keeps the product on track and sales hitting targets."
Main image at top: Lintil co-founders: COO Clare Corrigan; CEO Emmet Creighton; and CTO Jonathan McLaughlin