Suzanne Burns' journey to self-employment and entrepreneurship is an interesting one. From New Zealand to Canada to the Wild Atlantic Way, her adventure is only starting.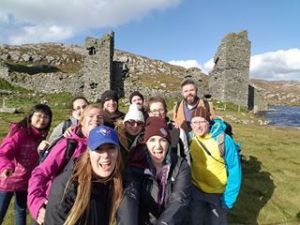 When did you start your business, what was your first tour?
I started my coastal guiding business MOPTOG (My Own Private Tour Guide) in April 2016. My first official tour was to Sheep's Head with a group of seven, hiking around the peninsula on a gorgeous sunny day. We even saw two lizards.
What were the first few tours like, how did you get traction?
The first tours were walking tours around the West Cork region. I used Meetup, Facebook and my network to attract people. I also ran free tours for a few months to generate interest in what I was doing and become a 'known entity'.
These are real 'tours of nature'. What can your guests expect?
I started my career as a zoologist and progressed to wildlife guiding over my ten-year stint living in New Zealand. This knowledge has carried through here. I showcase local flora and fauna, archaeology, history and myths and legends. Alongside the walking tours, I link in with whale watching and night kayaking operators.
You say the food tours have taken off. What can guests expect on these?
The Kinsale Food Tours run like a walking meal. We go to four venues for food. The first two stops incorporate lighter fare, followed by a main and sweet stop to round off the tour. As we go from place to place, the group learns about the food culture and fascinating stories and the people in Kinsale. I also do slightly longer tours which involve going to the coast foraging for wild shellfish, seaweed and plants. We go to the coast half way through the tour and have a picnic after foraging if weather permits. We then return to Kinsale to consume the other two courses.
How do you market your services, what platforms work best?
I use Facebook, Instagram and Twitter regularly and have real engagement on all of these platforms. I also advertise on the www.kinsale.ie website. This site has definitely made me more visible to others. Having a clear name that is easily understood and is reflective of web searching does not hurt either.
What are your growth plans for the business?
I intend to run both the food tours and the coastal tours most of the year if possible. This is my first year, so I am using this year to test out the market and how I can improve and develop the tours.
The 'deep south' is a beautiful place – what are your favourite other parts of Ireland to visit?
Connemara is one of my all time favourite spots, spent many summers up around Killary Harbour (pre-fish and mussel farming), Glassilaun beach, just magic. I also discovered Keem beach on Achill Island as well as Cloghane beach and Ballyferriter. Amazing spots.
You are a zoologist – how does this relate to your business model?
Working as a researcher for years has given me an excellent grounding in ensuring my data (research for my tours) is very thorough. I always double and triple check info and sources to validate what I read.
I use my knowledge of animals, seasons, and the marine environment to give another perspective on the food tours. It's also been invaluable for my foraging trips.
You worked as a tour guide in Canada and New Zealand – what were these experiences like?
Incredible. I spent a decade in New Zealand and transitioned from zoological researcher to wildlife guide there after five years. My work got me more involved in conservation, and I worked directly with penguins, sea lions, albatrosses, seals and other pelagic and wading birds. I worked on boats for two years of this and became obsessed with the ocean.
My time in Canada was only three months, but I lived on a boat for the summer. I worked as a writer and photographer with large pods of orcas, humpback whales, dolphins, sea lions, and eagles. I got a chance to work as a whale warden for a fortnight, camping on a remote island in the wilds of Vancouver island, protecting orcas too.
Both of these experiences prepared me for my journey as a self-employed guide.
"Remember, some of the wonders of the world are right on your doorstep."
What's the most important lesson you have learned to date?
To follow your dreams, they will never fail you.
The tourism sector in Ireland – what trends do you see emerging?
More and more interest in coastal activities, sustainable food, and eco-friendly tourism. The Wild Atlantic Way has redefined the west coast of Ireland in such a positive way.
Life in business – what do you need the most now, what would make your life as a business owner easier?
For people to always remember that some of the wonders of the world are right on their doorstep. Life would be easier if the tax system was more user-friendly and easy to understand for the self-employed
Photo credit – Joao Manuel Rollo.