Pascal and Sinead Gillard, owners of Jinny's Bakery have taken part in the new Local Enterprise Office 'Green for Micro' programme, launched during Local Enterprise Week 2021.
Just as Local Enterprise Week got underway the Irish Government revealed a new 'green' enterprise support.
The Green for Micro programme, an initiative from the Local Enterprise Offices with support from Enterprise Ireland, is being rolled-out nationwide to help prepare small businesses for the low carbon, more resource efficient economy of the future.
"Jinny's embraces the key drivers in food trends in health and wellbeing, and now sustainability is also a big priority for us"
With the help of a Green Consultant, small businesses with up to ten employees can get free advice and technical support on resource efficiency, how to better understand their carbon footprint and how to implement an environmental management system to reduce costs and lower greenhouse gas emissions.
Information about the new Green for Micro programme, including how to apply, are available at LocalEnterprise.ie/Green
ThinkBusiness talked to Pascal and Sinead about how the new programme has helped Jinny's Bakery to implement more sustainable business practices, reduce emissions and save money.
From modest beginnings to a household name
Jinny's Bakery was established in late 2003 as a small bread making business in Drumshanbo, Co. Leitrim. In the first week, Sinead Gillard made and sold 16 loaves under the Jinny's Bakery brand. Jinnys is Sinead's nickname and she decided to use this as her company name in case the business failed … then nobody would know who was behind it! From that very modest start, sales have grown to over €500,000 annual turnover with the business employing over 10 staff. Now selling throughout the West and Dublin, the company also exports to France and has an online shop https://jinnys.ie/
In 2007, Sinead was joined in the business by her husband Pascal Gillard who up until then was working as a Certification Manager with Irish Organic Farmers and Growers. Pascal's background in agricultural Science and Masters in Food Science was put to good use when he decided to work full time with Sinead.
Jinny's Bakery epitomises the achievements of a hardworking husband and wife team who together with their bakery crew have carefully and ambitiously built a business that by any standard is impressive. Jinny's combine the best qualities of an authentic bakery, nostalgia and the traditions of slow food.
"Jinny's embraces the key drivers in food trends in health and wellbeing, and now sustainability is also a big priority for us," Sinead explained. "The theme and brand promise of the Jinny's Bakery product range is wholesomeness; a strong health emphasis while maintaining superior taste and texture."
For every one of their 20 years in business, they have achieved an increase in sales year on year.
In 2019 they won a big award (Best Soda Bread in Ireland) for their stout bread at the Irish Quality Food and Drinks awards. The timing of this award couldn't have been better as they had just developed bread mix so people could make it anywhere in the world.
The Jinny's product range has won numerous awards including Gold Stars in the prestigious Great Taste Awards, Best of Ireland Bridgestone and a National Enterprise Award 2017. Jinny's Bakery has been a member of Good Food Ireland since 2008 and is a proud and leading member of Taste Leitrim, supporting the Leitrim food community and other local business through the purchase of buttermilk eggs and other bakery ingredients.
What was the most challenging aspect of either starting or growing the business?
Pascal: Cash flow initially is a struggle when you start out. Also taking the risk to move to the next level. Sinead started baking 16 loaves in her first week in a domestic oven. Now we look back and say "how did we get to this level"! The help from the Local Enterprise Offices has been key to the development of the business. Initially it was mentoring, then capital funding, financial mentoring. Then it was by winning awards and representing Leitrim at the County Enterprise Awards. All of this help gave us confidence to move to the next level. We did it very slowly and only bought new equipment when we were mentally and financially ready.
Our industry is also very labour intensive so keeping your team happy can be a challenge. We have a good team, but summer holidays proved very difficult for us to manage and their business peaks when everyone wants holidays! The health and safety is a challenge now due to Covid-19, some staff have left, some have had to isolate due to holidays etc so it's a big concern.
"Once we realised that shops were going to stay open and government supports would ensure people had money to spend, we were a little more confident that we could retain all our staff and keep all our bills paid"
How did you navigate your business through the pandemic and what lessons did you learn?
Sinead: Like so many businesses we were shocked. Our plans after winning the Best local/direct food service supplier at the IFSA's awards were to acquire more food service suppliers. In fact, we were expecting them to come to us and wondered how we would cope with the extra business!
Once we realised that shops were going to stay open and government supports would ensure people had money to spend, we were a little more confident that we could retain all our staff and keep all our bills paid. Also, we felt that we had a premium product and realized that people were buying more premium and better products as restaurants were closed indefinitely. We were however very concerned for our other two businesses, the newly open tearooms and our self-catering cottages www.selfcateringleitrim.ie.
We had no control over the self-catering cottages…the message was stay at home, no intercounty travel, 5 km limits etc. So, we decided to focus on the tearooms. Pascal wasn't as busy as usual as there was no food service business, so he helped in the tearooms.
Pascal: Sinead knew what would work … she had all the skills required to make a successful takeaway business, after all she would have been cooking dinners, breakfasts and packed lunches for 12 weeks as we were expecting 200 French fishermen! Sinead felt a takeaway 'oven ready dinner' was the way to go and she was right. It was an instant success. But we had no staff! So our daughter who is 13 years old, helped us and we were open on the weekends. We managed to grow the business week by week and it was very successful. We did cake kits, pizza kits, new bread mixes, scone mixes. In fact, we developed new lines that we are still selling.
The bakery was struggling as we had lost 30pc due to the closure of the hotels, cafés and restaurants. However, work we had done in advance of the pandemic really paid off. We took part in the Supervalu Food Academy Program which was organized by the Local Enterprise Offices in 2018. This was the catalyst for finalising the new products, stout mix, granola, and croutons. We had shelf ready packs with great shelf life and they were noticed by Aldi who purchased over 10,000 packs in 2020. This really was a life saver for the business. We also developed a new logo which has increased our brand recognition.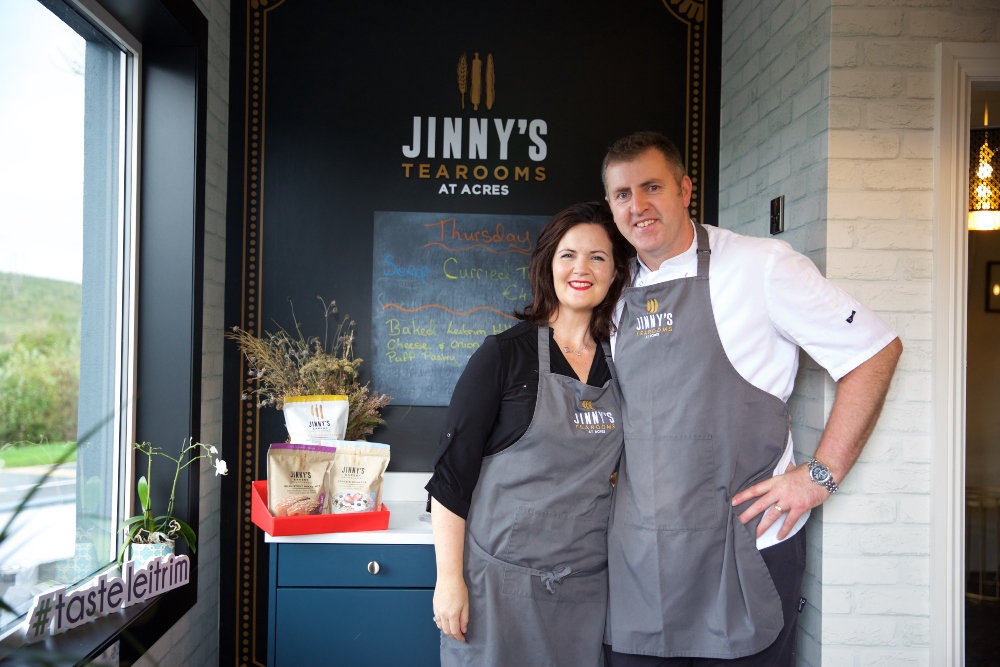 Sinead and Pascal Gillard, owners of Jinny's Bakery
"I want the bakery business to be here for the next generations"
How has digital transformation been a factor in your scaling journey?
Sinead: We have been supplying Tesco stores for over 15 years now and we are so lucky to live in a town with decent broadband as all payments are done electronically. Tesco have been a great customer and when we grew our business, we added a Tesco in every one of our new routes. We now supply seven Tescos.
After the successful trial with Aldi people were congratulating us in the great product we had supplied to the Aldi stores. As it was unavailable (sold out in Aldi Stores) we were able to direct them to out online shop. We had a very poor website for years and thanks to an online trading voucher obtained in 2019 we had developed a nice site with an e commerce element to it. Social media was vital to the promotion of our trail with Aldi and the advertisement of our bakery.
Tell us about why sustainability matters to your business?
Pascal: I had worked as the Certification Manager with the Irish Organic Farmers and Growers Association for eight years prior to helping Sinead out in the business. I had become great friends with so many people in this organisation and sustainability was one of their core values. When you spend so much time with people that have such strong environmental beliefs it's sure to influence you. I really took an interest in this area and organised many farm walks and listened attentively to what these great producers had to say.
In our situation I want the bakery business to be here for the next generations. We have been so focused on making the business a success for so long it's now time to see how we can reduce our carbon footprint. When I spoke with Joe Lowe from our Local Enterprise Office about this, we were assigned a 'Green' mentor to our business as part of the new Green for Micro Programme. Niall from Global Green Consulting was excellent and has put plans in place to help us reduce emissions and save money.
What specific green initiatives did you implement?
Composting: We go through a lot of eggs, banana, carrots, coffee grinds every week and we have been composting them for the past two years. We have also been adding cardboard to the mix and this has been excellent combined with grass cuttings. I mix it regularly too and last year the compost provided excellent nourishment for the salads and veg we grow for our tearooms.
LED lighting: We are in the process of changing all lighting and fittings to LEDs.
Heat Recovery: We plan to put a system in place that will assist us to heat water from the heat loss of the ovens.
What are your sustainability plans for the future?
Sinead: We want to purchase a large composter, perhaps one for the community! Now that peat will be in short supply there could even be a market for the compost. We also plan to implement heat recovery and solar panels. We plan to start this process in 2021/2022.
Recyclable packaging-the pouches that we currently use for our mixes with be made from recyclable material on the next print run. There is an additional cost, but we feel it will be worth it. Interestingly, we are pitching to Aldi at the moment for another trail (Grow with Aldi) and one of the criteria they are using this year to decide on is the use of recyclable packaging.
Published: 3 March 2021