Irish businesses are embarking on the next steps on their digital transformation journey, says Bank of Ireland's head of Tech, Media and Telecoms Paul Swift.
In his latest Tech, Media and Telecoms (TMT) H1 Insights and Outlook report, Swift noted that the TMT sector continues to perform well as customers are optimistic after the uplift in activity experienced on the back of the pandemic and the need for businesses to embrace digital.
With the increase in vaccinations and economies beginning to open again, he said we are now seeing companies taking the next steps on their digital transformation journeys.
"We can now see that business strategy and technology strategy are becoming interdependent"
Swift notes that it is widely accepted that we will see a hybrid working model becoming more commonplace which will require ongoing investment in various technologies to allow people to work, engage, interact and serve each other seamlessly.
He said all indicators suggest the TMT sector will see sustained growth over the medium term as investment increases by businesses in new technologies and solutions.
Consolidation in the cloud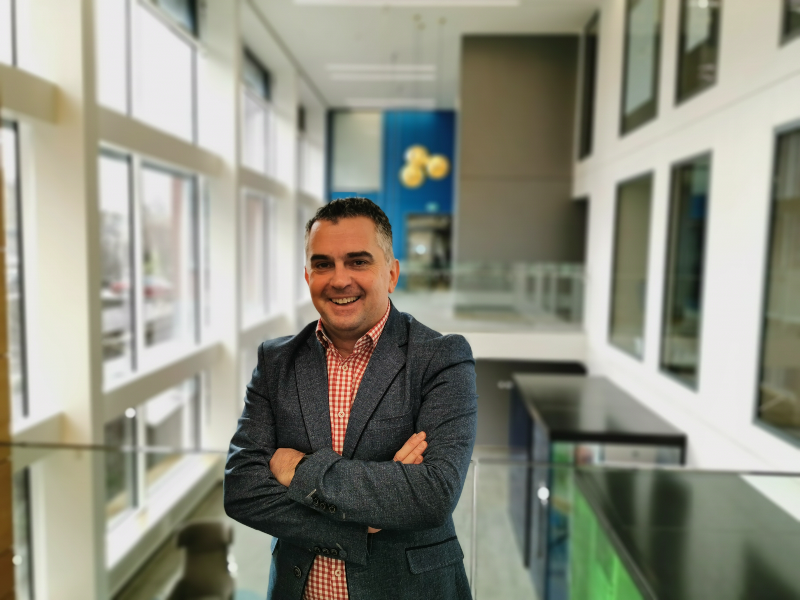 Paul Swift, head of Technology, Media and Telecoms sector at Bank of Ireland
Locally Swift pointed to ongoing consolidation across the managed service provider (MSP) space with Eir's acquisition of Evros kicking off the year and more recently Version 1 acquiring Neueda in what is its 12th acquisition.
A cause for concern is the National Broadband Plan falling short of the targeted number of properties it was expected to reach this year.
Meanwhile the tech sector is seeing a resurgence in the war for talent noting that the ability to "work from anywhere" while a blessing is also contributing to rising employee churn.
Speaking with ThinkBusiness Swift elaborated on the increased digitalisation of Irish SMEs.
"I think the first thing to say is there is a now a better understanding of what digitising and digitalising actually means," said Swift. "If you look at various local businesses from around the country; how many of these, such as hair salons, food takeaways or ladies/menswear have we seen adopting various booking engines, contactless payment solutions and delivery platforms, in order to continue to be able to provide for their customers.
"This evolution has largely provided businesses with the confidence to now move to the next stage and look at their businesses and ask themselves what other technologies/tools/systems could they implement to help increase sales or create better experiences and deeper engagement with their customers.
"I think the key thing to remember here is that investing in innovation and technology is no longer seen as the preserve of 'big business'. So, I think we are going to see more ongoing investment by SMEs in new technologies to keep abreast of ever-evolving customer behaviour, which is good news for many of our customers that are creating or selling these solutions. I think if we look around, we can now see that business strategy and technology strategy are becoming interdependent."
Optimism in Irish tech sector
Swift said that clients in the TMT space are optimistic about prospects in the market.
"Those sectors that have seen a spike in growth, such as cybersecurity, edtech, digital payment providers, telehealth and so on; I think all of these sectors are set for sustained growth over the medium term.
"A hybrid working model is expected to be the working model of the future and will lead to demand for lots of technology suites, systems and platforms to enable this move, so that providers in this space are likely to see strong growth, but will also likely see significant competition into that market also.
"Likewise, on the services side, we are seeing continued revenue growth among the IT Services space as businesses continue to invest in digital transformation and acquire new technologies. This has led to lots of consolidation among the various providers and we will see lots more M&A activity in this and other subsectors over the remainder of this year and into 2022."
Swift pointed to William Fry's Irish Half Year M&A Review for 2021 (in conjunction with Mergermarket), which confirmed the TMT sector continued to generate the largest number of deals across all sectors in the first six months of 2021, taking up 27pc of overall M&A volume. The review also confirmed that six of the top twenty deals during the first half of the year were in the TMT space, taking up 19pc of total M&A value (second highest after financial services).
War for talent resumes
However, the TMT sector is not without its challenges. "Without a doubt, wage inflation and war for talent are some of the biggest challenges facing the indigenous sector. In many cases they simply can't compete with the financial clout of Ireland's multinational sector and the benefits they offer."
To compete, Swift said indigenous businesses have been competing by providing better/improved propositions around work-life balance,commitments to enabling remote working indefinitely etc., while as many of the larger firms begin to talk about returning to the office in the Autumn.
"Businesses need to have a clear hiring and talent strategy and be able to articulate clearly their value proposition in relation to hiring and what makes them different."
Looking to the year ahead and trends to watch Swift predicts we will see a hybrid model for events becoming more widely accepted and becoming an integrated option for these types of events not just because of the pandemic
"It is inevitable that concerts, theatre and conferences will offer in-person or virtual options for ticketing. We have all missed those personal coffees and catch-ups, and yes, nothing does replace the personal connections, but we have all managed as best we can virtually and it has more or less worked. It's not so much changing the face of entertainment/trade/arts sector, rather the next stage in the evolution in how content is consumed.
"Across the media space, there is huge competition now to acquire subscribers. Voice technology has been around for a long time, as has AI in customer engagement, personalisation and localisation. We are going to see much more of these technologies being used to enhance the customer experience and create more immersive engagement, that is nuanced to our buying behaviour, our likes,resulting in a more personal, customised experience.
"I think we will see significant advances in how blockchain is deployed, particularly in relation to the sustainability agenda concerning supply chain, provenance and reducing carbon emissions, as it affords clarity, security and transparency to where it is implemented.
"I think from an innovation point of view, every company can be innovative, the technologies are available, many of which are 'off the shelf'. What it takes, is commitment to a cultural shift to put innovation and technology at the heart of decision-making and strategic development."
Swift concluded that the TMT sector will need to clearly communicate its commitment to sustainability.
"While great strides are being made in relation to sustainability by groups such as Irish Tech Goes Carbon Neutral, launched by Forestry Partners, I also think sustainability needs to be central to business thinking and strategy development. Zero waste, sustainable procurement, production and vendor management.
"It is widely accepted that customers will pay more for sustainably produced goods and services and the drive to not only meet climate action science targets but also advocating for behaviour change should become part of the philosophy of every business across the TMT Sector to effect real and meaningful change."