Certainty around travel holds the key to the recovery of the Irish hotel sector, said Gerardo Larios Rizo, head of Hospitality Sector at Bank of Ireland.
The latest industry survey from the Irish Hotels Federation (IHF) shows early signs that hotels in certain parts of Ireland are beginning to see an uplift in bookings for July and August.
This follows the Government's recent announcement that it will look at the reopening of hotels and guesthouses in June.
"It is widely expected that hotel bookings from the domestic market will surge in the coming month when the Government communicates specific dates for the reopening of the sector"
IHF CEO Tim Fenn said that with bookings averaging 23pc for July and 21pc for August – the key summer months – there is plenty of choice and availability.
Traditional tourist destinations like the southeast and southwest are at 38pc and 35pc respectively for July and at 33pc equally for August so far.
The data also shows that Dublin hotels are just 11pc booked so far for July and 12pc booked for August, mirroring the imbalance seen last year.
Bookings for the Border region, including Leitrim and Cavan are 30pc for July and 28pc for August.
The West of Ireland is at 29pc and 22pc, the midlands is at 21pc and 20pc and the Midwest is at 21pc and 18pc for July and August respectively.
Keys to recovery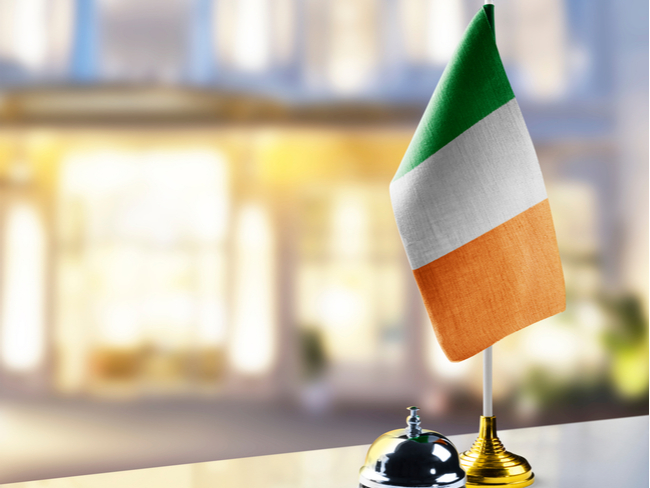 "As our latest survey shows, there is still a long way to go before hotel occupancy reaches even last summer's levels," said Fenn.
"Recovery will be a challenge for the hotel sector this year, requiring continued Government support through to 2022, when the tourism industry should start to recover in earnest."
"Staycations were a real positive last summer and we expect booking levels to continue to rise over the coming weeks. Not surprisingly, as indicated by our latest survey, we would expect to see stronger demand in coastal areas, popular tourism destinations and hotels offering packages and facilities for families.
"We are seeing an uplift in traditional holiday destinations such as Cork, Kerry and Wexford. However, we would encourage people to explore all parts across the country, as they did last year. There is excellent value available. Guests should contact hotels directly to find out what special offers are available and shop around."
Ireland of the welcomes
The head of Hospitality Sector at Bank of Ireland Gerardo Larios Rizo said that reports such as those by IHF as well as Fáilte Ireland act as a sort of business barometer for hotels as they provide a point of comparison against their area/region at a particular point in time.
"This is particularly useful at present because accommodation providers can't currently rely on historical performance statistics for judgement.
"The uncertainty that prevails about the easing of travel restrictions continues to impact on hotel bookings which remain low around most of the country. Fáilte Ireland recently reported uncertainty was the primary barrier for people booking holidays.
"It is crucial for accommodation providers to participate in these types of surveys as it makes the data more relevant and allows for better analysis of trends; it is very encouraging to see that 330 properties volunteered data for this last survey.
"Overall, the number of bookings remain comparatively low with only a marginal average increase reported nationwide. However, there are some areas like the southeast which are already reporting strong figures with nearly 40pc of rooms booked for the month of July.
"The lag in bookings for the Dublin region is no big surprise as some of the main demand drivers including sporting and entertainment events are unlikely to resume until later in the year, the same can be said for corporate demand as companies are still hesitant to resume normal travel policies.
"Overseas demand is slowly building up as well although current travel restrictions are negatively impacting on the appeal of international travel.
"On a positive note, our two largest markets – the US and the UK – are both doing very well with the rollout of the vaccine which is very encouraging.
"It is widely expected that hotel bookings from the domestic market will surge in the coming month when the Government communicates specific dates for the reopening of the sector," Larios Rizo said.
Breakdown of occupancy results for July / August/ September 2021
National room occupancy: 23 % July/ 21% Aug / 18% Sept
Dublin City and County: 11 % July/ 12% Aug / 15% Sept
Other Cities: 18 % July/ 17% Aug / 11% Sept
Border region: 30% July/ 28% Aug / 20% Sept
Mid-West: 21 % July/ 18% Aug / 16% Sept
Midlands / Mid East: 21% July/ 20% Aug / 21% Sept
South East: 38 % July/ 33% Aug / 26% Sept
South West: 35 % July/ 33% Aug / 23% Sept
West: 29 % July/ 22% Aug / 16% Sept
Source: Irish Hotels Federation
By John Kennedy (john.kennedy3@boi.com)
Published: 9 April 2021