Many hospitality businesses are concerned about their future viability, writes Gerardo Larios Rizo, head of Hospitality Sector at Bank of Ireland.
Tourism and hospitality businesses reported a stronger than anticipated recovery in the demand for products and services so far this year.
The encouraging trade has been associated with pent-up demand, strong levels of savings and consumer optimism in the aftermath of the pandemic.
"Occupancy recovery for Dublin still has some way to go due to corporate demand which remains relatively soft"
Table 1

Low unemployment levels (Table 1) prevail across the globe giving some confidence as to discretionary spending patterns, and the recovery of air capacity (Table 2) has been welcomed by all; stats to the end of September (Central Statistics Office Ireland, September 2022 data) show arrivals to Ireland are just 17% down on 2019 levels.
Table 2

Hotel performance
Year to date benchmarking data available at the end of Q3 2022 for the hotel sector is encouraging, with all sampled locations reporting a stronger RevPAR than they did before the pandemic.
Although cumulative data for 2022 (Jan to Sep) shows a gap in occupancy when compared to 2019 this has been closing month on month, and for September 2022 all sampled locations showed occupancy figures very much in line with 2019.
It is worth mentioning that some of these figures are distorted by hotel accommodation currently in use for direct provision services.
A significant proportion of the displaced Ukrainian citizens arriving to Ireland continue to be housed in hotels and this is disrupting hotel bedroom supply; as of the week ending 25 September 2022 (Central Statistics Office, Statistical Publication, 25/09/22) there have been 54,771 Personal Public Service Numbers (PPSNs) issued to individuals from Ukraine under the Temporary Protection Directive.

Occupancy recovery for Dublin still has some way to go due to corporate demand which remains relatively soft, as well as a slight increase in bedroom supply derived from a number of new hotel openings that have taken place this year. In Cork, the additional rooms from The Rezz and the Dean (not trading in 2019) represented an 8% increase in the bedroom stock for the city.
Government supports
Due to the sizeable increase in energy expenses the government launched the Temporary Business Energy Support Scheme (TBESS).
Qualifying businesses are entitled to claim support amounting to 40% of eligible cost (subject to a cap of €10k per each monthly claim period).
Also with an aim of preserving business cash-flows, the government decided to extend the moratorium on the repayment of warehoused tax obligations which will now end in 2024.
Alcohol consumption
Estimated alcohol consumption per adult in Ireland had been on a sustained decline path since 2001; data for year-end 2021 shows a 34% decline over the 20-year period.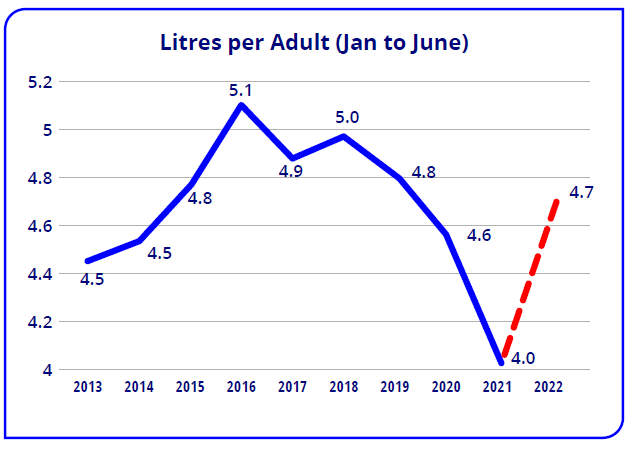 However, a sharp drop reported last year was short lived as consumption in the first six months of this year has returned to pre-pandemic levels.
Sector Developments & Insights November 2022
View
Print