Ireland significantly steps up as one of top three digital leaders throughout Europe and US, according to a new BearingPoint study.
Businesses in Ireland have made considerable progress on the digital maturity path, as the country moves to third place in the ranking when compared with the other 10 countries.
BearingPoint's 2022 Digital Leaders study assessed 679 companies (35 Irish, 644 European and UK and 50 from US) against criteria related to four dimensions of digitalisation; digital product experience, e-commerce, e-CRM and digital marketing.
"It is a real sign that Irish business leaders are committed and more fully invested in the digital transformation of their businesses to better equip them for the challenges they are facing"
Countries and companies representing various industry sectors were scored on a scale ranging from 'Failed' (0) to 'Outstanding' (5). Ireland achieved an overall average score of 3.43 for their digital maturity, moving up the ranking to third place when compared to the other 10 countries in the study. The country comparison was scored by analysing the top 30 companies in each country.
5 key actions of digital-leading businesses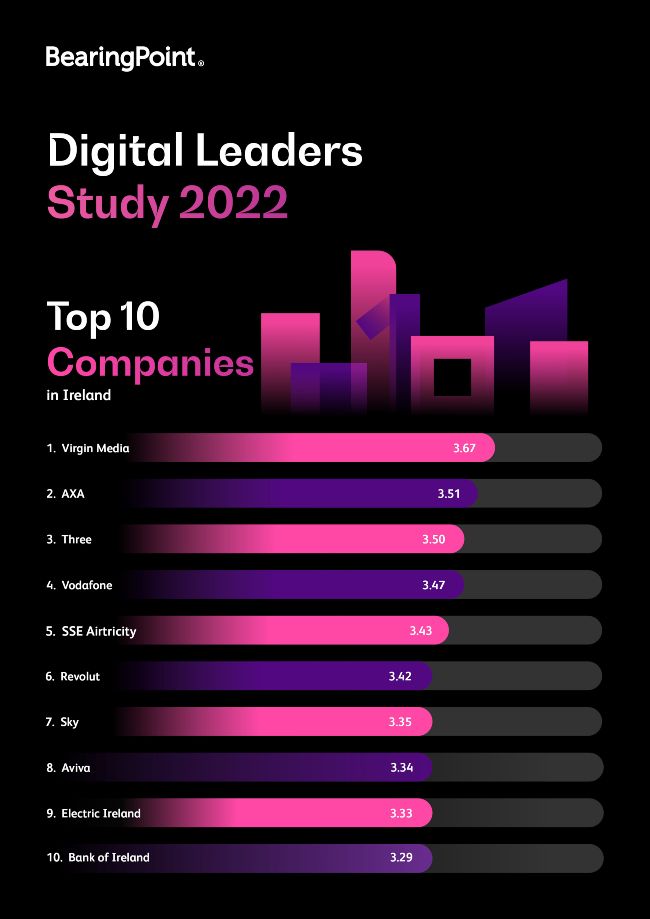 The BearingPoint 2022 digital leaders study found digital leadership in 2022 required a mastery of personalisation, customer centricity, innovation delivery and linking data and technology, while addressing real-world challenges.
Digital-leading companies focus on 5 key actions: Placing customers at the center of value propositions; Generating a positive emotional response through all interactions with customers and networks; Delivering value with a suite of advanced technology that synchronizes activities and leverages data centricity; Innovating in all aspects of their ecosystem; Integrating ethics, sustainability, and a broad world view in day-to-day activities.
Virgin Media achieved the highest rating as a digital leader in Ireland with an average score of 3.67, demonstrating their continued investment in digital experiences. They were followed by AXA (3.51) and Three (3.5) among the top three companies in the Irish study.
Five industry sectors were assessed in Ireland covering: Banking, Telco, Insurance, Energy and Media. The findings from the study in Ireland indicate that the majority of industries saw their scores increase this year. The Telco sector emerged as Ireland's most digitally mature industry from the 2022 study scoring 3.5 overall. This was followed by the Insurance sector (3.10) and the Energy sector (3.10). Banking achieved an overall score of 3.00 having been rated the most digitally mature industry for the previous two years.
Within each of the five sectors that were assessed in Ireland, Revolut scored the highest in the banking sector with a score of 3.42. SSE Airtricity topped the ranking in the energy sector scoring 3.43. AXA came out on top in the Insurance sector with 3.51, while RTE ranked number one in the media sector with a score of 3.04. Virgin Media received the highest score in the telco sector with the highest ranking of any Irish company with 3.67.
Significant year-on-year improvements can be seen across all four dimensions of digitalisation in Ireland. Digital Product Experience maintained its position as the strongest performing of the dimensions scoring the highest at 3.50. E-Commerce however scored the lowest in Ireland with a score of 2.56.
"There's no doubt that mastering digital is essential if organisations want to embrace business transformation, develop long-lasting client relationships and boost revenue," said Gillian O'Sullivan, country leader for BearingPoint in Ireland.
"What makes a digital leader naturally changes over time, but our study has highlighted the key themes which are prevalent today; customer centricity, personalisation, data centricity, innovation and sustainability. These actions – in combination – are what contributes to organisational success."
She added: "It is very encouraging to see Irish companies performing so well this year when compared to their counterparts in other countries. It is a real sign that Irish business leaders are committed and more fully invested in the digital transformation of their businesses to better equip them for the challenges they are facing."
Main image: Gillian O'Sullivan, country leader for BearingPoint in Ireland