Ireland punches above its weight in terms of the sheer talent and output of its animation sector. We look at 33 top players defining the future of this industry.
The Irish animation industry has experienced substantial growth in the past decade and has emerged as a central component of Ireland's digital and creative economy.
In recent days it has emerged that Wolfwalkers, a film created by Cartoon Saloon in Kilkenny has been nominated for best animated feature in the upcoming 93rd Academy Awards.
"The Irish passion for storytelling and the arts has a created a culture perfectly suited for world class animation studios to thrive upon"
With millions of children worldwide watching animated programmes produced here, Ireland is a recognised leader for TV, film, games and visual effects.
We recently listed the top players in the Irish film industry and today we are looking at the key players in the highly successful animation sector.
Ireland has a rich heritage in animation and much of the global-orientation of the sector here owes a debt to the legendary Sullivan Bluth Studios, established in Dublin in 1979 by Don Bluth and several Disney animators to work on films such as An American Tail and the Secret of Nimh. Sullivan Bluth Studios was established in Dublin in 1985 and worked on films such as An American Tail and All Dogs go to Heaven.
Key industry bodies include Screen Ireland and Animation Ireland.
According to Screen Ireland the Irish animation industry has long been a creative cornerstone of Ireland's vibrant film industry, and has witnessed substantial growth in the last decade. It is an integral and important component of Ireland's digital and creative economy, employing 1,600 full-time staff.
Irish animation studios are working with some of the biggest names in global broadcasting—including Disney, Nickelodeon, Cartoon Network and the BBC—making animated series that are shown to millions of children all over the world every week. Award-winning features and shorts, animated programming for adults, apps and games are being made here by our dynamic, technically advanced—and entirely indigenous—2D and 3D studios.
Animation Ireland says that Ireland is one of the best places in Europe and the World to produce animation. Ireland has one of the best tax credits in Europe, with up to 32pc tax credit available on eligible Irish expenditure.
According to Animation Ireland the Irish passion for storytelling and the arts has a created a culture perfectly suited for world class animation studios to thrive upon.
Here are the players to watch:
Brown Bag Films
Founded in Dublin in 1994 by Cathal Gaffney and Darragh O'Connell, Brown Bag Films employs close to 1,000 people worldwide, including 398 in Dublin. It has produced a large number of well-known children's programmes including Doc McStuffins, Butterbean's Cafe, Octonauts, Peter Rabbit, Daniel Tiger, Bing and Noddy in Toyland. Two of its shows, Give Up Yer Aul Sins and Granny O'Grimm's Sleeping Beauty, were nominated for Oscars. The company reported revenues of €50.1m for the last year. Brown Bag was acquired by Toronto-based 9 Story Media, one of North America's largest animation studios, for an undisclosed sum in 2015. 9Story Media subsequently rebranded to Brown Bag to reflect the company's brand reputation globally.
Boulder Media
Since its founding in 2000 Boulder Media has been producing award-winning shows for leading global broadcasters like Nickelodeon, Cartoon Network US and UK, Disney and the BBC, and is one of Ireland's largest animation studios. Its shows have garnered several awards and countless more nominations such as, BAFTAs, EMMYs, ANNIEs, IFTAs, British Animation Awards, Cartoons on the Bay and many more. Most recently, Boulder has led the creative team in the much-anticipated reboot of Danger Mouse, helmed by Boulder's creative director, Robert Cullen.
Cardel Entertainment
Founded by brother and sister duo Carla & Delwyn Mooney, Cardel Entertainment has produced over 40 international productions including animated & live action short films, music videos, commercials and feature documentaries. Productions have received international acclaim and screened at festivals around the world including the British Animation Awards, Kinsale Sharks, Galway Film Fleadh, Los Angeles Animation Festival, Bucheon Festival, Offline Film Festival, London Short Film Festival and the Edinburgh International Film Festival, as well as receiving Vimeo Staff Picks and write ups with international online publications such as the Rolling Stone, Guardian, VICE News, Directors Notes. In 2018 an animated video for the Canadian singer Parker Bossley received a Vimeo Staff Pick and was hailed as a 'triumphant return to cut-out animation' by website Directors Notes. The animated video for American band Sparks 'Edith Piaf (Said It Better Than Me)' from the most recent album 'Hippopotamus' trended on both Youtube and Vimeo.
Cartoon Saloon
Kilkenny-based Cartoon Saloon is a celebrated animation studio formed by Paul Young, Tomm Moore and Nora Twomey in 1999.
Wolfwalkers, a film made by Irish animation studio Cartoon Saloon, has been nominated for an Oscar for best animated feature in the upcoming 93rd Academy Awards. Cartoon Saloon's hand-drawn cartoon Wolfwalkers is an adventure set in 17th century Ireland and streams on Apple+.
In 2010, the studio's first feature film, The Secret of Kells, was nominated for an Academy Award; in 2015, follow-up feature Song of the Sea garnered a second nomination while The Breadwinner was nominated earlier this year. The company's Emmy-nominated pre-school series, Puffin Rock, is streamed in 25 languages on Netflix and has been viewed nearly 100m times in China on Tencent Holdings' streaming platform. In 2017 it emerged that Cartoon Saloon would generate 140 new jobs as part of a collaboration called Lighthouse Studios with Canada's Mercury Filmworks. The project hinges on the development of an all-new 2D and 3D-focused animation studio as part of the joint venture.
Cartoon Saloon's Louise Bagnall was nominated for an Oscar for her cartoon Late Afternoon in 2019. Bagnall is also is one of the few Irish members of the Academy of Motion Picture Arts and Sciences in Hollywood.
Daily Madness
Founded by Lyndsey Adams Daily Madness Productions is a production company dedicated to developing strong stories and captivating characters for children's television. Clients include Gingerbread Animation, Turnip & duck, Ink & Light, Touch Press and Kavaleer, to name a few. Its new series, Pins and Nettie, is selling all around the world to broadcasters such as RTE, YLE in Finland, TVO in Canada, Go Minno SVOD in the US and many others.
Distillery Films
Distillery Films is a production company led by Jonathan Clarke focusing on original content for young audiences, promoting values of learning, growth, and diversity. With a background in international co-production, it offers a wide spectrum of services to clients seeking to produce animation in Ireland. The company's motto is: "Make it well, and make it matter." One of its productions Sullivan Sails has been selected as one of the eight Irish projects to contend at the 31st Cartoon Forum in France this September.
Dream Logic Studios
Dream Logic Studios is an award-winning animation studio based in Dublin developing and producing feature animation and TV series for a national and international audience. Shows include BB agus Bella, Havananimal, Boy in the Bubble and The Lost Letter. Clients include the Irish Film Board, TG4, RTE Jr and the BBC and the company has won various awards including an IFTA, Galway Film Fleagh, and Celtic Media Festival Best Animation, to name a few.
Elk.Studios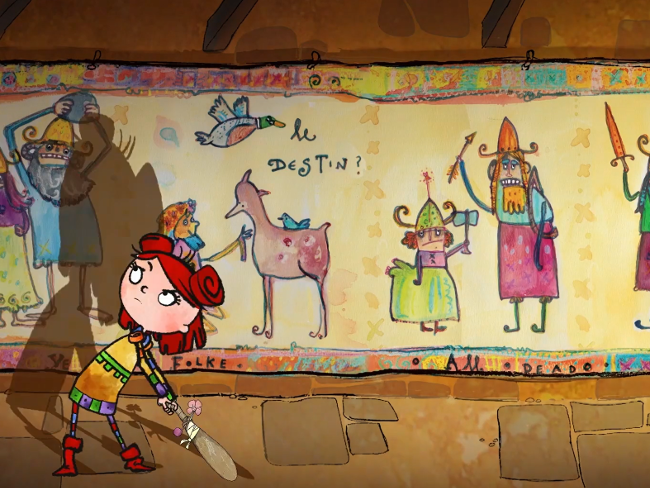 Elk.Studios is a young animation studio based in Dundalk and Belfast, with the Elk team bringing experience to developing ideas and running production pipelines, combined with the ability for script to screen deliveries. Ian Hamilton, Elk.Studios founder, is a producer with experience in all departments of production. Having a base in two jurisdictions, North and South, allows the company to access talent, finance and grants from both sides of the border. Clients include RTE Jr, Nick Jr, CBeebies, IADT, and S4C, to name a few.
Geronimo Productions
Dublin-based Geronimo Productions are creators of children's content, intellectual property and brand management. Established by Gerard O'Rourke in 1995, the company creates animation for children, specifically long-running TV series for preschoolers and primary school children.
Giant Animation Studios
Giant Animation Studios create award winning content for feature, TV and interactive media. Founded in 2012 and led by Alex Sherwood, Ben Harper, Sean Mullen and Conor Harrington its shows include Go Jetters, a co-production between CBBC and BBC Worldwide and The Overcoat, which is Irish Film Board and RTE-funded. Clients include TED, CBBC, BBC, Cartoon Saloon, Publicis and HMH. The Overcoat won Best Animation Sequence at the Galway Film Fleadh in 2018.
Igloo Animations
Igloo Animations is an award-winning animation company located in Dublin specialising in animated explanation videos, animated films, children's TV shows and e-learning. The award-winning studio was established in 2008 by director Trevor Courtney and shows include Old Irish Tales, Fantasy Ireland and Grandma's Wild Garden. Clients include Folens, Facebook, ESB, Enterprise Ireland, CJ Fallon, British Council and the Irish Dairy Board, to name a few.
Ink and Light
Ink and Light is a boutique production house led by Tamsin Lyons and Leevi Lemmetty creating original films and TV series for the international and domestic markets, working mostly with CG animation. Shows include Ollie, Hopscotch and the Christmas Tree and Harry & Bip. Clients include RTE Jr and YLE.
JAM Media
JAM Media, with operations in both Ireland and the UK, is one of the leading creators and producers of multi-award winning animated and live action content for the children's and pre-school audience. The company was founded in 2002 by animator friends John Rice, Alan Shannon and Mark Cumberton. Shows include Little Roy, Tilly and Friends, Baby Jake, Roy, Zig & Zag, The Roy Files, Funky Fables and PICME. The company has won numerous awards including IFTAs and a BAFTA in 2012 for Best Children's Drama. Clients include RTE, CBBC, Nick Jr, to name a few.
Kavaleer Productions
Led by CEO and founder Andrew Kavanagh, Kavaleer Productions is an awarding-winning, Dublin-based animation studio that has been in business since 2001. Kavaleer have steadily been building a reputation for themselves as one of the most savvy and talented studios on the block. The studio has crafted a niche that sees it recognized internationally as a creator of award –winning film and television projects on one hand, a trusted provider of animation, interactive and design services on the other. Shows include The Millner, Lifeboat Luke, Garth & Bev, Wildernuts and Kiva Can Do. It has won numerous awards including the Galway Film Fleadh, IMRO and the British Animation Award, to name a few.
Keg Kartoonz
Founded in 2003, Keg Kartoonz is a Dublin-based animation studio run by creative director Noel Kelly and producer Adrian Mulvey. Keg was set up to develop and produce its own original projects. Its aim is to create a world of unique and strong characters that will engage and entertain its audience.
Lighthouse Studios
Lighthouse Studios is a 2D animation studio in Kilkenny based at the Hogwarths-like building that is Kieran's College. Led by managing director Claire Finn, the company employs 165 people and is currently working on four productions including 'The Cuphead Show' for Netflix and a feature for Bento Box/Disney. Lighthouse has just signed a new show for Warner Bros and is in development with its own show which has been bought by a major streaming platform. The company is a big employer in Kilkenny and boasts over 25 nationalities. Lighthouse is a sister studio to Mercury Filmworks and Cartoon Saloon and works with production partners such as Amazon, Cinesite, Apple, and Disney.
Magpie 6 Media
Ennis, Co Clare-based Magpie 6 Media is a creator studio whose strength is making family friendly media. It both originates and produces animated, live action, online and literary media. The studio was founded in 2009 by wife and husband team Christina O'Shea and Clifford Parrott. Productions include The Travels of Young Marco Polo, RockaBye Island and The Wee Littles. Service work includes Warner Brothers' latest version of the Flintstones as well as work for Disney, Saturday Night Live and ESPN.
Maverick films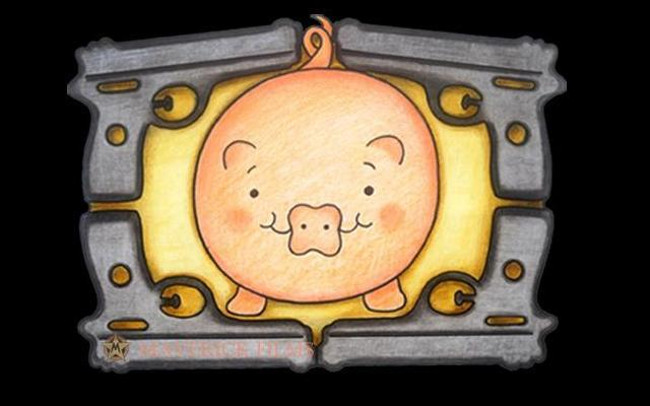 Set up by mother daughter team Deirdre Lyon Doyle and Zoe Doyle, Maverick Films is a multi-award-winning production company based in Dublin specialising in animation and live action shorts, series and features. Shows include Flutter Valley, Piggy in the middle, Polly's Way, Bananaland and The Makeover. Last year, it won the Screenplay Live Action Feature Film Semi-Finalist Award-Winner at The International New York Film Festival for Polly's Way.
Moetion Films
Moetion Films is an award-winning, animation company based in Galway led by Moe Honan and Siún Ní Raghallaigh. The company was named Producer of the Year 2016 at Cartoon Movie for its debut feature Two by Two – Ooops The Ark has Gone screened in thousands of cinemas across Europe and sold out worldwide. The company develops and produces high-end animation for cinema and TV. It also provides voice recording, dubbing, scripting and production services for a range of international clients. Two By Two – Ooops! The Ark Has Gone was winner of the Grand Prix of Kinder Jurors 2015 and Kineko, the International Children's Film Festival.
Monster Entertainment
Established in 1998, Monster Entertainment led by chair Andrew Fitzpatrick is a brand management company which develops entertainment brands and distributes them worldwide to 193 countries countries. Shows it has produced or co-produced include I'm a Creepy Crawly, I'm a Dinosaur, I'm an Animal, I'm a Monster, The Travels of a Young Marco Polo and Rockabye Island and it also sells animation series widely on behalf of Irish production companies.
Mooshku
Mooshku is a Dublin-based creative workshop, developing and producing top-quality enriching content for children led by Meabh Tammemagi and Jason Tammemagi. Shows include Millie and Mr Fluff. Its motto: "Bottom line, if it's not good for your kids, we don't make it."
Pictor
Pictor Productions expresses a passion for visual art through the medium of animation. With the support of the Irish Film Board and Creative Europe MEDIA fund it has developed Flix, a comedy about the only dog living in Cat Town. Flix is an adaptation of the eponymous children's book by children's book author Tomi Ungerer. It is co-producing the series with UK production company Eye Present.
Pink Kong Studios
Award winning Pink Kong Studios creates branded animated entertainment for TV, VR/AR, Games, Film and Advertising Houses. Co-founded in 2014 by creative director Aoífe Doyle and producer Niamh Herrity, the studio's vision is to create original, high end, story driven animated content for worldwide viewers. Shows include Departure, Urban Tails and the VR film Aurora and the company has won numerous awards and nominations including IFTAs and Baftas. It secured a national nomination in the 2016 Bank of Ireland Start-up Awards and won for Dublin City in the 2017 National Enterprise Awards. Clients include RTE, TED and the Irish Film Board.
Piranha Bar
Established 15 years ago and led by Dave Burke and Niky Gogan, Piranha Bar boasts a diverse roster of directors, animators, VFX artists, motion designers, and our stable of award-winning editors. The hybrid production company creates highly visual short and long-form branded content including MyaGo, its first animated series now in production with director Alan Foley and Sam Morrison (Peppa Pig, Ben & Holly) leading the writing team.
SANAM
SANAM is a Dublin-based production company that creates enriching and exciting content for young children led by Aislí Madden. With the support of Screen Ireland, it is currently developing its first CG animated TV series.
Buddybugzz, a mindfulness-based show for 4-6-year-olds, that uses song, exploration and adventure to bring simple mental health practices to children.
Studio 9
Studio 9 was set up by two award winning Artists John O'Connell and Joe Coveney in 2017. It works for a wide range of clients both in Ireland and internationally, creating branded content and short form animations. Its work combines stop-motion and 2d animation techniques to create work that pushes boundaries and changes perspectives.
Studio Meala
Based in Boyle, Co Roscommon, Studio Meala is dedicated to making high-end animated content. It works with some of the best animators available to deliver cutting edge animated content in a culture that truly empowers creativity. Shows include Sunburn, Murder by Numbers, Warframe, The Frog and The Reindeer Feeder.
Telegael
Founded in Spiddle, Co Galway, in 1998 Telegael's multi-Emmy and IFTA award-winning studio works with international producers, distributors and broadcasters to develop, finance and co-produce animation and live-action content for the global market. Led by CEO Paul Cummins, the company has co-produced 750 hours of television and its productions have been distributed to over 140 territories throughout the world and have been translated into more than 40 languages. Productions include Bubble Bath Bay, The Skinner Boys (Series 2), Blinky Bill The Movie and Sabrina: Secrets of a Teenage Witch.
Treehouse Republic
Treehouse Republic is a Dublin based production company specialising in animation. Led by Dale Robinson and Graham Holbrook, the studio develops its own IP in the form of comedy action for kids of all ages as well as providing top quality development, pre-production and production services. Treehouse Republic focuses on 2D animation and also provides services in the integration of 2D, 3D and live action content. Shows include Epic Eric, Dragon Fist, I've Got a Time Travelling Monkey On My Back and The Totally Normal Every Day Adventures of Slaps and Sandbags.
Trickshot Films
Dun Laoghaire-based Trickshot Films uses art and technology to tell great stories. The independent animation studio was co-founded by Matt Pidgeon and Deidre Griffin. Its first short film The Lost Letter attracted international attention. It has worked with Jam Media with CG models and rigs for the kids TV show Beccas Bunch. It has also done a number of commercials and previz work on a number of films.
Triggerfish
New to the parish is Triggerfish, the animation studio behind Netflix's first original animated TV series from Africa, which is in the process of establishing its first international studio in Galway resulting in 60 new jobs. Founded in 1996, Triggerfish was instrumental in the birth of the South African animation industry. Triggerfish animated the Oscar-nominated Roald Dahl adaptation Revolting Rhymes as well as much-loved Julia Donaldson and Axel Scheffler adaptations such as the 2020 International Emmy-winning Zog, the 2020 British Animation Awards winner The Snail and the Whale, the BAFTA-nominated and Annecy-winning Stick Man, and the Rose d'Or-winning The Highway Rat all produced by Magic Light Pictures.
Turnip & Duck
Turnip & Duck is an award-winning, Dublin-based production company producing a variety of work across TV, radio and digital platforms. Bringing together the producing and writing talents of Colm Tobin and Aidan O'Donovan, the company was established in 2016 to develop and produce original IP, with a particular focus on animation and off-kilter comedy for kids. Previous works by Turnip and Duck include Zoot & Friends created by Adam Kavanagh and Gareth Lyons and was produced as part of the RTE Short Animations scheme; they are also the co-creators of the RTE/CBBC series Brain Freeze.
Wiggleywoo
Wiggleywoo is the Dublin animation behind RTÉjr's preschool show The Day Henry Met. The show garnered huge international sales having been sold to Viacom for Nick Jr and Noggin in 192 countries and to many Free TV broadcasters and SVODs
Written by John Kennedy (john.kennedy3@boi.com)
Published: 27 July 2020, Updated: 18 March 2020