HUB360 is focused on cutting out inefficiencies in the supply chain and preventing fuel wastage by trucks and lorries.
HUB360 is one of eight start-ups chosen to take part in this year's Bord na Móna Accelerate Green programme.
The programme is Ireland's leading sustainability programme designed to scale-up companies who are developing products and services based on green innovation in response to climate action and sustainability challenges.
"HUB360 transforms paper-based manual work into streamlined and highly automated processes"
The current cohort of businesses employ over 70 people with turnover of more than €5m.
The eight start-ups will be at the upcoming Accelerate Green conference entitled 'Ireland's Sustainable Future' on 1 June 2023 at the Tullamore Court Hotel. Click here to learn more.
HUB360 is a software platform that optimises logistics (incl. reducing carbon emissions) and deliveries for companies that use their own delivery fleet or third-party hauliers to deliver their goods. HUB360 is generating monthly recurring revenues, and revenue by delivering enhanced functionality and more modules over time into the same clients.
Optimising the supply chain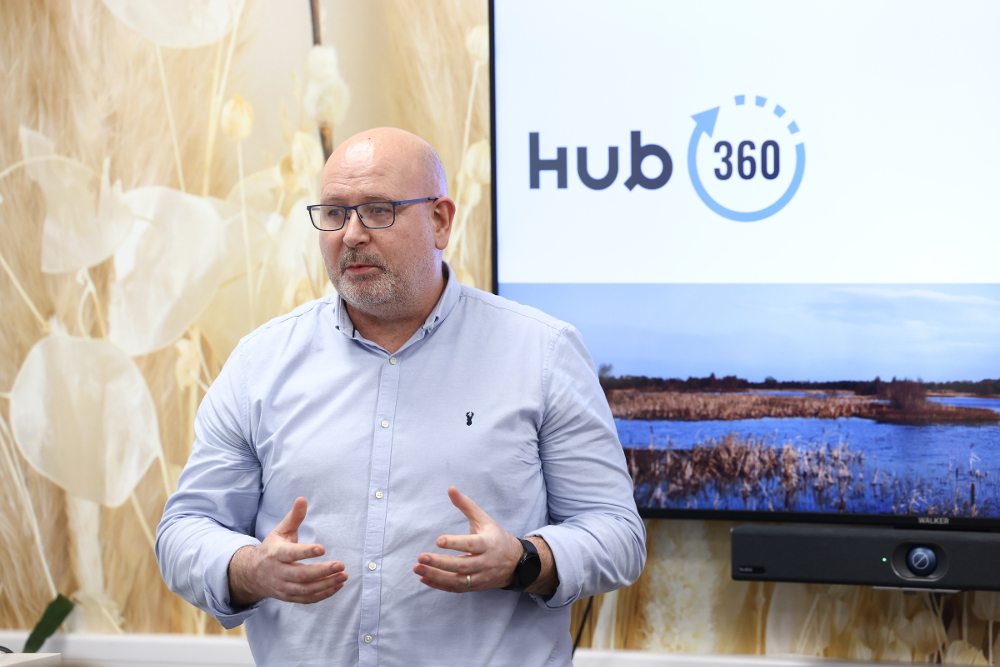 John O'Neill, co-founder of HUB360
"We are focused on the inefficiencies when manufacturers are supplying direct to customers either using their own fleet (drivers and trucks) or subcontracting and are relying on labour-intensive management processes, with a heavy focus on manual paper-based transactions and with little measurable transparency over the daily activities undertaken," said John O'Neill, co-founder of HUB360.
"As such there are major inefficiencies across all stages of the delivery process including the management of fuel consumption (scheduling of deliveries not optimised, routing of deliveries not optimised, trucks not full, idle time waiting to off load."
He said that heavy-duty vehicles are responsible for about a quarter of CO2 emissions from road transport in the EU and for 6% of total EU transport emissions. It is currently estimated that large lorries account for 65% to 70% of all CO2 emissions from heavy-duty vehicles.
"HUB360 provides full visibility and management of sales order deliveries and delivery resources by transforming paper based manual work into streamlined and highly automated processes which optimise the movement of all sales orders and goods to create a modern and efficient delivery management system, making it possible to process and deliver more orders to customers."
A gap in the market
The founders of HUB360 are John O'Neill and Denise O'Kelly.
"Through my extensive experience in deploying ERP systems, I recognised a genuine gap in the market that was not being adequately addressed. This realisation motivated me to develop a solution that could make a substantial contribution to both businesses and the environment," O'Neill said.
O'Kelly explained her motivation for starting the business: "There are compelling opportunities and experiences available when operating one's own business that may not be easily found in traditional employment. By creating and leading my own enterprise, I have the ability to engage in meaningful work that has a tangible impact on businesses and clients, delivering significant returns on their technology investment."
Both founders are positive about the start-up ecosystem in Ireland.
"There are huge amounts of supports in place in Ireland – it creates a really great dynamic atmosphere and its hugely positive," O'Kelly said.
Agility is everything
The company is currently in the process of raising early stage funding.
O'Kelly said: "HUB360 places a high priority on agility as a company, due to the constantly evolving nature of the technologies with which we work. This approach ensures that we can adapt quickly and effectively to changes in the industry, providing the best possible outcomes for our clients.
"As a company, we must maintain a comprehensive understanding of a vast and ever-expanding ecosystem, encompassing areas such as security, cloud computing, stack development, mobile technologies, and industry trends. Staying ahead of the curve is essential, which requires us to anticipate future developments and remain agile, adapting to changes as they arise."
Both O'Kelly and O'Neill believe resilience is the hallmark of success at entrepreneurship. "It is a tough and long sales process that requires lots of patience," O'Neill said.
"While we have successfully bootstrapped the platform thus far, we recognise the need for investment in order to effectively scale our business within a B2B market.
"Business professionals can struggle with declining opportunities, making it crucial to develop skills in managing this process and recognising when it is appropriate to move on."
Their advice to fellow founders is to embrace the experience.
"The future is never certain, and it is essential to embrace risk and uncertainty to succeed. While it can be daunting, the excitement and potential for innovation that come with navigating these challenges make it all the more worthwhile," said O'Kelly.
O'Neill added: "Trusting your instincts, cultivating an open mind, committing to lifelong learning, and surrounding oneself with top talent are really essential."
Main image at top: HUB360 founders John O'Neill and Denise O'Kelly
To learn more about attending the Accelerate Green conference 'Ireland's Sustainable Future 2023' on 1 June at the Tullamore Court Hotel click here