Born out of frustration at the market for healthcare uniforms, HappyThreads' founding team of Dr Abigail Moore and Daniel Plewman are bringing colour and comfort to healthcare professionals.
HappyThreads' core product is healthcare uniforms/scrubs, for clientele including doctors, nurses, healthcare assistants, dentists and more. The company also serves the childcare industry. Brands include Koi, Cherokee and Dickies.
Happythreads' own line of scrubs, made from recycled plastic bottles, is currently in development and scheduled for launch in the next couple of months.
"We are currently looking to grow the French and Benelux markets, which have a total market value of around €100m"
In addition to uniforms, the company offers a personalised embroidery service and carries a wide selection of shoes and accessories.
Happythreads is an online retailer, first and foremost, though it also supplies trade clients in bulk/larger quantities.
Bringing style and comfort to scrubs
"Happythreads came to be in 2009. My wife, Abigail, a paediatric dentist, had struggled to find uniforms for work here in Ireland that were high-quality, comfortable and stylish," says Plewman.
"She came across the Koi brand in the US, which ticked all the boxes. It just so happened that they were looking for a distributor in Ireland and the UK at the same time I happened to be out of work as a civil engineer. We set up a company with a view to supplying directly to the healthcare market as well as via distributors, and the rest is history.
"Over the past 11 years, we have grown to become the leading supplier of scrubs and uniforms in Ireland, with a warehouse in Ballymount and a second location north of the border, in Enniskillen. We serve the UK and French markets, also.
"We are currently looking to grow the French and Benelux markets, which have a total market value of around €100m."
Organic growth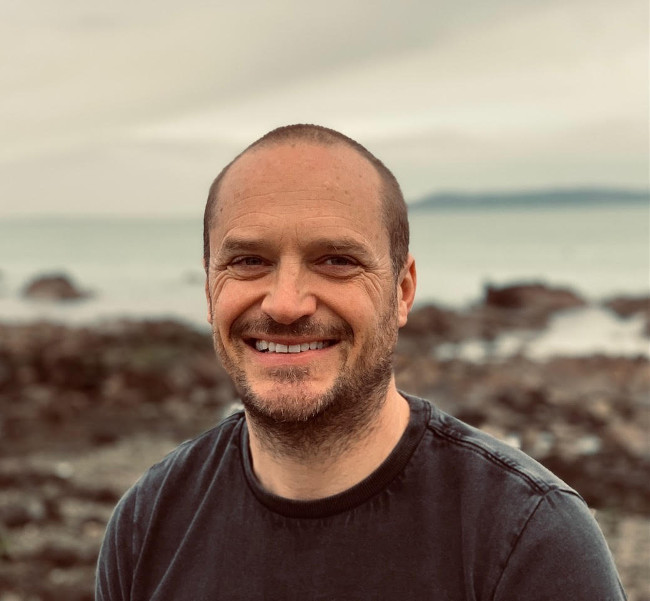 Daniel Plewman, co-founder, HappyThreads
The company supplies high-end scrubs (PPE) to healthcare professionals in Ireland, the UK and France through e-commerce platforms and sells direct as well as B2B.
Prior to starting HappyThreads, Plewman was a civil engineer. "I am familiar with the language and culture having spent a misspent youth in France! As a student in France I made t-shirts in different colours with logos screen printed and sold them outside the canteen, each batch sold faster than the previous one, it made me realise how the French love an entrepreneurial spirit."
Plewman said that the start-up ecosystem in Dublin in 2009 had a great buzz about it and the couple became involved in the LINK network.
The business is planning to grow organically rather than taking on investment.
The biggest lesson for Plewman has been to delegate. "I need to let others manage the business. That is easy to say buthard to do. It's very hard to release control and I had to get training to do this, but having a great team that you can rely on and trust is essential in order for a business to grow.
"I have also learnt to focus on developing one market at a time, perseverance in a marketplace is key."
To stay agile, the business makes the most of the latest cloud technologies. "Slack, Cuclino, Asana and, of course, Zoom, have been invaluable, particularly since Covid struck and most of the team have been working from home. We are a fairly tight team and everybody is encouraged to play an active role in decision-making. These tools have really helped us to stay in touch and work collaboratively, remotely."
His advice to fellow founders is to pace themselves and be open to good advice. "At the start of the day write down the one thing to be done today to go home with a sense of achievement, that one big thing.
"Get a mentor who will call you an idiot (or worse) when you are being one; there are people who have gone through the same experience as you and are willing to advise."
By John Kennedy (john.kennedy3@boi.com)
Published: 11 March 2021