Every Body Health is a Dublin-based health and wellness start-up that has just launched with products focused on immune support and gut health.
Every Body Health is bringing a range of vitamin and mineral supplements to the marketplace, selling in pharmacies and online.
"We feel that the vitamin and mineral supplement market in Ireland is largely being underserved," explained Every Body Health co-founder Luke Teeling. "With one or two notable exceptions, the branding is dated, products look unappealing, and marketing efforts are largely underwhelming.
"We felt there was a need and big opportunity for a new company that took a science-led approach to product development, educated consumers, and combined this in an attractive and modern-looking brand"
"Further to this, we feel that pharmacies are often not being actively supported by their suppliers.
"We are looking to be different, by supporting our stockists, by educating the consumer about our products, about how all vitamins are not created equally, and how vitamin and mineral supplementation can work for them, then we can help to further grow this market."
On brand and on message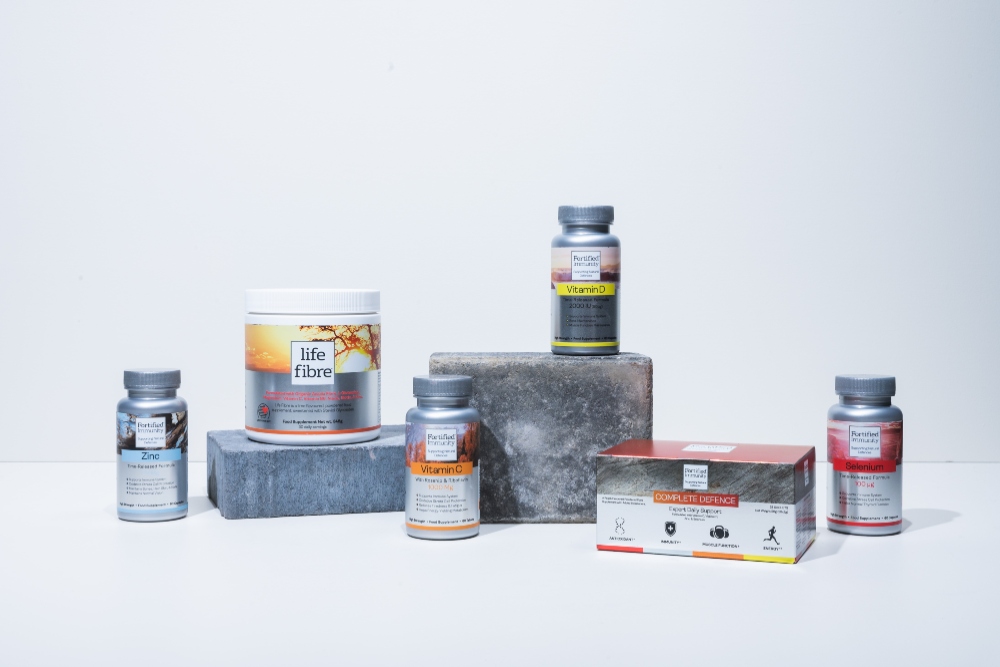 "We supply Pharmacies with a range of branded vitamin and mineral supplements," Teeling said.
"We have launched our first two brand offerings – Fortified Immunity, to provide consumers who are looking for immune support with a high-quality, science led, optimally dosed product offering and Life Fibre, an organic dietary fibre complex formulation rich in antioxidants to help balance your guts microbial ecosystem, protect the gut at a cellular level, and repair any damage that has already occurred.
A gut feeling
Every Body Health was founded by Luke Teeling and Damien Lynch.
"Out of college I joined the Kerry Group graduate program during my time with Kerry Group I became acutely aware of two things. Firstly, big food companies are more concerned with being able to make marketing claims on packaging than with health and secondly, the majority of the population does not have a good understanding of nutrition. This includes everything from what label claims actually mean, what the numbers on packaging actually mean and general knowledge about food supplementation, vitamins and minerals.
Co-founder Damien Lynch is a serial entrepreneur having set up several other companies such as Etag Fixings and Ostman Thermal.
"Damien had the strong belief that the vitamin supplement market was, for want of a better phrase, largely neglected and thus open to opportunity. Vitamin and mineral supplements were often poorly branded, poorly marketed and pharmacists in Ireland being poorly supported by a lot of their suppliers.
"The result of this was that we felt there was a need and big opportunity for a new company that took a science-led approach to product development, addressed the need to educate consumers, and combined this in an attractive and modern-looking brand. All the while supporting pharmacists to market and sell our products."
Teeling believes there is a wealth of great resources and organisations providing helps to start-ups and founders in Ireland. "We are currently availing of the Dublin City Local Enterprise Office (LEO) Trading Online Voucher but we have found that the biggest help of all has been the generosity of time provided by some people within the pharmacy industry in Ireland, their insight and feedback has proven invaluable."
Lead from the front
In term of lessons learnt along the way, entrepreneurship is definitely a journey of self-discovery, says Teeling.
"Every single day we are finding out something new and finding out about all the mistakes we have made along the way, but as long as we aren't repeating the mistakes, it shouldn't be an issue.
"The biggest lesson I have learnt is how important it is to give clear and concise direction and that you should never rely on somebody to take initiative and add something to your instruction. Because of this we had to apply tamper proof stickers to 5,000 boxes of our immunity sachet product Complete Defence" – the factory thought we didn't want the tamper proof stickers because we didn't explicitly specify that we wanted tamper proof stickers."
Agility is everything to starting a business and in terms of technology tools, Teeling said that the company is very much run in the cloud. "Our emails, our shared folder system, our video calls, and all of our documents run through Google Suite Business, which is very cost effective and especially helpful at this time when everyone is working from home.
"We have found that the HubSpot CRM free plan is more than enough for our current needs in terms of customer relationship management and tracking."
His advice to fellow founders is to lead from the front. "Set the standard that you expect from yourself and your colleagues and stick to it, it is easy to get complacent or lazy and let standards slip. Ask for your colleagues to hold you to account the way that you should hold them to account."
By John Kennedy (john.kennedy3@boi.com)
Published: 5 February 2021