The key to the omnichannel future is levelling the playing field for retailers, explains DHL Ireland's e-commerce head Mark Meade.
The surge in e-commerce by Irish retailers was an existential situation, capitalising also on the good will among Irish consumers to #buyirish and #shoplocal. The logic among all was to preserve Irish business and Irish jobs in the teeth of a pandemic crisis.
But the swift digital transformation of businesses accelerated by the situation will have a lasting impact and according to Mark Meade, head of E-commerce Sales and Business Development at logistics giant DHL, what gets measured gets managed.
"A key aspect of the situation has been getting people to understand the logistical realities of e-commerce. Many have been overwhelmed by this in some ways"
"We help Irish businesses to transition online, not just locally but internationally too. We want to help them to establish their brands and present their products to a global audience."
DHL has the firepower, literally shipping goods internationally – mostly overnight – to 220 countries globally. Across Europe it has a network of 30 e-fulfillment centres that are strategically located in proximity to major urban centres and parcel hubs.
What this means for businesses that don't have the capacity to be present in each European country is a cost-effective multi-user network solution.
Accelerated digital transformation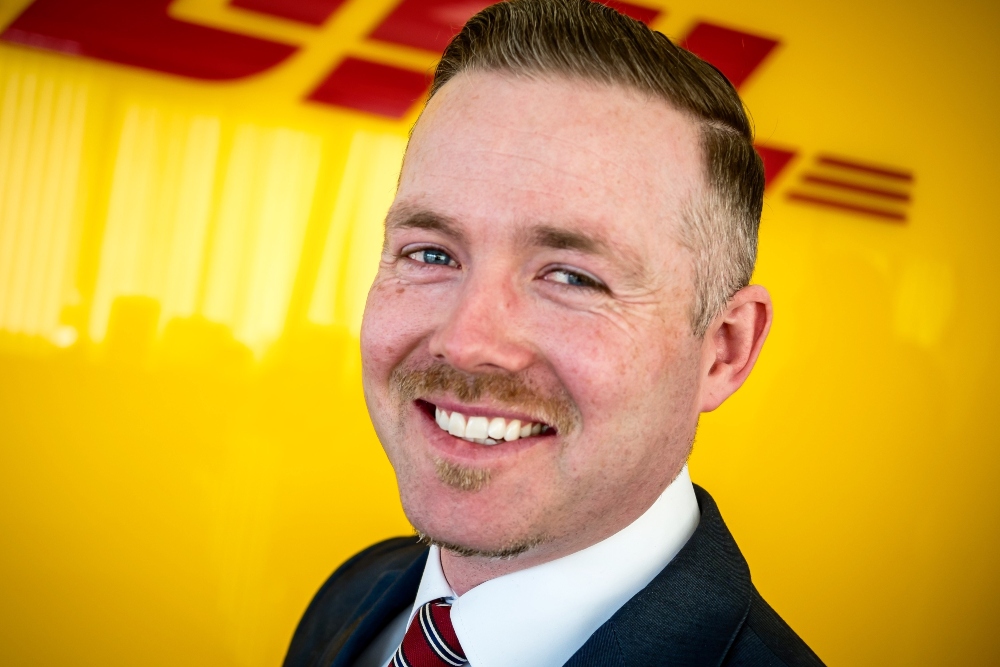 Mark Meade, head of E-commerce Sales and Business Development, DHL
Meade told ThinkBusiness that the accelerated transition to e-commerce pretty much began in March 2020 at the time of the announcement of the first Covid-19 lockdown. DHL itself had to manage the transition in terms of safely fulfilling from its hubs as well as the safe delivery of goods to the end-customer's door.
"With so many bricks and mortar stores actually closed, there was a massive rush to get online for a lot of businesses who no longer had customers coming into their shops. Many of these businesses had never been online before while others that might have done a handful of shipments per month were going to around 100 shipments a day."
To help businesses perform brilliantly in this mass, unexpected digital transformation, Meade said that DHL provides businesses with analytical tools to manage their online journey.
"We have high-end analytical tools that we make available for businesses that don't necessarily have the funds to invest in these tools. For example, we can show a business how 50pc of its views on its website are coming from the UK or the US. We give them advice on what type of messaging they would need to use and basically help them sell to the US and the rest of the world.
"We take a consultative approach, recommending the right website messaging to keep customers engaged, highlight the importance of the delivery aspect of the transaction, which was something many Irish businesses were behind on."
Meade said that one of the surprising things about the e-commerce surge in Ireland has been the variety of business types selling online. "As well as long-established businesses, we are seeing entrepreneurs starting out on Facebook and Snapchat selling different products. One guy in Cork sold 2,000 reindeer decorations and was under pressure to get them all delivered before Christmas. So a key aspect of the situation has been getting people to understand the logistical realities of e-commerce. Many have been overwhelmed by this in some ways."
Sharing knowledge
For Meade and his colleagues the challenge has been an educational one around getting the fundamentals of conducting online business properly understand.
"The more we can get that message out to people the better because the more there is a likelihood of them succeeding in business, especially new young businesses. Business failure rates can be as high as 80pc in the first four years in Ireland, which is a scary number. Often this is because they are not equipped with all the knowledge that they will need to have to be successful. And that's where we come in because there are certain elements that we can advise on; not just the delivery aspect but also the website design and messaging and everything else that comes with it."
An example of firm messaging is just being clear on your website that you ship internationally. "This should be prominently displayed on your website," he advises. "It also comes down to the transaction process. People want assurance and they want to feel safe about making a credit card transaction on your site. They want certainty. You want to be able to give the consumer the information they are looking for before they look for it. Details like when it will be delivered, who is the courier company and having delivery options like time slots or being able to leave the package with a trusted neighbour.
"Better website messaging also helps to reduce bounce rates, meaning people will stay longer on your site. There are a lot of fundamentals that many people embracing online commerce for the first time just don't realise. We feel that by providing them with the right analytics to make these decisions we are helping to level the playing field."
Meade also believes businesses need to invest in having a mobile-first version of their website that is easily accessible.
When ThinkBusiness spoke with Meade it was just prior to Christmas and in the midst of the last-minute buying spree. "Our weekly volumes in the run up to Christmas have been up 100pc on last year. And this time last year was the busiest period in our history up until that point. On one day we had more than 50,000 shipments to deliver."
The ability for DHL in Ireland to meet these tall demands came from planning ahead and adapting to the Covid-19 situation, hiring 100 new couriers and taking on 45 additional staff. A core aspect of this was an enormous 85pc inbound surge towards online shopping in the domestic market.
The key has also been about ensuring better results at all times but also meeting stringent international standards. As Meade puts it, a package ordered at 3 o'clock in Germany could be delivered at 10am the next day from Ireland thanks to at least three daily outbound flights from Dublin and one from Shannon.
Meade concludes that it all boils down to planning, analysing and ruthless execution, but also embracing new technology.
"If you don't adapt to change, you will fail as a business."
Video: How to get your business selling online
With Christmas 2020 now past, the year ahead 2021 still presents retailers with a challenge to go online to not only deal with closed premises if they are deemed non-essential but to address the expectations of an increasingly digitalised consumer.
To get the message out to SMEs, Bank of Ireland collaborated with online shopping platform Shopify as well as Pointy, the Irish platform recently acquired by Google that helps shoppers find via the internet the products they need in your physical store, and the E-commerce Association of Ireland (eCAI), to highlight the opportunities that exist online.
By John Kennedy (john.kennedy3@boi.com)
Published: 5 February 2021