Cork-headquartered EudaOrg has built a platform for businesses that want to make real organisational change in terms of diversity, equity and inclusion.
When two psychologists met while working in Vietnam they agreed that creating inclusive policies for workplaces was a lot more difficult for businesses than most people appreciate. It was time to do something about it.
And thus a business was born. EudaOrg, the brainchild of Nessa Maguire and Allison Kuschel, provides a software-as-a-service (SaaS) solution for businesses to manage their inclusion and diversity policies without unnecessary bureaucracy.
"EudaOrg is like a 'CRM' for diversity, equity and inclusion. It enables organisations to assess their needs and where they are in their journey, gather and analyse their data in one place"
"Diversity, equity and inclusion (DEI) makes the workplace fairer for all and gives everyone a chance to succeed," Maguire explained.
"It's not only the right thing to do, but research shows again and again that businesses that prioritise DEI perform better. Yet, right now, how companies do DEI is not leading to the change they need and expect. Affirmity found in 2022, that only 9% of businesses feel their DEI initiatives are highly effective. DEI professionals don't have the tools they need to do their job. This is why we built EudaOrg.
"It removes a lot of the inefficiency and tedious admin work that teams must do, to allow them to make informed decisions based on data and, ultimately, create real organisational change. We want to help create workplaces where everyone can thrive and belong."
Maguire says the potential market for their technology is considerable and that DEI itself is a multi-billion-dollar industry. Global Industry Analysts found that $9.3bn was spent on DEI globally in 2022 and that is set to grow to $15.4bn by 2026.
DEI data in one place
EudaOrg offers a SaaS solution for DEI Teams, or whoever manages DEI within the business, and it's suitable for businesses of all sizes.
"EudaOrg is like a 'CRM' for DEI. It enables organisations to assess their needs and where they are in their DEI journey, gather and analyse their DEI data in one place, and, most importantly, take effective action towards their DEI goals. It also offers impactful education.
"Last year we did Enterprise Ireland funded research with Learnovate at Trinity College Dublin and our research found that standard DEI training does little to affect real behavioural change. In fact, it can lead to negative outcomes. Anecdotally, while well intentioned, people often lack confidence when it comes to engaging on topics related to DEI. This is why we're creating gamified immersive learning experiences using AI avatars and coachbots to combat this. We want to empower people to learn in a safe and engaging space. We believe most people are well intentioned but need the skills to adapt to an ever-changing workplace. Being confident in using inclusive language and collaborating with global teams is now a critical need for all colleagues."
Making the workplace better
Nessa Maguire met Allison Kuschel when they both worked in Vietnam, helping to run an education consultancy company. Both are psychologists with a passion for people science and behaviour change.
What they found is that many organisations struggled to create and implement inclusive policies and they wondered why. Nessa set out to speak to hundreds of DEI professionals and found that regardless of the size of the companies, the challenges were similar. They didn't have the data and reporting they needed, and they spent a lot of time on tedious tasks. They couldn't accurately measure how their efforts performed in creating effective and sustainable change within their organisations.
"We were driven by the belief that working in DEI is a challenging job and it is a business-critical function, it was clear to us that technology was the missing piece," Maguire explained.
"We put our users at the centre of everything we do, and we want to solve the challenges that make their jobs tougher than it should be. Ultimately, these professionals are making the workplace better for everyone, and we think they should have the tools to do that."
Greater diversity among Irish start-ups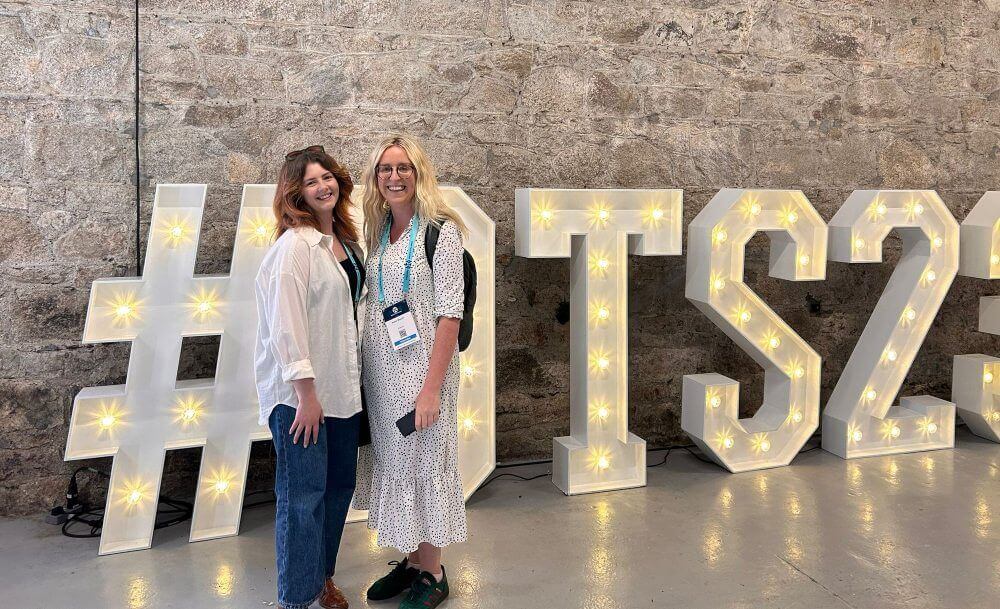 EudaOrg's Máire O'Herlihy and Nessa Maguire
As a global business, the cloud is essential to the creation and the delivery of EudaOrg's product.
"We are a remote team so it's important that we can collaborate easily across time-zones and continents. We use Slack lot to keep up with each other. It's important for us to take good notes and document everything to ensure we're all on the same page. Easy to use technology is important, but I think creating a strong culture of collaboration and communication is the key factor to stay agile and enable your team to move quickly."
Maguire says the founders feel very lucky to be an Irish start-up. "We have a great start-up ecosystem in Ireland. The support we have received from Enterprise Ireland, particularly through the New Frontiers programme, and the Local Enterprise Office South Cork has been crucial in getting EudaOrg up and running.
"There are some very exciting start-ups in Ireland right now. We're big fans of Assistiv who are using technology to make the workplace more accessible for adults with intellectual disabilities. It's also great to see female founders like the founders of Riley go from strength to strength. There is a lot of diversity in the Irish ecosystem, and we expect it to only improve!"
She said that EudaOrg is currently in conversations for pre-seed investment in both Ireland and the United States. "We are making great progress towards our fundraising goals for this year. Next year we will be raising seed funding. We're excited for this next stage of growth to accelerate our business and enable more organisations to meet their diversity, equity, and inclusion goals and drive organisational change!"
Gut feeling
Maguire said the biggest lesson she has learned as a founder is to trust your instinct. "It's rarely wrong! In terms of mistakes, I think it is crucial to communicate clearly from the start your expectations and to hold people to deliver on what they have said they will do to ensure you keep momentum.
"I think being a non tech founder can bring unique challenges and opportunities, and I would recommend finding a trusted tech advisor as soon as you can. Looking forward to the lessons we have ahead as they allow you to learn and grow!"
Her advice to fellow founders is to meet other founders. "Outside of the opportunity it provides to learn from others, having friends who can relate to the ups and downs of starting a business is invaluable. I have been so lucky to meet some great people, particularly through the New Frontiers programme at Media Cube and Nova UCD last year. Secondly, as a psychologist my biggest learning on this journey has been how mentally strong you need to be to be a founder. It is crucial from the start to actively manage that element to avoid burnout. Finally, take the time to celebrate the wins and have a laugh with your team too."
Main image at top: EudaOrg founders Allison Kuschel and Nessa Maguire