Irish software company Enterpryze led by Morgan Browne is scaling fast to capture a global opportunity to make ERP capabilities more widely available to SMEs and supercharge their digital transformation.
Morgan Browne, CEO of Dublin company Enterpryze, is both erudite about what software can do for small businesses across the globe and that he has the enthusiasm, the experience and the team to make it happen.
His company Enterpryze hit headlines recently with the news that it is creating 100 new jobs over the next two years. The Cherrywood-headquartered company will be creating roles in customer support, sales and client management as its cloud-based ERP (enterprise resource planning) solution for SMEs becomes available to businesses in Ireland and the UK after enjoying success in south-east Asia.
"The beauty of Enterpryze is that it is cloud-based. It is a steppingstone to full ERP as your organisation scales"
Enterpryze is a spin-off business from Milner Browne (formerly IIS) that traditionally focused on delivering solutions based on SAP Business One, one of the most popular ERP systems on the planet.
"That's still one side of the business and we have grown to be one of SAP's biggest partners in Northern Europe. But we felt as the revolution in apps and cloud took hold that there would be an opportunity to deliver a lot of the value of ERP in a way that would appeal to small and medium enterprises."
Browne has a point. For many large businesses like banks, tech or energy companies, vast ERP platforms are the central nervous system that run everything from accounts to logistics and HR and everything else besides.
Born to scale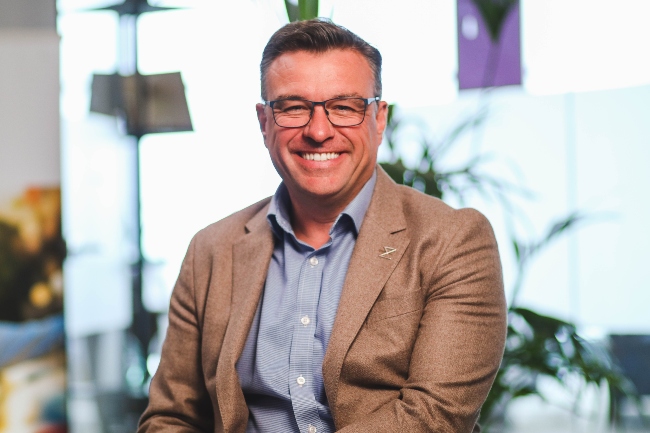 Morgan Browne, CEO, Enterpryze
The prerogative of SMEs in the 21st century is to scale. But first they need only elements of ERP that make sense to them such as accounting, invoicing and inventory, but not all the bells and whistles. They can add the rest as they scale.
"We looked at what the tech world likes to call the 'maturity model' and we built a platform that provides only the things that SMEs need."
Ironically for an Irish company, the business model for Enterpryze began to take shape in south-east Asia as the company developed an accounting, invoicing and inventory system where customers of banks could use the technology in conjunction with digital payments.
"In a way we are creating a super standard, with a maturity model built into the system so as these companies grow, they can take on more sophisticated SAP functions."
The business model is taking shape with more than 15,000 users in 30 countries including Singapore, Thailand, Indonesia, Malaysia as well as UAE and the company now has outposts in the UK, Columbia and Poland.
Enterpryze is also working with Bank of Ireland Payments (BOIPA) to enable SMEs to take card payments directly onto the invoicing platform.
Browne sees Enterpryze's mission as a kind of democratisation of sophisticated ERP systems, making them available to small businesses in bite-sized chunks. "The beauty of Enterpryze is that it is cloud-based. It is a steppingstone to full ERP as your organisation scales."
"I think the big benefit here is that Enterpryze puts much of the functionality of an ERP system, in the hands of SME's and even micro businesses," said Paul Swift, head of Technology, Telecoms and Media sector at Bank of Ireland.
"Through their cloud-based application they are enabling a whole raft of businesses from many sectors to digitally transform, while on the go. As businesses scale, they can add additional functionality all through one application; that fits the needs of those businesses. The beauty of it too, is that as Enterpryze develop new functionality, for different verticals or geographic markets, it becomes seamlessly available to those small businesses that simply wouldn't have the scale or capability to develop it themselves. We wish Morgan and all his team every success with the roll out of Enterpryze across Ireland the UK.
Electronic elegance
Browne studied programming and computer science at university before emigrating to the UK where he initially developed ticketing systems for nightclubs before returning to Ireland where he built a career developing accountancy software systems.
He acquired Take 5 Software in 2008 and then grew his business around SAP technologies to the point where Milner Browne became one of SAP's largest partners in Northern Europe.
With Enterpryze, his vision is to be the go-to software vendor of choice for SMEs all over the world.
"We started in 2008 with just nine people and now we are at 120 people nine countries and our solution is available in 35 languages. The beauty of the platform is that you can plug in the components you need for your business and grow it as your business grows."
A breakthrough for Enterprize came via the government of Singapore which has recognised the real need to digitise its SME community in order to drive margins and maintain cashflow in a changing world. "Every start-up in Singapore gets access to the Enterpryze solution for the first year paid by the government there."
The magic of the technology lies in its simplicity and it is built for companies with cross-border exports in mind. "Create an invoice and it will flow directly into your accounting system and general ledger. It is automated so it will intelligently ensure that you are paying the right taxes."
Browne said it is meeting a genuine need felt universally by businesses around the world. "Our initiative will drive organic growth and we are experiencing growth levels of 30pc per month because there is a huge appetite for what we are doing. We're planning to launch in North America later this year with an omnichannel offering where we will work with platforms like Square and Shopify to provide online retail extensions to allow small and medium businesses to manage their inventory and sell online and in-store via mobile devices, with all of your accounting and banking happening in real-time.
"The pandemic has served as a real push for businesses to become more sophisticated in terms of their omnichannel capabilities allied with a desire for people to get away from traditional IT infrastructure headaches to something that is smooth and just works."
Looking to the future Browne believes automation is the future and small businesses should have no reason to be left behind in the revolutions in artificial intelligence (AI) or automation by virtue of scale. If anything, he argues, they ought to be the first to benefit.
The current trajectory of Enterpryze, he explains, took root in 2016 when the team felt the time was right to make enterprise-grade ERP more palatable for SMEs and invested in R&D.
"I always felt the journey took longer than we expected, but then again I am a little impatient. But now the platform is at a very mature level and the need for this technology is very real and it is driving growth rates of 30pc a month, which is very exciting."